Sick prisoner remains in prison despite worsening health condition
The condition of prisoner Devrim Ayık who has Crohn's disease is getting worse. Every time he is taken to the hospital, he is put in a shuttle vehicle and kept in quarantine on his return. "Don't let another corpse come out of prison," says his mother.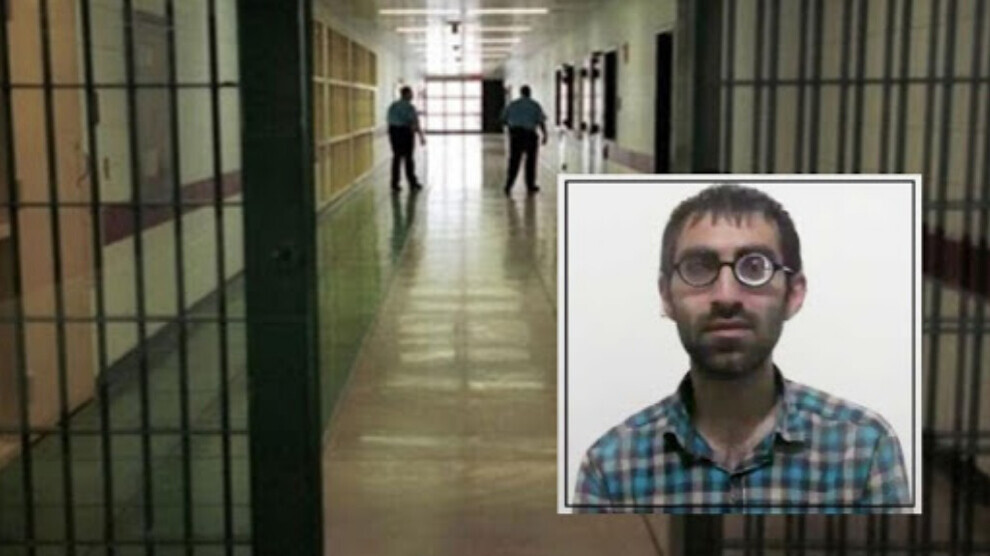 According to a report prepared by the Human Rights Association (IHD), 13 prisoners, two of them seriously ill, died in Turkey's prison in the first three months of 2021.
The same report revealed that there are at least 1,605 sick prisoners in prisons, 604 of whom are seriously ill. According to TUHAYDER's data, the number of the sick prisoners is much higher.
One of these prisoners is Devrim Ayık, a seriously ill prisoner in Eskişehir H Type Closed Prison. Arrested in 2015 on allegation of "membership in a terrorist organization", Ayık was released in December 2019 because the treatment of Crohn's disease could not be provided under prison conditions. After three years in prison, he was jailed again on January 12. Before he was arrested, he had surgery and 40 centimetres of his intestines were removed. He had an operation a second time and another 60 centimetres were removed from his intestine. According to a report he received from the hospital to which he had been referred while in prison, his intestines started to decay again and he needed immediate treatment.
CONTINUOUS EXILE
Despite his severe illness, Devrim Ayık was first transferred to Şakran Prison in Izmir, then to F Type Prison in Edirne and then again to H Type Closed Prison in Eskişehir. When he is taken to hospital and brought back to prison, he is kept in quarantine for ten days due to the pandemic.
ANF obtained the recordings of weekly phone call Devrim Ayık made with his family from Eskişehir H Type Closed Prison where he is currently held. Previously the audio recording of his phone calls was covered by the press. The most recent phone call reveals that his condition has worsened.
RECORDING OF PHONE CALL WITH FAMILY
In a phone call with his family this week, Devrim Ayık said the following:
"I was taken to hospital on Friday. I was examined by three doctors and will be examined by another four. Official holiday arrived and I will have four more days in between. The doctors will see me once again, which will take a month. This makes me tired. I am very uncomfortable. I have provided information about my situation before. I have nothing else to add. We are four people in quarantine. I will be alone after the holidays."
SITUATION GETTING WORSE FOR HIM
Mother Hülya Ayık said, "The situation of Devrim is getting worse day by day due to his diet, the lack of treatment and the unhealthy prison environment. The prison is insufficient in this regard."
"It is a human duty to avoid another body coming out of prison. On this basis, I am addressing all humanity. Let's grant freedom to all the sick prisoners and my son, Devrim Ayık," Hülya Ayık added.
IHD: 1182 REPORTS OF RIGHTS VIOLATIONS
According to a recent report released by the Human Rights Association (IHD) on violations of rights in prisons in 2020, 1182 prisoners submitted applications against violations. 1182 prisoners reported torture and ill-treatment, denial of access to health, communication and information. The applications were also made as a result of violations in concern with the Covid-19 outbreak last year.
1605 SICK PRISONERS
According to the same report, there are 1605 sick prisoners in Turkey, 604 of whom are seriously ill. The report calls for "immediate release of all seriously ill prisoners in prisons." Overcrowded wards, belated referral to the infirmary, absence of doctors in infirmaries, late or no hospital referrals, denial of release for prisoners even in the last stages of their sickness, unheated and unventilated wards, access to clean water are the main health problems in prisons.