Sick prisoner Ufuk Keskin should be released immediately
The Human Rights Association (IHD) Istanbul Branch Prison Commission carried out the 406th "F  Sit-in" to draw attention to sick prisoners in jail. In particular this week the action was for prisoner Ufuk Keskin.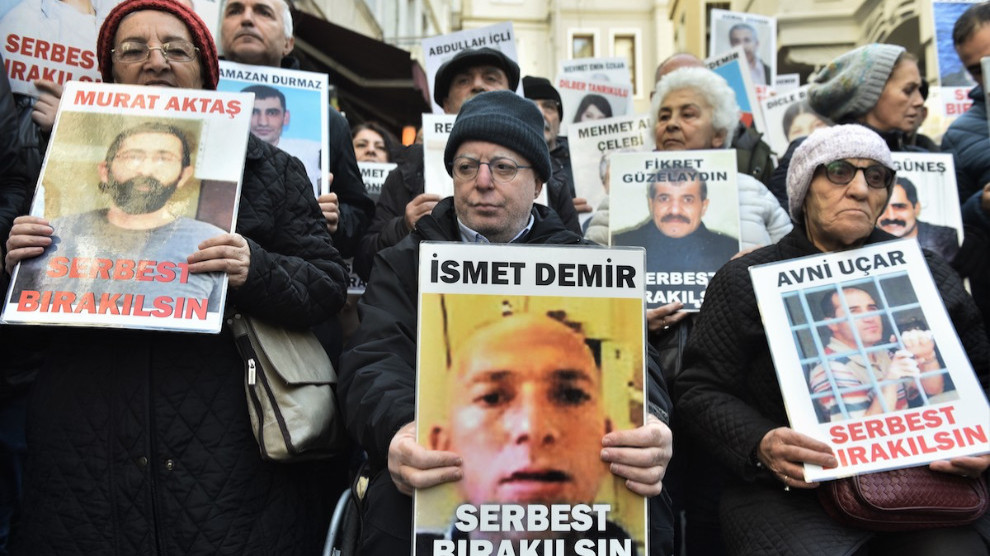 The IHD Istanbul Branch Prisons Commission held its 406th "F Sit-in". The action is organized every week to draw attention to the situation of sick prisoners and was held in front of the IHD building in Çukurluçeşme Street.
HDP deputy Musa Piroğlu and actress Nur Sürer, as well as representatives of numerous political parties and democratic civil society organizations joined the sit-in.
The first "F sit-in" statement of the year was read by IHD Istanbul Branch Prison Commissioner Hatice Onaran, who reminded of the European Convention on Human Rights article 3 and said that in Turkey the right to life of prisoners continued to be violated.
Ufuk Keskin
This week the activists told about the situation of sick prisoner Ufuk Keskin. Onaran stated that Keskin, who has been suffering from type 1 diabetes since the age of 12, had been detained in 1998 and sentenced to aggravated life imprisonment after being subjected to severe torture. He was in Imraniye E-Type prison during the 19 December 2000 massacre of prisoners on death fast.
Keskin was transferred to Edirne F-Type Prison after the massacre, and sentenced to another 12 years because of disciplinary punishments.
Onaran said that the Forensic Medicine Institute has reported that Keskin cannot remain in prison, and should be transferred in an equipped hospital to complete his sentence.
However the report was not taken into account by the prison administration, Onaran said, adding: "Keskin suffered from celiac disease since 2010. Due to this allergy he needs to be provided adeguate gluten-free food. Because of diabetes he had teeth problems. Keskin's life is at risk and he should be released immediately."
Ufuk Keskin's father Fahrettin Keskin repeated the demand for his son to be released immediately.