Thousands march against racism in many German cities
The killing in the US of George Floyd by the police was protested with a big demonstration in Cologne and others in Stuttgart and Freiburg.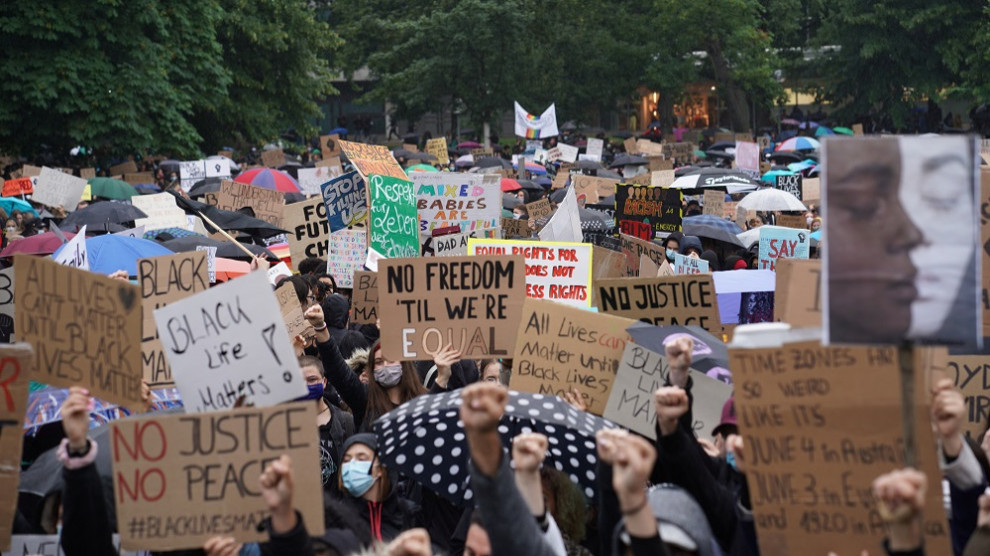 Demonstrations against racism and the killing of George Floyd in the US have been held in various German cities.
COLOGNE
Tens of thousands began to gather in Deutzer Werft since noon. The action was organized by Antifa, which required people to leave flags and dress in black. The vast majority of the demonstrators were young people. The Kurdish Democratic Community Centre and Women's council members in Cologne, Bonn and the surrounding area also joined with their own banners.
8 MINUTES, 46 SECONDS OF SILENCE
A silent sit-in was carried out 8 minutes 46 seconds, the time during which Floyd ended to breathe.
STUTTGART
In Stuttgart Schlossgarten, people from different identities and backgrounds joined the actions to protest racism. The Kurdish Democratic Community Centre distributed leaflets condeming the killing of both Floyd and Baris Çakan who was stabbed in Ankara for listening to Kurdish music.
Over 15 thousand people joined the march in Stuttgart.
FREIBURG
Germany's racist attacks in the city of Freiburg and the AKP-MHP American fascist racism block of feed results in Turkey were protesting the massacre of the Peace Çakan.
Thousands flowed into areas against racism and the fascist policies of the regimes. George Floyd and Barış Çakan banners prepared by Tevgera Ciwanên Şoreşger and Jinên Ciwanên Azad activists drew attention.