Turkey's human rights record reviewed at UN
Turkey's human rights record is reviewed by the UN Human Rights Council's Universal Periodic Review (UPR) Working Group.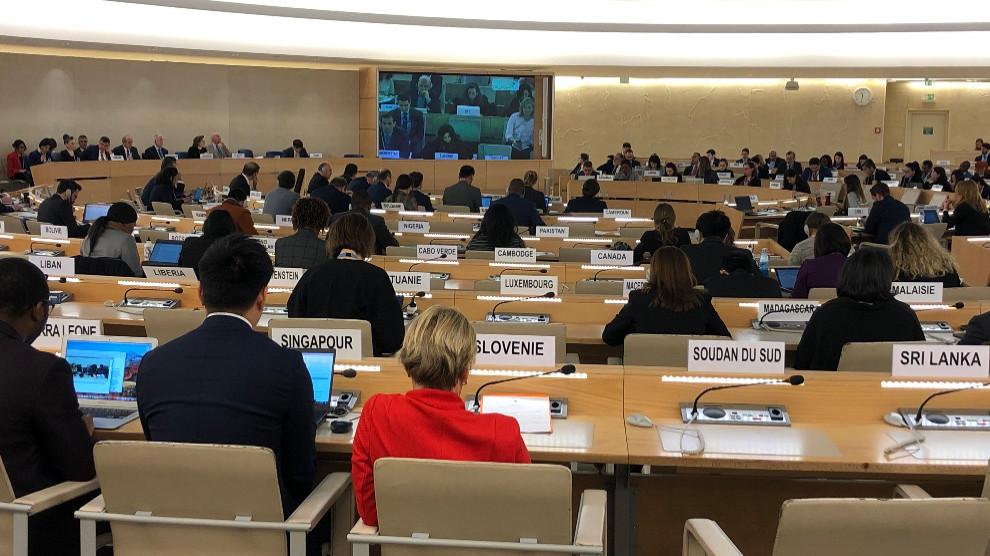 Turkey's human rights record is examined by the UN Human Rights Council's Universal Periodic Review (UPR) Working Group for the third time today. The session at UN Geneva headquarters is attended by UN member states and civil society organizations.
Turkey is one of the 14 States reviewed by the UPR Working Group during its session taking place from 20 to 31 January. Turkey's first and second UPR reviews took place in May 2010 and January 2015, respectively.
The documents on which the reviews are based are: 1) national report - information provided by the State under review; 2) information contained in the reports of independent human rights experts and group, known as the Special Procedures, human rights treaty bodies, and other UN entities; 3) information provided by other stakeholders including national human rights institutions, regional organizations and civil society groups.
The three country representatives serving as rapporteurs ("troika") for the review of Turkey are: Bahrain, Slovakia and Somalia. The delegation of Turkey is headed by Mr. Faruk Kaymakcı, Ambassador, Deputy Minister of Foreign Affairs & Director for EU Affairs.
During Tuesday's session, the 14-page recommendation report for Turkey by the Office of the United Nations High Commissioner for Human Rights and Turkey's report submitted to the Office have been discussed.
Abbas Mansoura from the Rights Defends Initiative Rojava (RDI) spoke at the side event about the use of the chemical bombs in Rojava by Turkish army. Mansoura presented a document of Laboratory which confirms the use white phosphorous by Turkish Regime which is prohibited according to OPCW (Organization for the Prohibition of the Chemical Weapons) and  the Convention on Certain Conventional Weapon (CCW) of UN.
Speaking about his observations in Rojava, Mansoura said the following:
"I traveled to Rojava in 2018, for the first time. My motivation to go to Rojava without being a member of any political party was voluntary and as a duty for solidarity. There, I saw Kurds, Arabs, Assyrians, Armenians, Turkmen etc. mostly women, from all cultural, ethnic backgrounds and beliefs struggling side by side to build a new future of human dignity and against oppression and exploitation. I had heard of these people's enormous struggle against the enemies of humanity, ISIS. ISIS had chosen this region as the center of its government for exporting terrorism through the world. There I saw closely all the reactionary forces from ISIS to state terrorism of Turkey, Iran, the Syrian and etc. occupying the land and destroying it.
Rojava was completely besieged and prevented from providing education, critical and elementary medical and laboratory needs. Despite of smoke and flame of the burning fields of wheat and olives were covering the sky, the will for human dignity, the establishment of Mesopotamian University, academies, hospitals and clinics, urban and rural projects, electricity and water supplies which were being destroyed and exploded steadily by Turkey and ISIS, the construction  were continued with the hope of a better future.
Turkey launched a military invasion on Wednesday October 9th, 2019. This new Turkish invasion of Rojava began with the bombardment of Qamishlo, Sarekani (Ras al-Ain), and Gire Spi (Tal Abyad) located in the Jazira Canton.
Since October 10th. ambush and massacre intensified in the area. From October 12 to October 20, wounded were transferred to Heseke People's Hospital with the very elementary facilities that could responds to ordinary, non-combat emergency needs. Medical facilities, surgery rooms and equipment, anesthetic nurse, surgeons, and nurses who could accommodate such a large number of wounded, were dramatically lacking.
The Kurdish Red Crescent, which is independent from Red Cross and organized only by the local people of Rojava, also helped to bring the wounded from the war front to the nearest medical facility in Tell Tamer  and Hasake. For the first time, we were faced with radically different injuries.
Features of the injured
The signs and symptoms observed in victims mostly civilians were consistent with exposure to a chemicals weapon. The Turkish Army may have used both white Phosphorous and the other kinds of chemical bombs such as Dense Inert Metal Explosive (DIME) bombs. These alloys were found to cause osteoblast cells carcinoma (bone cancer) and tissue carcinoma.
For investigation of suspected samples it was requested to a team of an international investigators to come to Iraqi Kurdistan where some burned were hospitalized there, but they refused to examine tissue samples taken from injured. The Organisation for the Prohibition of Chemical Weapons (OPCW) could send a team of experts to investigate the samples which refused to help.
More than one thousand civilians were killed, thousands were injured. The current complete siege and invasion and the lack of medicine have resulted in the loss of many lives. The Turkish Armed Forces and Turkish-backed affiliates have attacked the villages and towns with ground and air strikes, burning them to the ground and reducing everything to ashes. There are so far close to 400,000 displaced war refugees who were not able to take with them even a minimum of their live essentials. They are being sheltered and are vulnerable to contagious diseases and epidemic outbreaks.
Any how the rejection of investigate the samples of victims could not stop us to ask for confirmation. We succeeded to send some samples to other authorized laboratory to Europe. The lab report confirms that there was correlation between symptoms and Chemical bombs. Now we have the convincing evidences.
It is important to emphasized even after the announcement of the official ceasefire on October 18, there has not been a single day without bombings, bombing by drones and bombers and explosions. We have also had injuries from the Deir ez-Zor region, which has been confronted with the re-emergence of Daesh 220 kilometers away from October occupied area.
After Turkey mobilized all bandits under Turkish flag, they are slaughtering, burning, raping, kidnapping, murdering... occupying towns and villages and warehouses, plundering the wheat silos and intended to destroy Rojava.
People's resistance broke up ISIS to save the earth from the ISIS. If people specially in Europe can feel safe, security and specially women freed of being sold in the slave market, just as ISIS and their associates did in Shengal, Mosul, etc. we are indebted to the Rojava's resistance. The movement in Rojava paid at least more than 12,000 lives and tens of thousands injured. They paid by their lives and fighting to make the world safer. Defeating the enemies without Rojava's resistance was impossible so the human being and even ecosystem are indebted to All these saviors in Rojava.
In this situation, now have medical and documentary evidences confirming that Turkey has used banned chemical weapons against civilians in rural and urban areas, especially in Serekani and Tal Abyad.
Let us hope to bring the criminals and terrorists to the International Criminal Tribunals soon."