Two Kurdish political prisoners released after 10 years in prison
Two Kurdish political prisoners were released after serving more than 10 years in prison.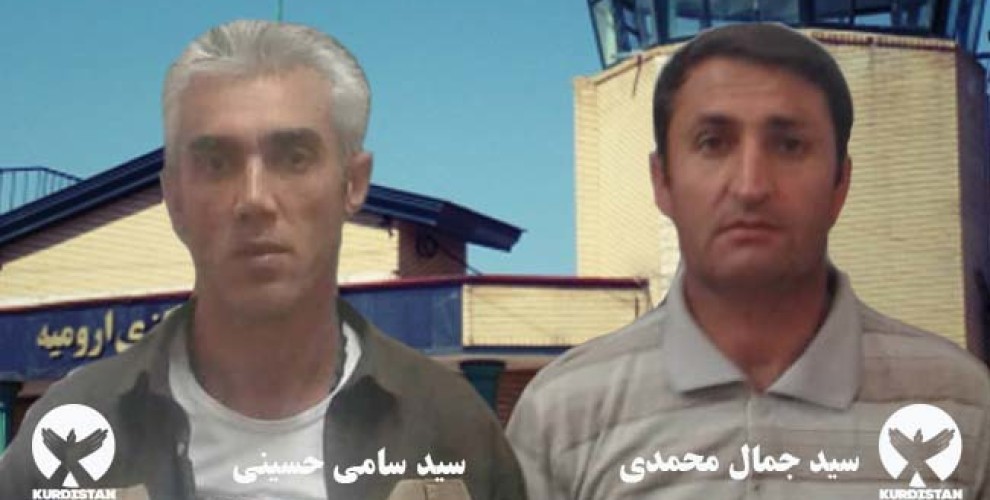 Kurdistan Human Rights Network (KHRN) has been informed that Sayed Sami Hosseini and Sayed Jamal Mohammadi, who had been sentenced to 25 years in prison on June 4, 2008, were finally released from Orumiyeh Central Prison per Article 134 of Islamic Penal Code (Aggregation of Fines) after serving their ten-year imprisonment sentence. The prisoners, who were scheduled to be released on 13 April 2018, were eventually released two months later yesterday.
Sayed Sami Hosseini and Sayed Jamal Mohammadi were sentenced to 25 years in prison by the Public and Revolutionary Court of Orumiyeh on charges of Moharebeh (waging war against God), intentional assault, destruction of state property.
Authorities informed them that their 25-year imprisonment sentence, issued on several separate cases, had been decreased to ten years of imprisonment and payment of Diyah (ransom) per Article 134 of Islamic Penal Code. Accordingly, the aforementioned political prisoners were supposed to be released on Apr 13 upon payment of ransom.
The two Kurdish political prisoners were arrested by Salmas Security Forces on 4t June 2008 at Shahid Shirazi Inspection Stop and transferred to Salmas Intelligence Detention Centre. They were interrogated and severely tortured for three months and five days at Salmas and Orumiyeh Intelligence Detention centre on charges of Moharebeh. They were tortured so severely that Seyed Sami went into a coma for 18 days and was admitted to Imam Khomeini Hospital affiliated with the Intelligence Ministry of Orumiyeh. After completing the interrogations, Salmas intelligence agents transferred them to Salmas Prison where the prison authorities initially refused to accept them in prison due to their critical health conditions. Finally, Salmas Prison authorities were forced to accept these two prisoners following an official letter from the Salmas Intelligence Centre.
Their trial was held at Khoy Revolutionary Court on 5 Dec. 2008 and they were initially sentenced to death on charges of Moharebeh through membership in Kurdish political party of PJAK. They appealed against this verdict but Branch 10 of the Appeal Court confirmed the verdict on Dec 12, 2009.
Their request for a retrial was approved by the Supreme Court in 2012. Accordingly, following the retrial at Branch 1 of the Revolutionary Court headed by judge Chabok in 2013, they were sentenced to 10 years of imprisonment and exile to Qazvin Central Prison on charges of cooperation with the Kurdistan Free Life Party (PJAK). These two Kurdish political prisoners were also convicted of participation in murder, deliberate assault and destruction of state's properties during the trial at branch 16 of the Criminal court in Orumiyeh in 2013 headed by judge Ibrahimi who issued two separate verdicts and they were sentenced to another 15 years of imprisonment in total.
Although in accordance with the new Iranian penal code, these three verdicts should have been merged, the judge of the criminal court declared that Article 134 will only be enforced after completion of 10 years imprisonment. Per Article 134 of Iran's New Islamic Penal Code, the prison term should not exceed the sentence for the charge that carries the heaviest punishment if one is convicted of multiple charges.
The two political prisoners were exiled to the prison of Choobidar in Qazvin in late October from the Orumiyeh Central Prison and were taken back to the Orumiyeh Central Prison after more than 10 years of imprisonment on May 6, this year.