We want the remains of our relatives, say families of missing HADEP members
21 years have passed after Silopi HADEP co-chair Serdar Tanış and party administrator Ebubekir Denizdisappeared under custody. Families of the disappeared politicians said they won't lose hope and will continue the search for justice and truth.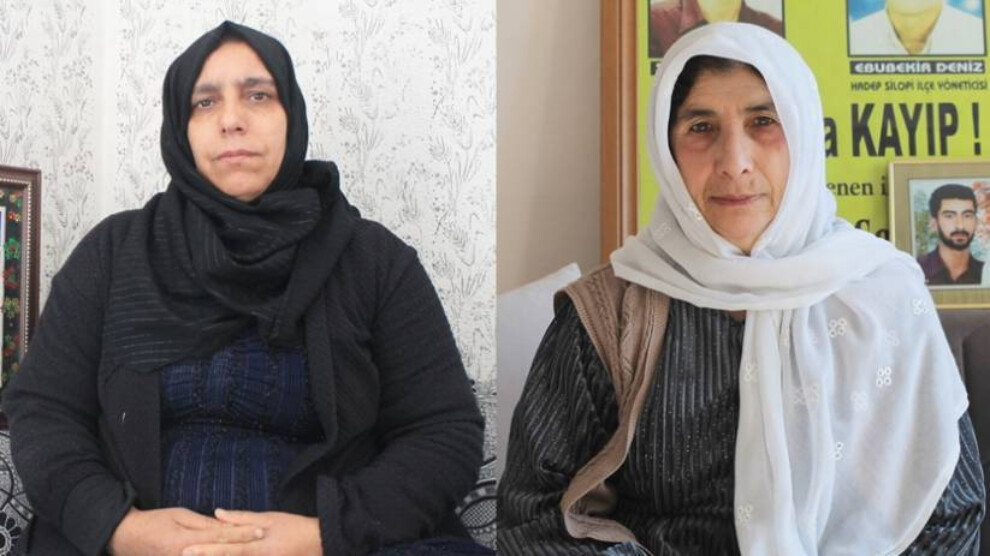 Serdar Tanış and Ebubekir Deniz have been missing since they went to Gendarme Headquarters on 25 January 2001 in Silopi, district of Şırnak. Families of the disappeared politicians have been demanding justice and the truth for their relatives for years. They say that Levet Ersöz, Şırnak Gendarmerie Regimental Commander at the time, is responsible for the disappearance of their relatives.
After the families filed a criminal complaint, Silopi Chief Public Prosecutor's Office launched an investigation against 47 soldiers in Şırnak Gendarmerie Regimental Command. The investigation, which did not involve Şırnak Gendarmerie Regimental Commander Levent Ersöz and Silopi District Gendarmerie Commander Süleyman Can, both of whom families call responsible for the incident, resulted in the verdict of non-prosecution in a short time. 
ECHR fines Turkey
Subsequently, the families' applications to Diyarbakır and Malatya State Security Court (DGM) got no results, either. If there was a deadlock in domestic law, the European Court for Human Rights (ECHR) fined Turkey 172 thousand euros for the disappearance of Serdar Tanış and Ebubekir Deniz. However, the investigations which were launched with the efforts of families following the ECHR decision ended once again in nothing.
On 2 January 2014, the bones of a person in a blanket were found in Dargeçit Municipality Cemetery during a dig. The authorities took DNA samples from two families to determine to whom the bones belonged. Following the DNA testing, Istanbul Forensic Medicine Institute announced that the bones did not belong to the disappeared HADEP members.
Speaking to JinNews, the families of Serdar Tanış and Ebubekir Deniz said that they will never lose their hope and will continue to search for the bones of their relatives and added that they will keep the struggle going until the perpetrators are sentenced.
'We have been waiting for 21 years' 
Divan Deniz, wife of Ebubekir Deniz, said: "When my husband disappeared, my kids were little. They still ask me why their father does not have a grave. Bones were found in Dargeçit, and we gave blood samples. But, a couple of weeks later, they informed us that the bones did not belong to my husband. We applied to every public authority but in vain. We want to learn where our relatives were buried; we want them to have a grave. Every Thursday, families visit their relatives' graves. If only we could visit our relatives' graves. We have been searching for my husband's bones for 21 years."
'We will never lose hope'
Divan Deniz added: "Everyone in Botan knows how they disappeared. They went to Gendarmerie Headquarters to testify. 5 days after that day, the officials confirmed that they had testified at Gendarmerie Headquarters. Since then, we have heard no news from them. When my husband disappeared, my son was a baby. He asks about his father every day, and I cannot find any answer."
'They are even scared of the bones'
Underlining that they have been suffering for 21 years, Divan Deniz said: "So far, many searches have taken place, and the remains of many other disappeared people were found but, the remains of our relatives could not be found. In Dargeçit, the bones of a person in a blanket were found; the body of that person had been burnt. They are scared of even our bones."
'I start every new day with hope' 
Rabia Tanış, mother of Serdar Tanış, said: "At that time, we were living in Cizre, and my son was living in Silopi. Some people posing as police officers wanted to force them in the police car. They refused and went to police headquarters to testify on 25 January. Since then, we have heard no news from them."
Rabia Tanış added: "We have been searching for the remains of our relatives for 21 years. We applied to many authorities in Turkey and Europe, and appealed to the ECHR but, we could get no result. 21 years have passed but, we still suffer great pain. As long as we live, we will continue our search and struggle for our relatives. Many families have wounds and suffer pain like us. We only want the government to give us the remains of our relatives. We only want a grave. I start every day with the hope that I will find the remains of my son."