12 Turkish soldiers killed in actions of revenge by the guerrillas
12 soldiers were killed and 4 others were injured as the guerrillas of HPG and YJA Star carried out dozens of actions against the Turkish occupation forces in Southern Kurdistan to avenge their comrades martyred in Amed and Botan.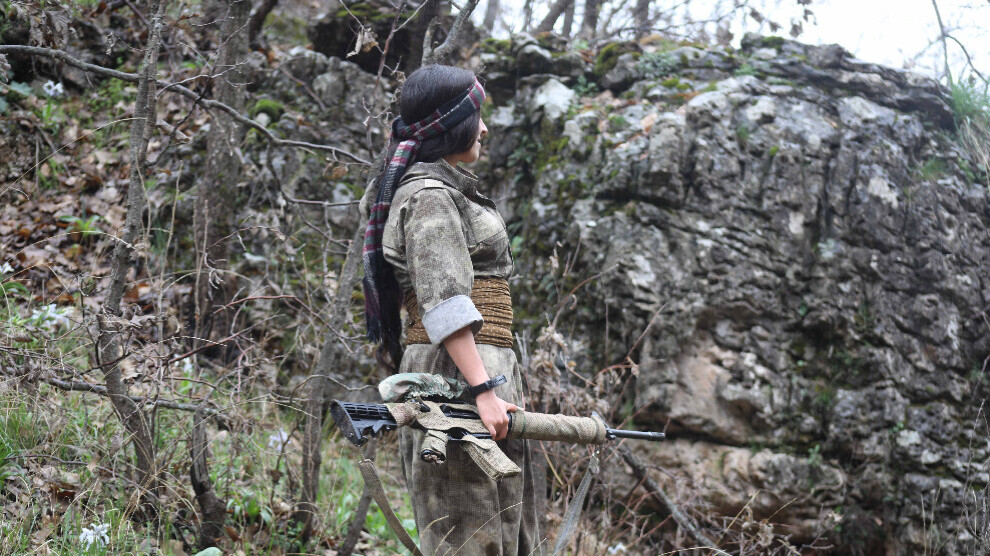 The HPG (People's Defence Forces) and YJA Star (Free Women's Troops) continue the resistance against the Turkish invasion in the guerrilla-held Medya Defence Zones in Southern Kurdistan (Northern Iraq).
According to the statement released by the HPG press office on Friday, 12 soldiers of the Turkish army were killed and four others injured in the Zap and Metîna regions on 21 September. The guerrillas also destroyed two surveillance cameras installed by the Turkish army, while one armoured vehicle and 15 positions were damaged in the actions which were carried out as revenge for fallen fellow combatants.
"The Kurdistan Freedom Guerrilla continues its historic resistance with Apoist spirit of sacrifice and way of life, following the line of the martyrs. In order to pursue the aims of the martyrs and to keep their flag high, and in order to avenge our companions who died in Amed and Botan, our commander, Axîn Mûş, and comrades Egîd, Rohat, Demhat and Rênas, many actions were carried out.  In these actions in memory of our great martyrs, twelve occupants were punished, four occupants were injured and two surveillance cameras were destroyed. In addition, one armoured vehicle and 15 positions were damaged. Our legendary resistance and freedom struggle will continue unconditionally until victory and will definitely be successful," said the HPG statement.
Regarding the guerrilla actions and the Turkish occupation attacks since Thursday morning, HPG stated the following:
Şehîd Delîl, Western Zap region
In the Girê Cûdî resistance area, guerrillas struck and damaged ten Turkish army positions with heavy weapons. Two soldiers were shot dead by snipers, another was wounded. The guerrillas with heavy weapons also intervened against helicopter movements in the area.
In the Girê Amêdî resistance area, eight soldiers were killed in guerrilla actions with hand grenades, assault rifles, sabotage tactics, semi-automatic weapons and snipers. Two surveillance cameras were destroyed by targeted fire and four positions were damaged in the guerrilla actions with heavy weapons.
In the Girê FM resistance area, an armoured vehicle was struck and damaged with semi-automatic weapons.
Metîna
In the Girê Ortê resistance area, an advancing unit of the Turkish army was hit first with sabotage tactics and then with semi-automatic weapons, leaving two soldiers dead and three others injured. The guerrillas also hit a helicopter, which then left the area.
Attacks by the Turkish army
Turkish fighter jets bombed Girê Bahar in the western Zap region and the areas of Gundê Şêlazê and Gundê Bêşîlî in Metîna four times. In the regions of Zap and Metîna, the Turkish army carried out attacks with helicopters and artillery.