16 Turkish occupiers killed in guerrilla actions
HPG reports that 16 members of the Turkish occupation forces were killed in Northern and Southern Kurdistan.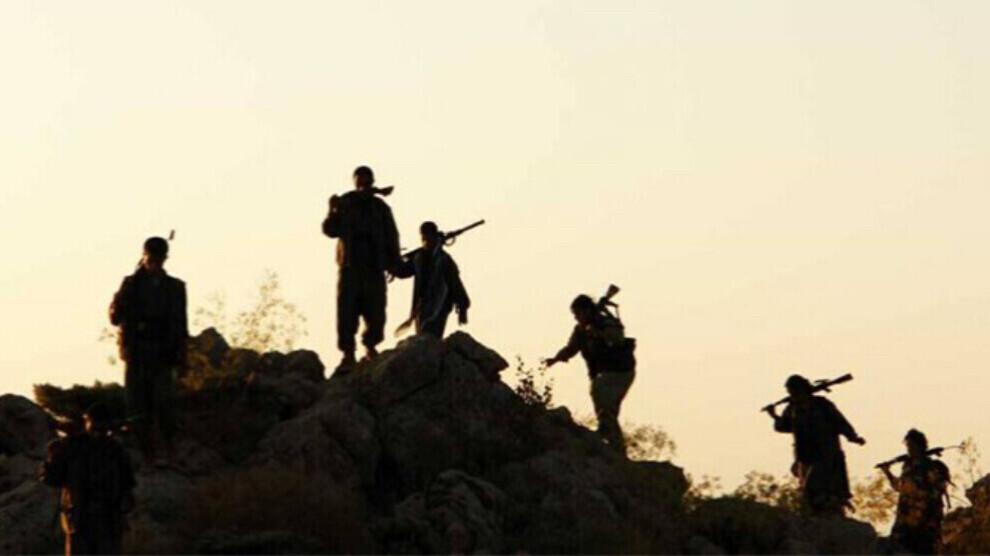 In a statement about the war in Kurdistan, the Press Centre of the People's Defence Forces (HPG) announced that 16 members of the Turkish occupation forces were killed during the latest guerrilla actions in Southern and Northern Kurdistan.
According to the statement, the guerrillas destroyed a military vehicle and shot down a drone. The guerrilla fighters Eylem and Evîn were martyred in a battle in the northern Kurdish town of Gever (tr. Yüksekova) in Hakkari province.
The Turkish army continued its massive attacks on guerrilla areas in Southern Kurdistan on Monday, said the HPG, reporting 23 attacks with outlawed bombs, chemical weapons and pepper gas, nine airstrikes with fighter jets, 68 airstrikes with helicopters and dozens of artillery attacks with howitzers, mortars and heavy weapons.
Zap
In the Zap region, a Turkish squad was repelled by the guerrillas with light weapons on Monday when they tried to enter Şehîd Serxwebûn positions in the resistance area of Şehîd Fedakar. In the Çemço area, a soldier was shot dead by a sniper, and in Saca, another soldier was killed in a guerrilla action with heavy weapons.
Xakurke
In the Xakurke region, mobile guerrilla units gained control of a Turkish squad at Girê Şehîd Şahan and struck a military vehicle with heavy weapons at 7.10am today. The vehicle was completely destroyed and the crew of ten soldiers was killed.
Girê Amêdî and Girê Cûdî
A drone was shot down at Girê Amêdî on Monday morning. At noon, mobile guerrilla units carried out a sabotage action at Girê Cûdî, thwarting an advance of Turkish troops towards a defensive position. In the evening, a soldier was shot dead by a YJA Star sniper in the same area.
Two female guerrillas martyred in Gever
In the area between the villages of Kapotê, Yekmal and Darê in the Gever district, a two-hour battle took place between two female guerrilla fighters and the Turkish army forces on Sunday. Three counter-guerrillas were killed in the process. Eylem and Evîn fought to the last bullet before they fell as martyrs. According to the HPG, details of their identities will be released at a later date.
Denying the Turkish media reports that an HPG member was captured alive in this area, HPG said, "This claim is not true. The Turkish state raided villages in the area after the battle and arrested many civilian people. One of the arrested civilians was tortured and portrayed in the special war media as an HPG member."
Attacks of the Turkish army in Southern Kurdistan
Regarding the continued attacks of the Turkish army on Monday, HPG stated that prohibited bombs and chemical weapons were used 13 times against the Şehîd Agir position in Sîda. Nine other such attacks targeted Girê FM and Girê Cûdî, as well as the Şehîd Serxwebûn and Şehîd Felat positions. The area of Şehîd Bahoz in Sîda was bombed with pepper gas.
The Girê Bihar resistance area and Zap shore were bombed nine times by fighter jets, causing a fire to break out in the area. Combat helicopters attacked the areas of Sîda, Çemço, Saca, Girê Hekarî, Girê FM, Girê Cûdî and Girê Amêdî in 68 sorties. In addition, Çemço, Girê Hekarî, Girê Cûdî and Girê FM were shelled with howitzers, mortars and heavy weapons. Drone movements were observed over these areas.