36 Turkish soldiers killed in retaliation operation by guerrillas
According to HPG, 36 soldiers of the Turkish army were killed in a retaliation operation by the guerrillas in Southern Kurdistan. A Turkish drone was shot down, while surveillance cameras, military tents and weapons were destroyed.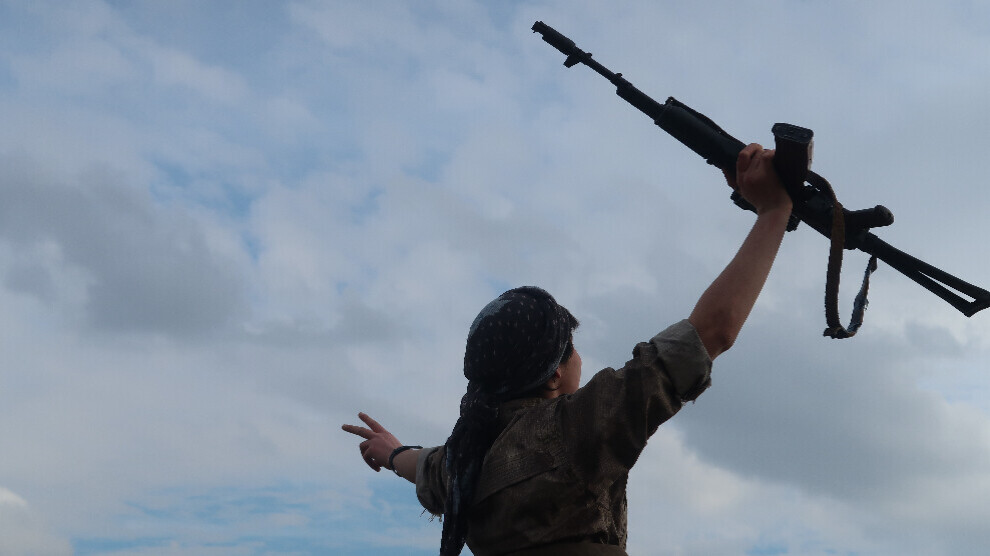 36 members of the Turkish invading forces were killed in guerrilla actions in Southern Kurdistan on Monday and early Tuesday morning, three other soldiers were injured. According to the daily statement by the Press Centre of the People's Defense Forces (HPG), a drone, a surveillance camera and three military tents of the Turkish army were destroyed. HPG also reported five chemical weapons attacks and 19 explosives attacks by the Turkish military against the guerrillas' tunnel facilities. The Medya Defense Zones were bombed four times by fighter jets and ten times by helicopters on Monday, with further attacks carried out by howitzers.
Revolutionary retaliation operation by the guerrillas
Regarding the ongoing war in Kurdistan, HPG said: "The Turkish colonial state aims at genocide and attacks the Kurdish people everywhere. It relies on oppression and a policy of denial and annihilation. This approach strengthens the fighting determination, anger and desire for retaliation of the freedom guerrillas of Kurdistan. How our patriotic people are oppressed was most recently witnessed in the village of Xaşkan in Başkale, Van. While the fascist gangs of the AKP/MHP regime are being eliminated by the dozens every day in the mountains of Kurdistan and their condition in the face of guerrilla resistance is in front of everyone's eyes, they consider it a heroic act to attack the innocent Kurdish people. As the legitimate defence force of the people of Kurdistan, our units carried out a revolutionary retaliatory operation on 20 June and brought the occupiers to justice to avenge our people."
The Turkish state hides its losses
HPG accused the Turkish War Minister Hulusi Akar and head of state Tayyip Erdogan of sending soldiers into the guerrilla areas and thus burning them to maintain their own power: "They are completely indifferent to the soldiers and the dead are concealed in public in a very hypocritical way. The peoples of Kurdistan and Turkey and the entire public must know that the Turkish army is hiding its losses. Not only does it hide its dead, but it also leaves many soldiers' corpses in the field where they decompose. The bodies of the soldiers are not even handed over to their families."
36 killed in guerrilla actions
HPG gave the following information on the individual guerrilla actions on Monday and early Tuesday morning:
In Werxelê, the invading forces were first attacked with heavy weapons. This was followed by a coordinated action in which at least two soldiers were killed.
At Girê Hekarî, an advance of the Turkish army towards the Şehîd Hêjar tunnel was stopped by an action of sabotage in which three soldiers were killed. At 7.30 pm, a soldier was shot dead by a YJA Star sniper. At 11 pm, a mobile unit of the YJA Star intervened against a helicopter squadron and forced it to retreat.
At Girê FM, a soldier was shot dead by an HPG sniper at 5.55 am on Monday. At 5 am on Tuesday, three more soldiers were killed in an action by a mobile guerrilla unit. At 6.40am, a drone was shot down by the guerrillas.
In the Girê Cûdî resistance area, the invading forces carried out detonations at the Şehîd Çekdar tunnel at 6 pm. When they tried to detonate a second explosion, the guerrillas sabotaged the operation, killing three soldiers. At the same time, mobile guerrilla units launched a retaliation operation against the Turkish troops at Girê Şehîd Leşker, Girê Şehîd Şîlan and Girê Şehîd Baxtiyar.
Guerrillas first struck a military tent, after which a YJA Star team destroyed a surveillance camera system and a heavy weapon of the Turkish army and shot a soldier dead. At Girê Şehîd Çekdar, mobile guerrilla units targeted Turkish forces from three sides at close range with hand grenades and firearms, killing 25 occupants and destroying two tents. At 11 p.m., the dead and injured soldiers were taken away by helicopters.