Shengal People's Assembly: Our people will win against the attacks
The Shengal People's Assembly condemned the Turkish invasion attacks and the KDP's cooperation with the Turkish army, saying, "Our people will win against the attacks."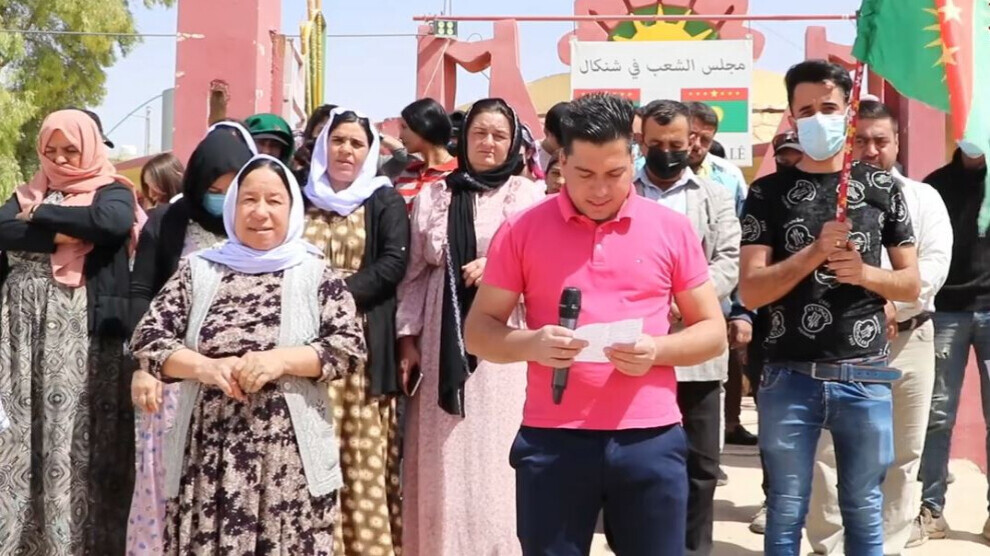 The Shengal People's Assembly made a statement condemning the attacks of the occupying Turkish state and the cooperation of the Iraqi government and South Kurdistan's ruling party KDP with the Turkish army.
Members of the Yazidi Women's Freedom Movement (TAJÊ), Yazidi Youth Union, Yazidi Freedom and Democracy Party (PADÊ), Shengal People's Municipality, and teachers working for language and education institutions attended the event.
Emphasizing the contribution of the Iraqi government and the KDP to the Turkish attacks, the statement called for resistance in response to the attacks.
The statement was read out by PADÊ member Ali Hüseyin, who noted that the Turkish state bombed all parts of Iraq from Sulaymaniyah to Maxmur, Shengal and Rojava without distinction.
'AIRSPACE SHOULD BE CLOSED TO TURKEY'
The statement criticized the opening of Iraqi airspace to the Turkish state, saying, "The al-Kadhimi government and the KDP are responsible for the Turkish bombing of these areas. The al-Kadhimi government and the KDP should clarify their stance. The Iraqi state should close its airspace to the Turkish state as soon as possible."
'PEOPLE RESIST UNINTERRUPTEDLY'
The statement emphasized the resistance of the region's people, adding, "Our patriotic people continue to struggle uninterruptedly despite all the attacks directed at them. Our people will win against attacks. The people of Shengal condemn the attacks on Sulaymaniyah and Chamchamal and offer their condolences to the families who were affected."