A group of young people joins guerrilla ranks on 44th anniversary of PKK's founding
A group of young people announced that they joined the guerrilla ranks on the occasion of the 44th anniversary of the PKK's founding.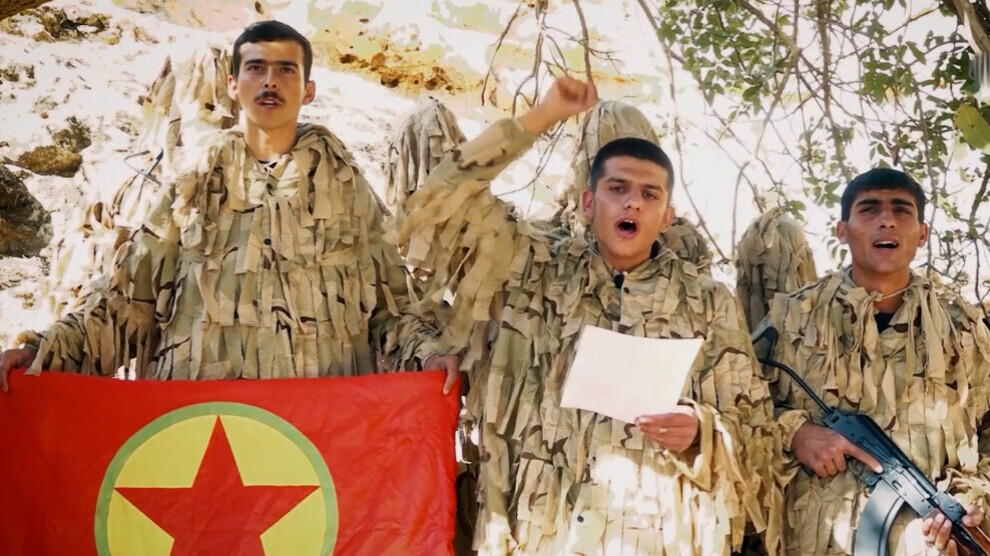 A group of young people joined the ranks of the PKK to join the historical resistance in the Medya Defense Zones as part of the "Werin Cenga Azadiyê" operation.
In a statement, the young people announced that they joined the guerrillas to take their place in the historical resistance against the invasion attacks of the Turkish state on the occasion of the 44th anniversary of the PKK.
The statement reads as follows: "We salute Rêber Apo [Abdullah Öcalan], who defeated the aggravated and deepened Imrali isolation system and showed the whole world that he has a power that surpasses all the hegemonic powers of the human will, with his stance and resistance, and we commemorate our heroic martyrs with respect and gratitude.
The invading forces should know that the assimilation, genocide, pillage and invasion attacks carried out on the Kurdish people and the Kurdistan territory will not go unpunished, and that every house burned down and every patriotic person murdered is a reason for revenge for us.
We have not forgotten our heroic martyrs who preserved the Kurdish existence. They wrote the history of this resistance from Cizre to Nisêbîn, from Sur to Şirnex. And we never forgot for a moment that we needed to follow them. If the fascist regime has come to the stage of collapse today, it is the result of the struggle of the many Çiyager, Zeryan and Axîn, who are the heroic martyrs of the democratic autonomy resistance. With this spirit of resistance, guerrillas fighting from the Zagros to Dersim are dealing the most devastating blows to the fascist regime. We know that the front line of the struggle against the fascist regime passes through the guerrillas.
The lesson we have learned from 43 years of PKK history is that what we need is revolution to defeat the AKP-MHP fascism. On the basis of ensuring the physical freedom of our Leader, we state that we will definitely win by joining the PKK in the spirit of victory on the occasion of the 44th anniversary of the PKK.We are calling on everyone to become a guerrilla and join the "Werin Cenga Azadiyê" operation."