Emine Moradi: Rêzan Cavid was also my commander
Emine Moradi's husband was murdered by the Iranian regime, her son executed. Rêzan Cavid, who was killed in a Turkish drone attack in Rojava, stood by her during this time. Moradi asks: "How long is it going to go on like this?"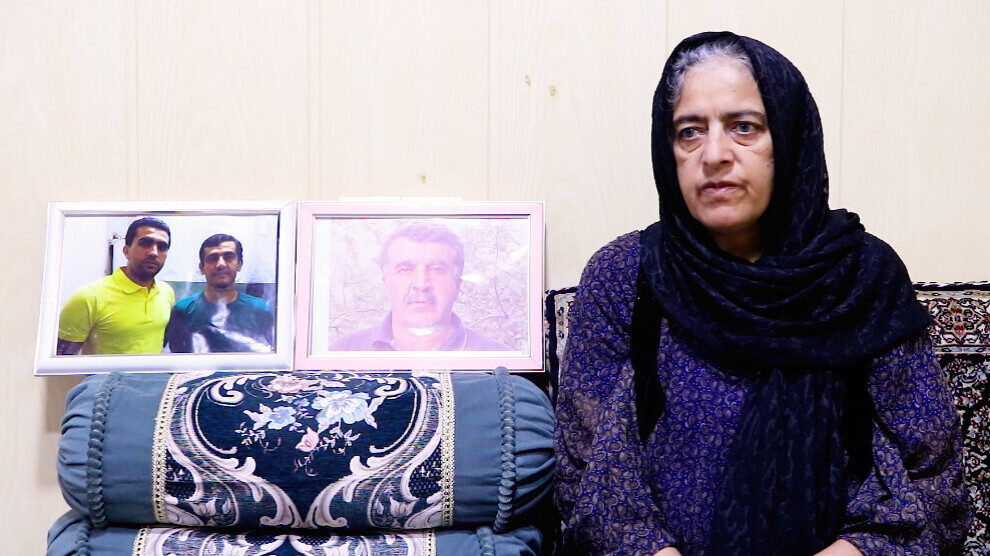 Emine Moradi spoke to ANF in Mahabad about PJAK commander Rêzan Cavid (Yusîf Rebanî), who was fatally injured in a Turkish drone strike in Qamişlo last Sunday. She is the widow of the Kurdish human rights activist Iqbal Moradi from Merîwan, who was murdered in July 2018. Her son Zanyar Moradi was executed in Iran seven weeks later. Iqbal Moradi had been a member of the Komala in the past and had survived an assassination attempt by the Iranian Pasdaran ten years earlier. At the time of his assassination, he was one of the leading activists of the "Kurdistan Human Rights Organisation" and was known for his support of the relatives of political prisoners. Shortly after his abduction, his body was found on the Iraq-Iran border with traces of torture and bullet wounds.

"Rêzan gave me hope and strength"
Emine Moradi stated that Rêzan Cavid stood by her during this difficult time. She remembers the martyrs of the liberation struggle in Kurdistan and said: "I offer my condolences to the Kurdish people and the guerrillas. In the mountains of Kurdistan, the guerrillas are fighting to retaliate for the martyrs. Rêzan Cavid was one of these Kurdish freedom fighters. From the first time we met, he gave me hope and strength. He was a commander for me and for the Kurdish people. When Zanyar was in prison, Rêzan told me to stay upright. That is what I did. As the mother of a martyr, I am very proud of my child. So are other mothers, because our children gave their lives for Kurdistan. Heval Rêzan's mother cannot be proud enough that she raised such a son. He went to the mountains at a very young age and fought for his people and his country for years. He continued this fight until the moment of his death. When I heard that he had fallen, a part of my heart was torn. As the wife of a martyr and the mother of a martyr, I am proud of Heval (Comrade) Rêzan."
"How long are we to be subjected to such massacres?"
The enemies of the Kurdish people are in a constant attack position, Emine Moradi continued: "They carry out bombings everywhere every day. Rojava, Başûr and Bakur are bombed every day. The aim of the attacks is not only to occupy Kurdistan, but also to destroy the Kurdish people. The enemy is afraid of the four parts of Kurdistan uniting and the Kurds getting their rights. Therefore, he is constantly pursuing dirty plans and projects. The Turkish state is supported by the ruling powers in its dirty war. Without this support, the Turkish planes would not be able to enter the airspace over Kurdistan and the army would not be able to carry out these cruel attacks.
I appeal to all international institutions and human rights organisations. As Kurdish people, we have never occupied and exploited foreign soil. It is our land that is being occupied, it is we who are being murdered. The UN and all human rights organisations must take a stand against these attacks, they must prevent them. How long will our country and our children continue to be bombed, how long will the Kurdish people be subjected to massacres?"