Evdal: Iraq prevents the return of Yazidis
In recent days, though the number of women rescued is more than 40, the number of children is more than 150, of whom 40-45 are girls.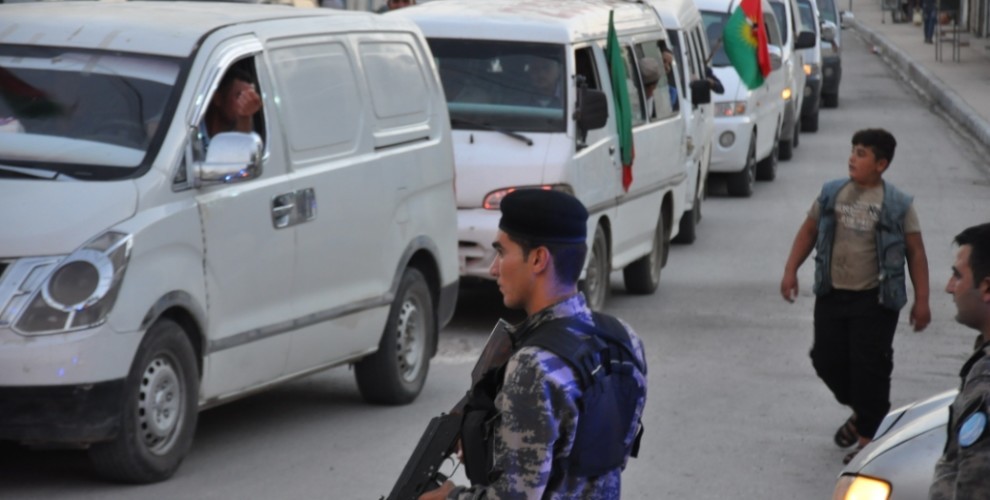 Ziyad Evdal, co-chair of the Jazira Canton, told ANF about the work they carried out with the SDF and YPJ regarding the transfer of the rescued Yazidis to Shengal.
Evdal stated that the Yazidi House is working to send the women and children who were rescued from DAESH back to their relatives in Shengal
He stressed that the "SDF, YPG and YPJ are the symbol of the resistance and are those who defeated DAESH."
We sent hundreds of people back to Shengal
Evdal said that, according to his own archives, the number of people rescued by SDF and YPG was as follows: "We know the number is higher, because not all rescued people have been registered. In recent days, though the number of women rescued is more than 40, the number of children is more than 150, of whom 40-45 are girls."
These numbers, said Evdal, "refer only to the ongoing war in Baghouz. Before that, there were also people who were coming or were delivered one by one."
During the Manbij operation, there was one time in which 50 people were brought together and the Yazidi House took over the task of returning them to their families. The Women's Council of the Canton of Cizire also played a role in this. In general, we were able to return 435 Yazidi women and children safely to their relatives in Shengal."
Attempt to separate them from their culture and identity
Evdal added: "Because some of the people who have been rescued have long been a prisoner in the hands of DAESH, they are approaching any event from the point of view of DAESH and its ideology, as they were somehow brainwashed. Children for example who have been in the hands of DAESH mercenaries for 5 years have been under the constant influence of the mercenaries. We are especially dealing with these children, and sometimes we have difficulties. Children who have been taken over by DAESH when they were 6 or 7 years old, know nothing about the Yazidis and their culture. It is easier with more adult people but at this point, we do not experience such difficulties with people who are older, they can reconnect with their society more quickly."
Evdal continued: "In the past period, there were people who were injured and were in a critical situation. We deliver these people to hospitals in Hesekê and Amude. Two of them had to undergo emergency surgery and we brought them to the hospital. When we listen to what they have experienced, you can't even imagine the amount of brutality they were subjected to."
Shengal border closed for a week
Evdal underlined that clearly the YPJ-SDF and the Yazidi House have been working together to rescue the Yazidi people who have then been handed over to the Shengal Civil Council. However, Evdal said, it has been a week that the Rojava-South Kurdistan border to Shengal has been closed by the Iraqi government. People therefore have been prevented from returning to their land.
Evdal said that they are working to reassure the opening of the border. "We have made statements many times. Our friends from the Shengal Council sat down with Baghdad government to discuss the issue, but we did not get any positive result so far. We end up saying that if the Iraqi government closes its door to these prisoners who have been rescued from DAESH, then the Iraqi government and DAESH must have some kind of agreement."
Underlining that this attitude shows relation between the Iraqi and Bashur (South Kurdistan) governments and DAESH, Ziyad Evdal said: "We had relations with both the Iraqi government and the South Kurdistan government. Today, they close the door to people who have been in the hands of DAESH for 5 years. They don't let them return to their lands. This means the Iraqi government is saying that it does not recognise the Yazidis as citizens."
This attitude, said Evdal ending his remarks, "shows that the central government is rejecting the Yazidi people. We reject this kind of attitude and want to share this message to the people."