Families prevented from visiting cemetery, journalists attacked in Lice
Turkish police and soldiers prevented families from visiting a cemetery and attacked members of the press in Lice district of Amed (Diyarbakır).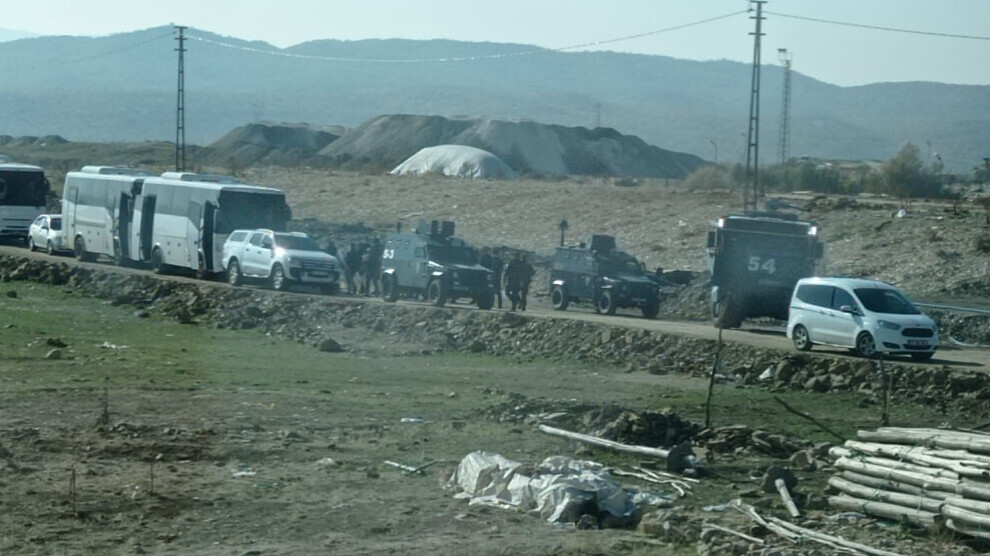 On the occasion of November 25, the International Day for the Elimination of Violence against Women, the Solidarity Association with Families of Martyrs (MEBYA-DER) invited relatives to a joint visit to the Cemetery of Martyrs near the village of Sîsê (tr. Yolçatı) in Lice district. The visitors, among them HDP deputy Remziye Tosun, were stopped by soldiers and police on their way. Police and army besieged all villages on the route.
Attack on journalists
Soldiers erected a barrier at the entrance of the road to the cemetery and prevented the group from entering the cemetery. Journalist Derya Ren, a correspondent for the JinNews news agency, was pulled and beaten by the soldiers by the strap of her camera, which was hanging over her back. One soldier told her, "I know who you will send this footage to", and her camera was confiscated. Afterwards, the soldiers also attacked a correspondent from the Mezopotamya news agency. Eylem Akdağ was hit in the back and her camera was also confiscated. When Akdağ and Ren refused to be intimidated and continued taking pictures with their cell phones, they were threatened with arrest. MP Remziye Tosun intervened and the soldiers had to return the confiscated material.
Mothers of martyrs insulted
The mother of a martyr protested the assaults, saying, "We are mothers, our hearts burn." In response, a policeman retorted, "My mother is not like you, she gives birth to sons who serve the fatherland."
Due to the blockade, the participants of the delegation held a demonstration in Fis village. Raziye Işıktaş protested against the prevention of their visit to the cemetery and stated, "We wanted to go to the cemetery and pray for the dead. But they stopped us. This is injustice, it is an insult. What kind of justice is this? Allah is supposed to pursue our justice. We wanted to visit the dead who are under the tombstones, but that was also prevented. We do not accept this situation. Why are they acting against us like this?"