Funeral home converted into Grey Wolves' headquarters in Siirt
The trustee of Siirt has provided the fascist Grey Wolves movement with a communal mourning house as its headquarters. A wolf symbol is now hanging on the building.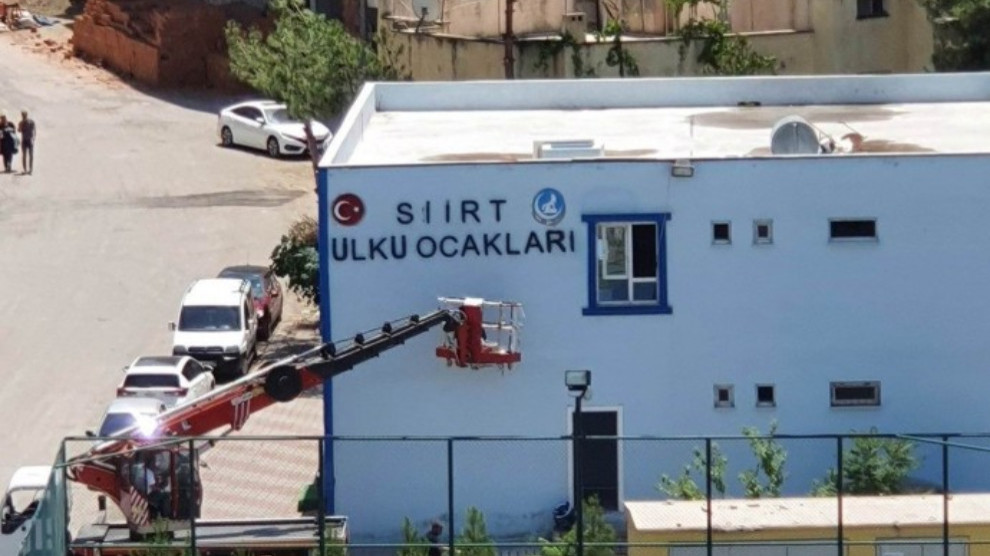 The city administration of Siirt, which is under state trusteeship, has given a public building used for funeral ceremonies to the fascist association "Ülkü Ocakları" (Grey Wolves). The decision was made at a council meeting on 6 July. Meanwhile the wolf-symbol is hanging on the building.
In the province of Siirt in Northern Kurdistan, the democratically elected co-mayors Berivan Helen Işık and Peymandara Turhan from the Peoples' Democratic Party (HDP) were suspended by the Turkish Ministry of the Interior and put under house arrest after four days in police custody.
Governor Ali Fuat Atik, who was then appointed trustee on May 15, played the Turkish national anthem as his first official act and had pictures of President Recep Tayyip Erdoğan and Minister of the Interior Süleyman Soylu hung up in his room in the town hall. As a next step, ten municipal workers were dismissed despite existing protection against dismissal. He then had the municipal library, named after the Kurdish intellectual Celadet Elî Bedîrxan, demolished.
Atik was later transferred to the governorate of Denizli, and Osman Hacıbektaşoğlu was appointed in his place.