Grave of 12-year-old Uğur Kaymaz killed by the state forces desecrated
"Even the graves of the Kurds are not left in peace," says the mother of Uğur Kaymaz, who was killed along with his father 19 years ago.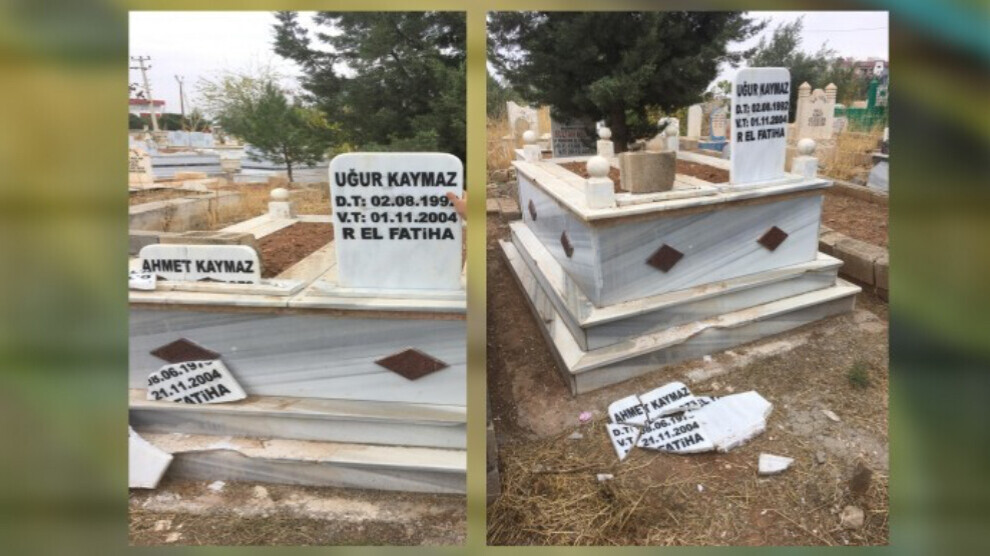 12-year-old Uğur Kaymaz and his father, Ahmet Kaymaz, were killed by state forces in front of their house in the Kızıltepe district of Mardin on 21 November 2004. Uğur was wearing slippers on his feet at the time of his death. Thirteen bullets were found in his body and eight bullets were found in his father's body, as the autopsy revealed.
The governor of Mardin said after the murder that terrorists were involved in planning an attack. To support this claim, a Kalashnikov was placed next to the bodies and the scene was photographed. The gun was almost bigger than the twelve-year-old body.
It was only through the efforts of the family that an investigation was finally opened. As usual in such cases, the perpetrators were protected by the Turkish judiciary.
While justice is yet to be done for Uğur and his father, their graves in the neighborhood of Pireketa were desecrated as the 19th anniversary of their murder approaches.
The headstones of both graves were broken into pieces by unknown perpetrators.
Uğur's mother, Makbule Kaymaz, condemned the attack and said it was no coincidence that it came shortly before the approaching anniversary of their murder.
Makbule Kaymaz said: "I have been seeking justice for 19 years but couldn't find it. Now, their graves are attacked. After hearing about the attack, our neighbors went to the cemetery and reconstructed the grave stones before telling us about the incident. They let us know afterwards. They protected Uğur's and his father's graves. Even the graves of the Kurds are not left in peace. We will continue to call the perpetrators to account, no matter what."