Guerrilla commanders: Success in Heftanin is thanks to renewal
HPG commander Hawar Suruç said that renewal is not only military but also at the level of ideas and determination. "Success in Heftanin is proof of change and renewal," he said.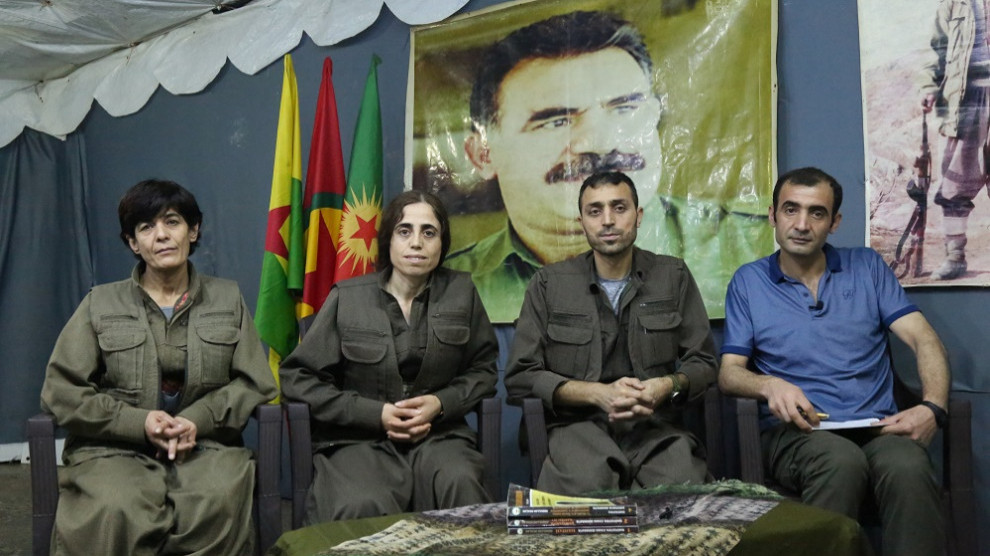 HPG and YJA STAR commanders spoke to Stêrk TV about the Cenga Heftanin operation to counter the Turkish state's invasion in South Kurdistan.
YJA STAR commander Eylem Roni, said that they experienced a violent war in Heftanin and added: "The borders of Misak-ı Milli was a problem in the Turkish army. This war is part of a broader plan. It has been on the agenda for a long time, but it is a plan that cannot be implemented. The Turkish army is receiving heavy blows as guerrillas counter the invasion."
HPG commander Hawar Suruç pointed to the guerrilla renovation: "The meaning of guerrilla is renewal. Guerrillas renew themselves according to the conditions and thus succeed in survive. Renovation manifested itself not only in the military, but also at the level of ideas, ideology and determination. Success in Heftanin has been possible thanks to these changes and is proof of renewal."
YJA STAR commander Laleşin Cudi assured that the Turkish state would not get any results and added: "The Turkish army has repeatedly tried to enter by land. Previously, it operated with tens of thousands of soldiers. The last time they realised that they were doomed to fail because of the resistance of the guerrillas. This time they wanted to get technical results. This did not work either. They attack every year to destroy guerrillas, but everyone can see the failure."
Commander Cudi added: "Guerrillas are getting stronger. The tactical changes carried out in the guerrilla gave us an advantage. The change in us is a dialectical measure. A unique resistance is carried out in Heftanin. Our friends take very successful actions. Each time they took action it was with a different tactic. The Turkish army is desperate as it has put the occupation as a plan and a project, but it is constantly dealt heavy blows by the guerrillas."