HDP's Co-mayors still not given mandates
Elected co-mayors of the Amed Metropolitan Municipality and 4 central districts from the HDP still haven't been given their mandates.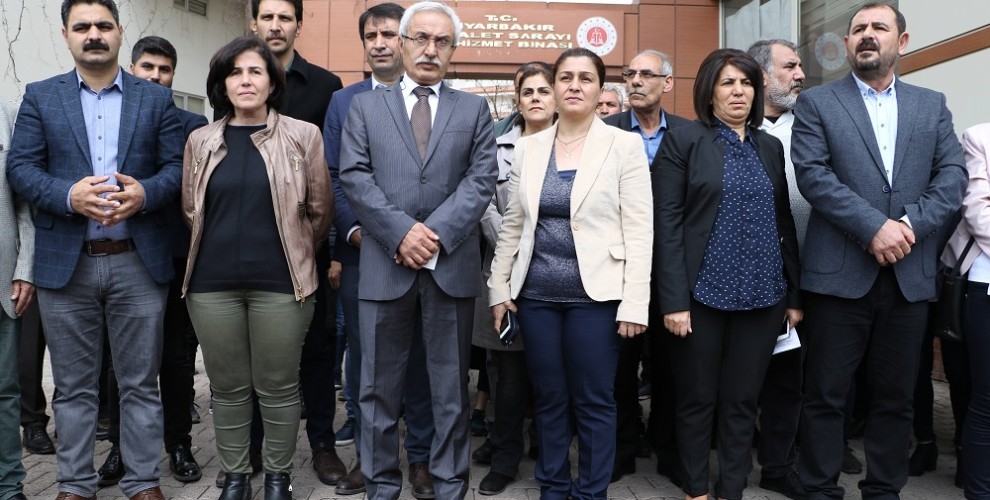 HDP's newly elected Amed Metropolitan Municipality Co-mayors Selcuk Mizrakli and Hulya Alokmen Uyanik, Yenisehir Co-mayors Belgin Diken and Ibrahim Cicek, Kayapinar Co-mayors Necati Pirinccioglu and Keziban Yilmaz, Baglar Co-mayors Zeyyat Ceylan and Zubeyde Zumrut, Sur Co-mayors Filiz Buluttekin and Cemal Ozdemir and their council members appealed to the Provincial Board of Elections to receive their mandates.
"WHY IS THERE A DELAY?"
HDP's elected officials then held a press statement in front of the Provincial Board of Elections under police blockade. Amed Metropolitan Municipality Co-mayor Selcuk Mizrakli said the Supreme Board of Elections (YSK) is delaying the announcement of the election results, even though the election was held on March 31, and that they are hiding the reasons for the delay from the public.
"THE PEOPLE KICKED THE TRUSTEES OUT"
Mizrakli mentioned the trustees appointed to the DBP municipalities and said: "The people's will has told the trustees to get out, clearly and strongly. The people are waiting for the co-mayors they elected to take office. In Diyarbakir and the rest of our region, the voters' will has manifested in overwhelming results, impossible to alter, but the mandates are being delayed."
"YSK HAS CAST DOUBT OVER ITSELF"
Mizrakli continued: "In the elections with great unlawful acts, there is silence against certain incidents in our region that came about in a dubious way. The YSK ordered recounts in 51 ballots in Istanbul as of last night, but rejected the appeals for Malazgirt, where the difference was 3 votes, and Mus, where it was 538. The YSK has issued contradictory rulings. YSK has cast a growing shadow of doubt over itself. Though it is the fundamental authority for election-related issues, these procedures are being delayed, which increases concerns."
Mizrakli said: "The mandates should be given at once. The Trustees are void as of April 1, but the situation is continued in effect. We expect this to end."
Mizrakli stressed that the YSK should act in accordance with Act No.2972: "Delaying the matter in cities like Diyarbakir, Van and Mardin where the outcome is extremely clear-cut will cast a serious shadow over the YSK. They say there are appeals, and that these appeals have been sent to the YSK. There is an approach that the decision will be made in Ankara."