Heavy snowfall in Kurdistan
Hundreds of villages in Kurdistan have been cut off from the outside world by heavy snowfall. Traffic accidents have occurred in many places and flights have been cancelled.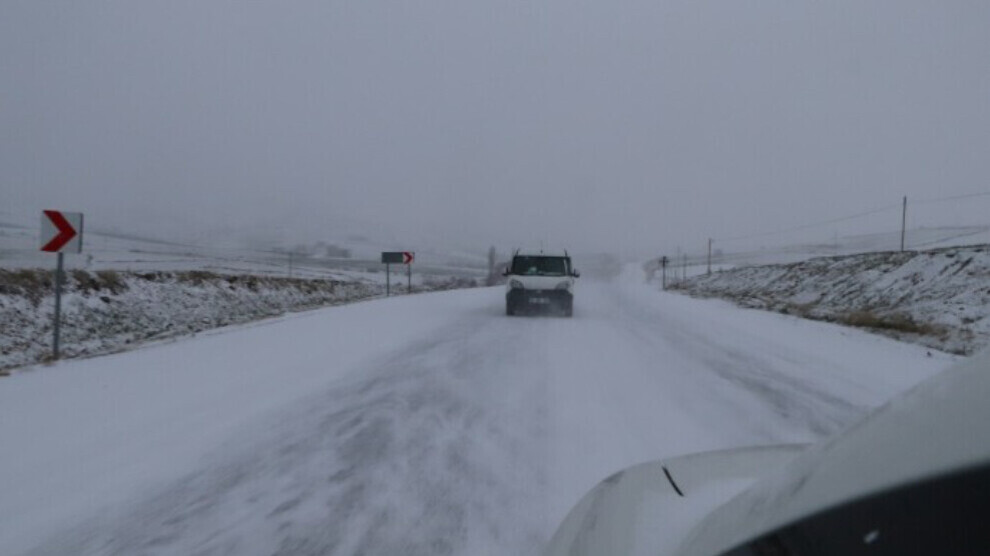 Heavy snowfall causes chaos in large parts of Kurdistan. In Kızıltepe district of Mardin, three people have died in traffic accidents. The Şahmaran women's platform blamed the trustee (who runs the municipality seized from the HDP) for insufficient precautions and pointed out that there had already been severe weather warnings for days.
HDP rally canceled
Meanwhile, the Peoples' Democratic Party (HDP) has cancelled a rally planned for Saturday in Amed (Diyarbakır) under the slogan "We defend the HDP". The event had been mobilised nationwide for days. The provincial association chairperson, Gülistan Atasoy, announced today that the rally would have to be postponed to an unspecified date due to the weather forecast: "We cannot be responsible for people falling ill or being injured in traffic accidents."
Kurdish load carriers missing in border area
In Şemsinli district of Hakkari on the Turkish-Iranian border, three kolbars (load carriers) from Eastern Kurdistan have been missing for eight days. Barzan Mîhendî, Eshed Seydanîferd and Behlûl Seydanîferd are said to have disappeared in the Bênar Valley. The days-long search for them had to be called off on Wednesday due to renewed snowfall.
Villages in Northern Kurdistan cut off from the outside world
Hundreds of villages in Van, Hakkari, Bitlis, Muş, Erzurum, Şırnak, Iğdır, Ağrı and Kars are cut off from the outside world, and schools have been closed in many places. Most flights from western Turkey to Van have also been cancelled due to the weather conditions.
Air traffic to Sulaymaniyah suspended
In Southern Kurdistan, public life is also paralysed due to the heavy snowfall. At Sulaymaniyah airport, all domestic and international flights were cancelled. A memorial service for the martyrs of Afrin had to be cancelled. The traffic authority in Hewlêr (Erbil) called on people to use the roads only in emergencies.
Snowball fights in Rojava
In northern Syria, where relatively little snow falls, the weather was more of an occasion for boisterous snowball fights in many places. The municipalities of Qamişlo and Tirbespiyê have been clearing the streets of snow since yesterday.