HPG announces identity of six guerrillas martyred in Turkish attacks
HPG released the names of six guerrillas who fell in Turkish army bombardments in July in the Heftanin region of guerrilla-held Medya Defense Zones in southern Kurdistan (northern Iraq).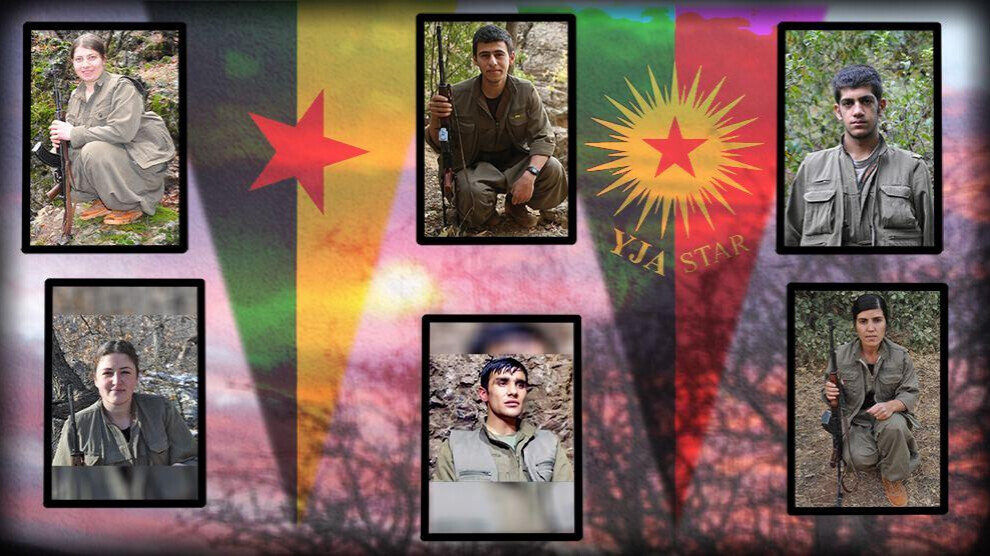 The Press Office of the People's Defense Forces (HPG) has published the personal details of six guerrillas who died in Turkish army bombardments in July in the Heftanin region of southern Kurdistan (northern Iraq).
The martyrs were named as Arjîn Cizîrî, Sozda Vorîn, Berjîn Zenda, Aso Zagros, Kurtay Bestûn and Kandîl Zap. "They all took important roles in the Cenga Heftanîn operation against the enemy's attempts to invade Heftanin. They had dealt heavy blows to the enemy," HPG said and announced the ID details of the fallen fighters as follows:
Nom de Guerre: Arjîn Cizirî
First-Last Name: Fatma Türk
Birthplace: Şirnak
Mother's-Father's Name: Sahiye – Hamit
Date and Place of Martyrdom: 7 July 2021 / Heftanîn
Nom de Guerre: Sozda Vorîn
First-Last Name: Nur Kızıl
Birthplace: Mardin
Mother's-Father's Name: Cemile – Mehmet Salih
Date and Place of Martyrdom: 7 July 2021 / Heftanîn
Nom de Guerre: Berjîn Zenda
First-Last Name: Ayşe Demir
Birthplace: Mardin
Mother's-Father's Name: Ziyana – Mehmet
Date and Place of Martyrdom: 7 July 2021 / Heftanîn
Nom de Guerre: Aso Zagros
First-Last Name: Melik Altın
Birthplace: İstanbul
Mother's-Father's Name: İrem – Mehmet Raif
Date and Place of Martyrdom: 7 July 2021 / Heftanîn
Nom de Guerre: Kurtay Bestun
First-Last Name: Muhammed Suphani
Birthplace: Kamyaran
Mother's-Father's Name: Vîda – Vahid
Date and Place of Martyrdom: 7 July 2021 / Heftanîn
Nom de Guerre: Kandîl Zap
First-Last Name: Şervan İbrahim Mehdi
Birthplace: Amûdê
Mother's-Father's Name: Selva – İbrahim
Date and Place of Martyrdom: 7 July 2021 / Heftanîn
ARJÎN CIZÎRÎ
Arjîn Cizîrî comes from the Kurdish resistance stronghold of Cizre, Şırnak. She grew up as the child of a patriotic family and was deeply influenced by the revolutionary environment in her town and family. Due to the political and social situation in Kurdistan, she came to believe that she should develop herself in the military struggle. She was convinced that Kurdish youth needed to train themselves militarily in order to defend themselves and their people. Therefore, when it became clear in 2015 that the Turkish state would end the peace process and was preparing a major attack, Cizîrî joined the guerrillas. There, she quickly integrated herself into life as a fighter in the mountains and actively prepared for the difficult phase ahead. "Comrade Arjîn never believed in the enemy's false peace policy and repeatedly volunteered for missions in the most difficult combat zones. She attached the same value to military training and works as to ideological aspects, and always fought to become a free woman and guerrilla fighter." Due to her sacrifice, determination and ideological conviction, she became a successful commander of the women's guerrilla force YJA Star and took on important tasks in the Heftanin region. "Comrade Arjîn, who succeeded in becoming one of the commanders who led the resistance in Heftanin, has become an example of a leader with her natural personality and adherence to principles, and as such will hold a place of honor in our history," HPG said.
SOZDA VORÎN
Sozda Vorîn was born in the Kızıltepe district of Mardin. She, too, was influenced by the sympathy that her environment felt towards Kurdistan's struggle for freedom and by her family's patriotism. From a young age, she sought ways to participate in the political struggle. In the resistance for democratic autonomy in the cities in 2015, she became better acquainted with the PKK and the desire to join the guerrillas was born in her. HPG said, "She participated in the resistance on the ground in many areas and played an important role in taking the struggle forward. She was deeply touched by the death of our comrades and her anger grew because of the massacres against our people. She was convinced that the most meaningful way to take revenge on the enemy was to join the guerrillas. In 2017, she joined the guerrillas and quickly developed into a commander. She became deeply involved with Apoist philosophy and women's liberation in particular. She quickly made personal developments and changes that were also reflected in her military attitude. She was aware that a relentless struggle against the enemy was necessary to become a commander determined to win. Thanks to her ideological self-confidence, she always prepared herself to confront the enemy and clearly demonstrated this in her practice. She participated in many actions carried out by YJA-Star women fighters against the enemy and played a decisive role in the war with her successful participation."
BERJÎN ZENDA
Berjîn Zenda comes from Mardin. Her family was forced to flee to Europe because of their political stance. Although she was far from Kurdistan at a young age, she remained connected to the values of the region and always hoped to return to Kurdistan. HPG wrote, "Berjîn showed her determination to analyze and oppose the capitalist system that is most prevalent in Europe. She took a courageous step by returning to Kurdistan and joining the guerrillas. Comrade Berjîn, who had worked hard to free herself from the system's influences after joining the guerrillas, felt almost reborn after overcoming every negative trait. She was deeply concerned with the effects of capitalist patriarchy and the role the system ascribes to women. She engaged in all levels of struggle against the system, but wanted to develop herself especially at the military level. Therefore, she successfully participated in intensive training on the new form of guerrilla warfare."
ASO ZAGROS
Aso Zagro's family is originally from the Çatak district of Van. However, the family had to migrate to Istanbul because their village was burned down by the Turkish military. Aso Zagros grew up in Istanbul and joined the guerrilla ranks in 2014. For him, this step represented a fitting response to the Turkish state's policy of annihilation.
"Every step that our companion Aso took in the mountains of Kurdistan was like revenge for being born in exile, a response to the expulsion and the attempt to destroy his identity. Aso is the son of a patriotic Kurdish family whose village was burned and destroyed and who were forcibly expelled from their land. Therefore, he was always waiting for the time to take revenge for his destroyed childhood, to quench his rage against the enemy with his young heart." HPG described him as creative, determined and characterized by sacrifice. He also volunteered to go to the areas with the fiercest fighting and went to Metina in 2020 for the hot war.
KÛRTAY BESTUN
Kûrtay Bestun comes from the Kamyaran region in Eastern Kurdistan. He, too, learned about Kurdistan's aspirations for freedom at a young age through his family, and he saw the oppression of the powers that rule Kurdistan as a colony. He became acquainted with the PKK and decided to participate more intensively in the revolutionary struggle. "Based on his analysis of the society in which he lived, the policies of the occupiers with which they try to corrupt society, he looked for a way out and found the answer in joining the guerrillas. He lived his own culture and also tried to learn about other cultures and regions. He managed to professionalize himself in guerrilla warfare and was always determined to go to the combat area. Thus, he went to Heftanin. There he played an important role in many areas in actions against the Turkish attacks," HPG said.
KANDÎL ZAP
Kandîl Zap comes from Amûdê in Rojava. He experienced the Rojava Revolution in his youth and thus had the opportunity to get to know the PKK up close. He was impressed by the self-sacrificing fight against ISIS and decided to join the guerrillas in 2016. HPG said, "He considered his participation in the guerrilla struggle as one of the most important turning points of his life and embraced guerrilla life with both arms. Aware of the fact that colonialism in Kurdistan could be defeated through guerrilla warfare, he was intensely committed to understanding and implementing the new tactics of the guerrillas. In particular, our comrade Kandîl was one of the important fighters who proved the effectiveness of the new fighting tactics during the Heftanin war."
The HPG statement concluded with the words: "We offer our condolences to the patriotic people of Kurdistan and especially to the worthy families of our comrades Arjîn, Sozda, Berjîn, Aso, Kûrtay and Kandîl. Each of them sets an example with their principled stand, their courage on the battlefield and their willingness to sacrifice. We pledge that in memory of our fallen comrades, we will definitively achieve victory in the struggle they handed over to us."