HPG announces identity of three guerrillas fallen in Metîna last September
The HPG announced the identity of three guerrillas who fell as martyrs in Metîna in September.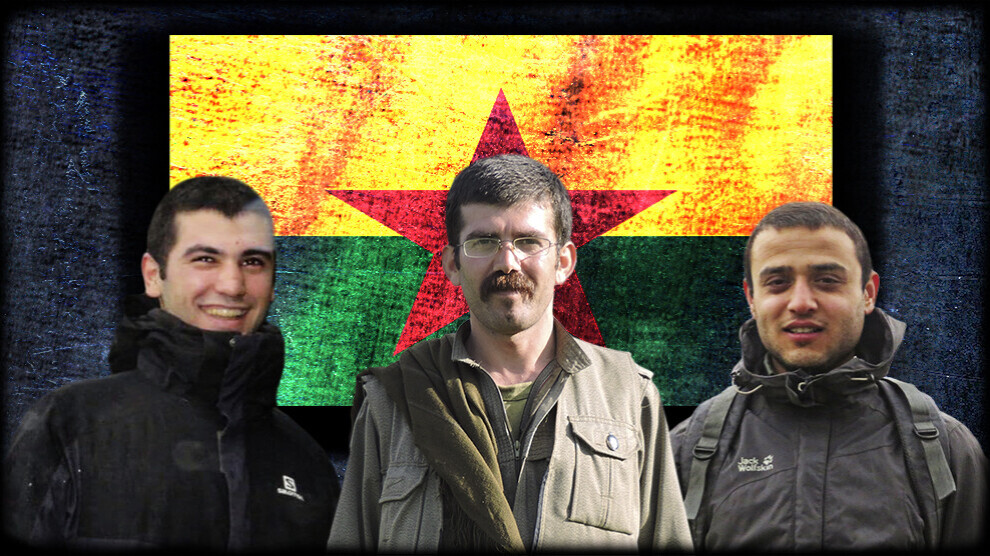 HPG guerrillas Serhad Rojava, Şerzan Aydin and Gelhat Goyî fell as martyrs as a result of the bombing of the Metîna region in South Kurdistan on 27 September. According to the People's Defense Forces Press Centre, the three fighters "successfully carried out all critical tasks assigned to them on the revolutionary offensive Cenga Xabûrê and fulfilled their mission".
The fallen martyrs are as follows:
      Code name: Serhad Rojava
      First and last name: Abdurrahim Hişam
      Place of Birth: Hesekê
      Mother and father's name: Ilham - Hişam
      Date and place of death: 27 September 2021 / Metîna
      Code name: Şerzan Aydin
      First and last name: Ahmet Akyol
      Place of birth: Mêrdîn
      Mother and father's name: Atiye - Kazım
      Date and place of death: 27 September 2021 / Metîna
      Code name: Gelhat Goyî
      First and last name: Ercan Yıldız 
      Place of Birth: Şirnak
      Mother and father's name: Meşure - Emin
      Date and place of death: 27 September 2021 / Metîna
The HPG said that "Serhad Rojava was born in Hesekê and came from a patriotic family. His family got to know the Kurdish liberation movement through Abdullah Öcalan's long stay in Syria and Serhad Rojava took part in the fight against the Islamists of the Al-Nusra front soon after the beginning of the Rojava revolution. He went to the front in Serêkaniyê and was wounded. He later joined the guerrillas in the Kurdish mountains and got to know Öcalan's philosophy better as practiced in the PKK. At the same time, he perfected his military skills and fought for six years against the occupation attempts of the Turkish army, most recently in Metîna.
Şerzan Aydin was born in Mêrdîn and, due to his family's environment, felt sympathy for the guerrillas as a child. After school, he studied at Çukurova University and became active in the Kurdish youth movement. He was arrested for his involvement. He used the time in prison for further learning. After his release, he went to the mountains – it was 2014 - and thus fulfilled his childhood dream. In the mountains, he stayed mainly in Gare, Xinêrê and Qendîl and took on a variety of tasks. He completed several special training for modern guerrilla warfare and finally went to Metîna, where he took part in a leading position in the defense against the Turkish occupation.
Gelhat Goyî came from Şirnak. His family belonged to the patriotic tribe of the Goyî, who traditionally preserve the ancient Kurdish culture. Growing up in this environment, Gelhat Goyî was convinced of the necessity of the Kurdish liberation struggle and wanted to take part in it. He lived in an area where the guerrillas were active and eventually went to the mountains as a fighter himself. There he continued his education and completed his knowledge of the Kurdish culture and of Abdullah Öcalan and the PKK. He stayed in various areas and took on critical tasks which, according to the HPG, he successfully carried out.
The HPG describe the three fallen soldiers as exemplary militants because of their determination and perseverance in the fight against the enemy. The HPG expressed their condolences to the relatives and the Kurdish people."