HPG: Helicopter shot down, 21 soldiers killed in guerrilla actions
According to HPG, the Turkish army has lost another transport helicopter and over twenty soldiers in the war in the guerrilla-held Medya Defense Zones in southern Kurdistan (northern Iraq).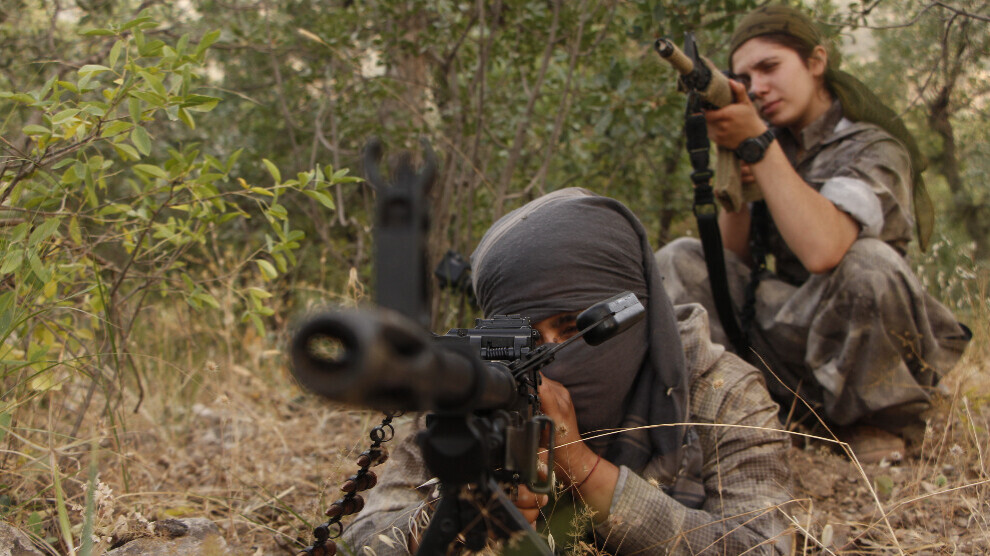 Another military helicopter was shot down in the resistance against the Turkish invasion of southern Kurdistan, announced the press centre of the People's Defense Forces (HPG) in its daily report on the war in Kurdistan. According to this, 21 soldiers of the Turkish army have been killed in 18 different guerrilla actions. There were no survivors in the helicopter crash, while the number of dead is unknown.
The HPG gave the following details:
Zap
In the Zap region, fighting continues to concentrate on the resistance area of Şehîd Fedakar in Sîda. On Saturday, an attempted advance by Turkish troops was stopped by the guerrillas using heavy weapons and sabotage tactics. Two soldiers were killed.
During the night, there were helicopter movements again in the region. When the Turkish army tried to airdrop troops, fierce fighting broke out. Mobile guerrilla units intervened eleven times against air landing attempts. A Sikorsky transport helicopter was hit and crashed in the Barzan area. Immediately afterwards, the crash site was bombed four times by Turkish fighter jets.
Xakurke
In Xakurke, mobile guerrillas ambushed a Turkish unit with creative tactics between the Girê Şehîd Şahan and Girê Şehîd Axîn mountains on Friday and carried out four actions of sabotage, killing eight soldiers. The guerrillas dedicated the action to revenge for the fallen HPG commander Bager Erdal.
On Saturday, guerrillas of YJA Star (Free Women's Troops) hit the howitzer and mortar positions of the Turkish occupation forces at Girê Şehîd Derwêş with heavy weapons. One position was completely destroyed, and six soldiers were killed. Detonations were observed in the other positions. The YJA Star dedicated the action to the fallen guerrilla commander Rêzan Amed.
Girê Amêdî
In the vicinity of the Şehîd Pîrdoğan position in the Girê Amêdî resistance area, three soldiers were killed in an action by a mobile guerrilla group on 1 September. On 3 September, two more soldiers were killed in acts of sabotage.
Attacks by the Turkish army
Regarding the attacks by the Turkish army on Saturday, the HPG said that ten attacks with tactical nuclear bombs and chemical weapons targeted the guerrilla positions in Girê Amêdî and Saca. Areas in Zap and Metîna were bombed 15 times by fighter jets. The area of Şehîd Fedakar was attacked 86 times by combat helicopters, Girê Amêdî twelve times. Girê FM was shelled dozens of times with howitzers and mortars. In Werxelê, the Turkish army again tried to demolish the guerrillas' tunnel facility with construction machinery.