HPG pays tribute to guerrillas Mahir Başkale and Egîd Serdar
Guerrillas Mahir Başkale and Egîd Serdar died in August while resisting the Turkish invasion of Kurojahro in the southern Kurdish Zap region.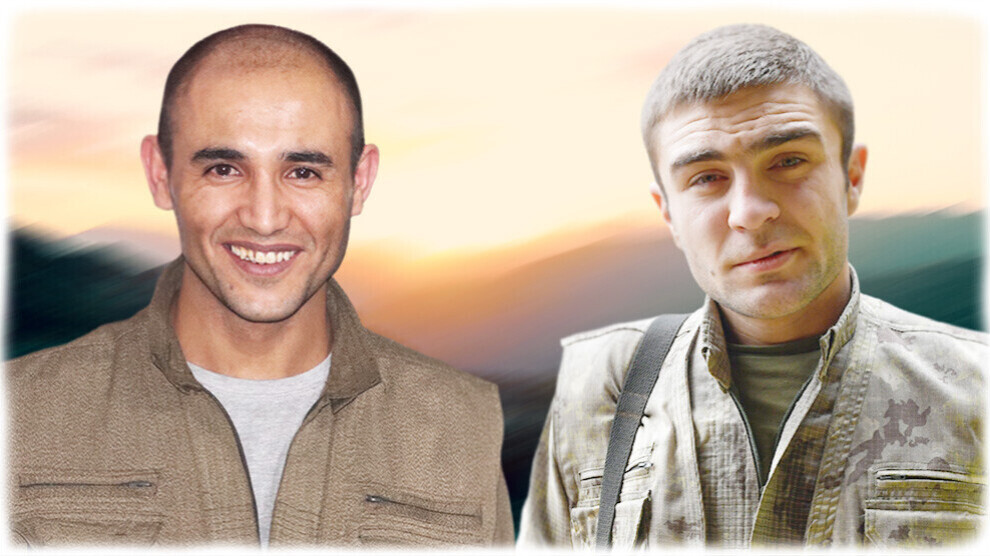 The Press Center of the People's Defense Forces (HPG) has published the names of two guerrillas who fell as martyrs. Mahir Başkale and Egîd Serdar died on 1 August in the Kurojahro resistance area in the Zap region during clashes with the Turkish army and subsequent bombardment. The HPG said that Mahir and Egîd were uncompromising representatives of the line of resistance that defines the character of the freedom struggle. Both martyrs were leading militants of modern guerrilla warfare, the HPG said, and expressed its condolences to their families and the Kurdish people.
The HPG provided the following information about the identity of the martyrs:
  Codename: Mahir Başkale
  First and last name: Deniz Ersu
  Place of birth: Van
  Names of mother and father: Safiye – Mehmet
  Date and place of death: August 1, 2023 / Zap
  Codename: Egid Serdar
  First and last name: Diyar Mardînî
  Place of birth: Hesekê
  Names of mother and father: Şirin – Lokman
  Date and place of death: August 1, 2023 / Zap
Mahir Başkale
Mahir Başkale was born in Van-Başkale (Wan-Elbak). Because the guerrillas were active in the region, he had the opportunity to get to know the freedom struggle for a long time. Even as a child, he dreamed of going through the mountains as a guerrilla fighter with a weapon in his hand. In 2013, he made this dream come true and joined the guerrillas with two relatives. Initially, he stayed for a while in Bakur, North Kurdistan. He went to the Zap region in the Medya Defense Areas for basic training and was then in Ertûş, Cîloya Biçûk, Şehîd Rustem, Geliyê Zap and Çiyayê Reş, among other areas.
He took on various tasks which he carried out with great seriousness and discipline. This included the development of the necessary infrastructure and the construction of underground defense systems, but also very critical areas of work. Mahir made no distinction between small and big tasks. He developed a strong bond with his comrades. He devoted himself to his ideological training and studied the philosophy of Abdullah Öcalan. At the same time, he took an active part in the defense of the Zap region. He was wounded five times between 2016 and 2019.
Like many guerrillas, Mahir also wanted to fight in Bakur. To prepare for this, he went to the Shehid Ibrahim Academy for further training. During his training he was able to expand his knowledge of military topics and his ideological insights and had the opportunity to self-critically evaluate his previous practice and compensate for personal weaknesses. He then moved into a field of work that required great trust in him and self-discipline. When a close relative of his, Commander Dilgeş Agir (Taner Kaya), died in combat in 2021, he returned to the Zap and fought in a mobile unit against the Turkish occupying forces. There he joined the caravan of the fallen on 1 August.
Egid Serdar
Egîd Serdar was born in Hesekê, in Rojava. His family was close to the Kurdish liberation movement and Egîd witnessed all stages of the Rojava revolution. He wanted to join the armed defense forces, but was initially rejected because he was too young. It was only after the Turkish invasion of Girê Spî and Serêkaniyê in 2019 that he went to the mountains and became a guerrilla.
On a training course for new fighters, he learned about guerrilla life and won the affection of his comrades with his sincere and natural personality. He learned more about the historical reality of his people and thereby also about himself. He became aware of the influence that capitalist modernity had had on his personality. He dealt with new forms of guerrilla warfare and gained competence in the tactics of tunnel warfare and mobile small groups in the terrain. At his own request, he went to Zap and became part of a mobile unit. He took on the most difficult tasks and took part in numerous front-line actions against the enemy.