HPJ commander Deniz: The guerrilla resistance is important for the whole of Kurdistan
HPJ commander, Berfîn Deniz, said: "We can organize ourselves according to these experiences" and added that the resistance of the freedom guerrillas against the Turkish state is an important experience for the whole of Kurdistan.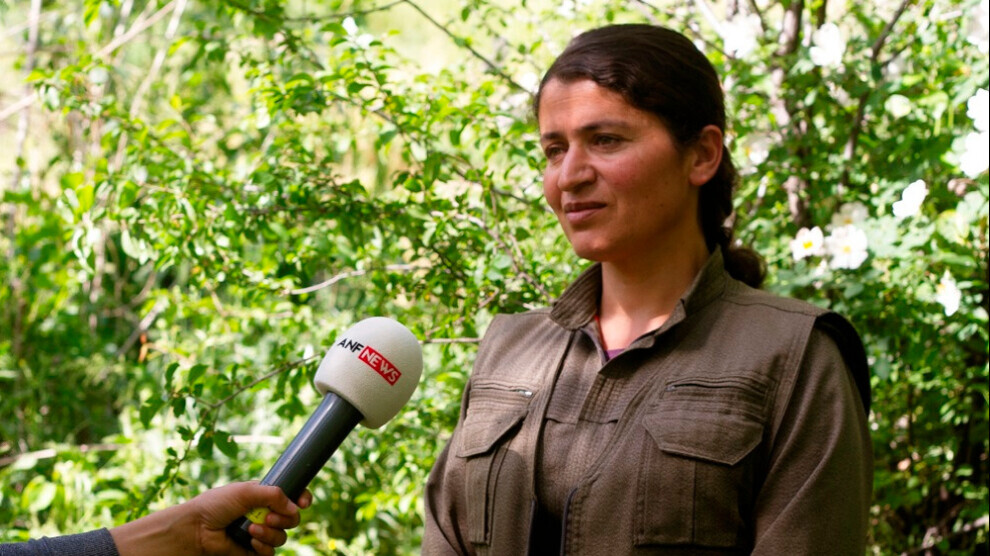 Berfîn Deniz, one of the commanders of the Eastern Kurdistan Women's Defense Forces (HPJ), talked to ANF about the recent attacks of the Turkish state against Kurdistan.
Stating that the Turkish state attacked with all its technological and military means, Deniz said: "We see that these attacks intensified, especially after the NATO summit. The Turkish state is currently trying to suppress the Kurdish people's freedom struggle."
Noting that the Kurdistan freedom guerrilla is prepared for these attacks, commander Deniz added: "Right now, the resistance continues in the mountains of Kurdistan relentlessly." Deniz, who called the resistance carried out by guerrillas in Medya Defense Areas since 23 April, an "historical resistance" continued: "The freedom guerrillas showed that they can protect Kurdistan with this resistance. We should not forget that currently, these guerrillas are fighting a struggle, rooted in the Turkish state, following the ideology and philosophy of Leader Öcalan. But this historical resistance is also important for the whole Middle East, because it is the clearest indicator of what people can achieve with their will, and it also means a blow to NATO and the capitalist system."
HPJ commander Deniz said that the YJA Star guerrillas currently fighting on the front are fighting with great determination and consciousness. "The experiences of these guerrillas are also of great importance for Eastern Kurdistan. It is possible for Rojhilat (East) to benefit from these experiences. We can organize ourselves according to these experiences."
Commander Deniz also drew attention to the situation of Kurdish people's leader Abdullah Öcalan, who is held prisoner by the Turkish state on the island of Imrali in heavy isolation, and added that a greater struggle and resistance should be carried out against isolation. "Everyone should free themselves from narrow perspectives. At the moment, determination and consciousness against colonialism have been rooted in the soul. Where there is one spirit, there is unity in struggle."