Hunger strikers' cases combined
The cases against hunger strikers accused of "terrorist propaganda" were combined into one lawsuit.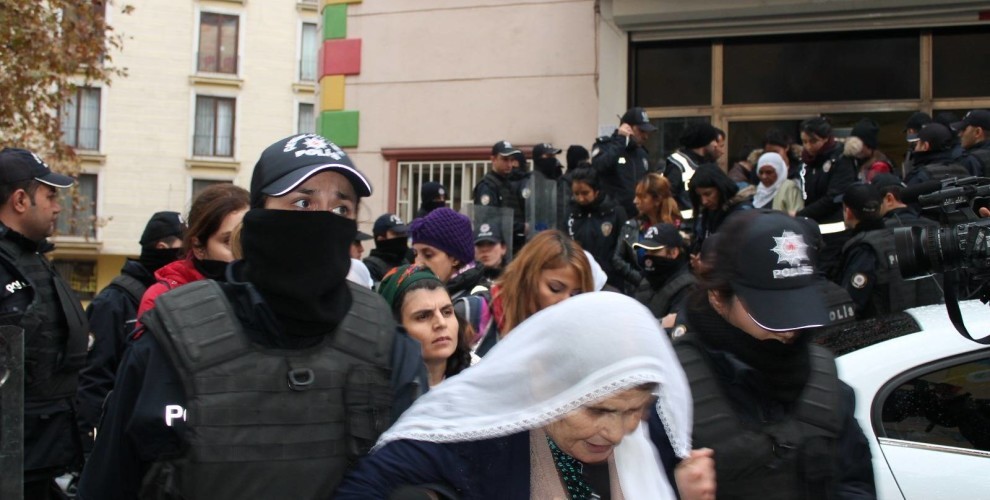 The cases of 80 people who are on trial for starting hunger strikes in the HDP Amed offices to support Peoples' Democratic Congress (DTK) Co-chair and Peoples' Democratic Party (HDP) Hakkari MP Leyla Guven and her demands were combined into one lawsuit.
In all hearings held in the Diyarbakir Heavy Penal Court No.11 to date, the court ruled to combine the 52 people's cases for "terrorist propaganda" into one lawsuit.
The court argued that there is legal and physical contact between the lawsuits filed separately against 52 people, and Giyasettin Duman who was on trial with 27 others in a separate case on the same allegations, ruling to combine the case with the case No.2019/100. All the hunger strikers are now combined into one case.
The 52 people on trial for going on hunger strikes are as follows:
Fatma Yakoglu, Makbule Ozbek, Rehsan Kalhan, Muazzez Altinkaynak, Raife Ergul, Yuksel Elmas, Aysel Tufan, Yildiz Kardes, Giyasettin Duman, Hasina Guler, Remziye Bayram, Sevim Coskun, Sakine Yakut, Gulistan Ekti, Mehmet Fadil Dalay, Bahar Karakas Ulug, Faruk Altun, Fatin Kagan Arslan, Mehmet Sirin Karakas, Kemal Baran, Mehdiye Kartal, Sertip Yetis, Selahattin Kurt, Remziye Sizici, Ramazan Ungur, Suleyman Akkus, Murat Cihan Sabaz and Orhan Taser, Tevfik Kacar, Alisan Binen, Latif Eminoglu, Mehmet Tas, Fahri Kaplama, Yusuf Teker, Mehmet Ali Altinkaynak, Mehmet Yaman, Sultani Aksoy, Rahime Ince, Kenan Kaydu, Cemil Demirhan, Hatun Aslan, Sakine Karadeniz, Veli Mutlu, Mensur Ekdemir, Medeni Hazar, Mehmet Ates, Mehmet Sirin Daslik, Nazim Ocal, Sahin Kabas, Orhan Avsar, Savas Babur, Murat Kilic, Salih Peksu, Hedeyat Ay, Parihan Karayil, Niyazi Baran, Firat Temizyuz, Ekrem Oruc, Nahide Fidan, Ugur Eraslan, Mustafa Demir, Veysel Kadir Erden, Alaaddin Ozguven, Ibrahim Nalbant, Erdal Akdemir, Leyla Demir, Mahmut Agactutan, Sevger Aslan, Lezgin Yilmaz, Burhaneddin Ertokus, Hanefi Yilmaz, Riza Baba, Nayif Fidan, Kadriye Aksu, Zeynep Aksoy, Emine Guclu, Muslum Bozgeyik, Aygul Ozdemir, Ergun Aris, Ibrahim Bahar.