Internationalist guerrilla martyred in Turkish air strike
HPG Press Center announced that the internationalist fighter Sarah Handelmann was martyred in a Turkish airstrike and shared her ID details.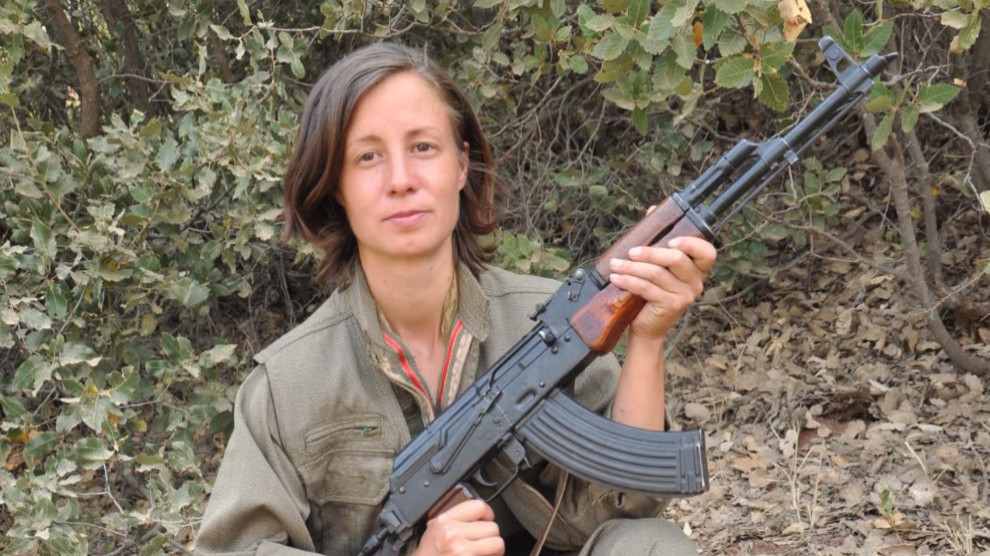 HPG Press Center issued a written statement and said the German born guerrilla was martyred in an airstrike against the Medya Defense Zones on April 7.
The statement said the following:
"The resistance war in all of Kurdistan continues with great heroism, labor and sacrifice. This freedom resistance that continues under the lead of the PKK has resonated throughout the world, as the struggles of our heroic martyrs who base their lives on sacrifice to build a free life go down in history as legends.
Many of our comrades fighting against the fascist-colonialist Turkish army in Kurdistan have displayed many acts of heroism in this resistance and kept fascists out. One of our heroes is internationalist fighter Sara Dorsin (Sarah Handelmann). Comrade Sara was martyred in an airstrike by the invading Turkish state against the Medya Defense Zones on April 7, 2019."
The guerrilla's ID details were listed as follows:
                               

Code Name: Sara Dorsin

Name: Sarah Handelmann

Place of Birth: Germany

Date and Place of Martyrdom: April 7, 2019 / Medya Defense Zones

 
AN ACTIVE GUERRILLA COMMANDER
The statement included information on the guerrilla's life in the struggle and stressed that Handelmann was an active guerrilla commander.
HPG said:
"Comrade Sara was born in Germany in 1985. She was introduced to the capitalist system's animosity against people when she was young, and she started to search for something. Comrade Sara got involved with several socialist organizations, and was very impressed by the Kurdish Freedom Struggle. She came to see the annihilation policies imposed upon Kurds as if they were done to her own people. Comrade Sara donned herself with the consciousness of the people's democratic union, and believed that salvation from the capitalist modernity system that rots people and fractures and exploits society lies with democratic modernity, and that a political-moral society is only possible through that. As a result of her search, Comrade Sara came to the Kurdistan mountains in 2017 to join the PKK movement that was shaped around leader Apo's ideology of a free life. Comrade Sara became a guerrilla in the vast mountains of Kurdistan, and adapted to mountain life quickly. She also got further acquainted with Leader Apo's ideology of free women. Comrade Sara took her place in the free women's units of the YJA Star, and formed strong bonds with the comrades around him in a short time. She quickly became a beloved comrade.
Comrade Sara developed fast, also in the military ara. Comrade Sara was a new guerrilla of the modern age, and served as a unit commander in the guerrilla. She fulfilled her duties without any shortcomings and was a leader to her comrades. Throughout her life in the guerrilla, she waged her struggle armed with her love for freedom and was an active guerrilla commander who played her role in the Kurdistan Freedom STruggle until the moment she was martyred.
Comrades Andrea Wolf (Ronahi), Uta Schneiderbanger (Nudem), Jacob Riemer (Shiyar) and countless comrades who joined our struggle became symbols of this quest for freedom. Many European and German comrades still are in our ranks. Comrade Sara was an important part of this march to freedom. Comrade Sara believed all of humanity must come together in peace and live according to their own language, culture and national values in peace, and that society must organize on the basis of a democratic nation aiming for freedom, that is how a free life should be.
The esteemed Handelmann family cannot be proud of Comrade Sara enough as their beloved daughter in the struggle for freedom. We offer our condolences to the family for this painful loss.
We remember all our internationalist martyrs who fought in the ranks of the struggle for freedom of the oppressed peoples as the biggest sign of the unity of peoples in the person of Sara Dorsin, and we promise that we will take the freedom flag given to us by our martyrs to victory.