Internationalist peace delegation from Europe visits Binarê Qandîl
The internationalist peace delegation from Europe visited the southern Kurdish mountain community of Binarê Qandîl.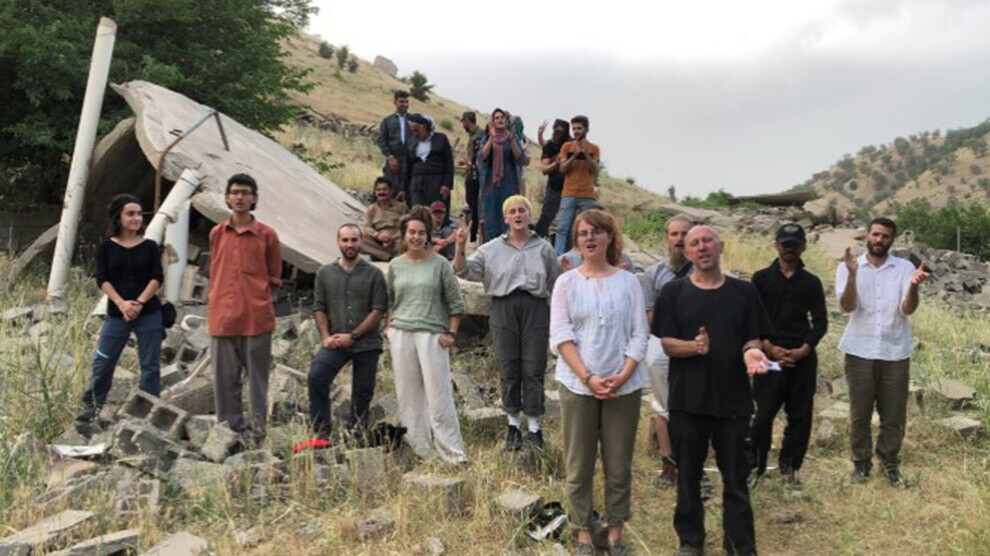 The internationalist peace delegation from Europe visited the southern Kurdish mountain community of Binarê Qandîl. The aim of the visit was to meet the people of the region affected by the war in Turkey, to inspect villages destroyed by the Turkish army and to show solidarity with the population. A meeting with the institutions of the autonomous administration in Binarê Qandil took up an important part of the trip to the valley of the Qandil Mountains. The main focus of the talks was on the effects of the war on the civilian population.
The delegation has been in the Kurdistan region of Iraq since last week to find out more about the situation in view of the intensification of Turkish attacks on guerrilla areas and to draw international attention to the war. The participants demand an immediate stop to the military aggression against South Kurdistan and a withdrawal of all Turkish troops. They are also demanding that arms deliveries to Ankara be stopped and that the so-called refugee deal with the Turkish regime be ended.
Las week, the internationalist group participated in a #March4Kurdistan initiated by the Kurdish youth movement. The demonstration aimed at reaching Behdînan in Koye, but was stopped and then broken up by the security forces of the ruling KDP. On Sunday, the delegation stayed in the village of Zergelê, among other places. The village witnessed a massacre by Turkey in the early morning of 1 August 2015. F-16 fighter jets dropped nine bombs in three waves of attacks and destroyed all six houses in the hamlet. Eight people were killed in the bombings, 15 others were injured, some of them critically, including children. This crime has gone unpunished to this day.
"A great war is taking place in the mountains of Kurdistan, especially in Zap, Metîna and Avaşîn. Many states are responsible for this war; NATO members such as Germany, France, Italy and Spain as well as those states that enter into political, economic and military relations with Turkey," said a delegate at a press conference in Zergelê.
The internationalists pointed out that the Turkish army continued to bomb South Kurdistan and that the international public ignored the invasion. Despite a war of aggression, in which even internationally banned chemical weapons are used, the "western community" remains silent. "But this oppressive silence encourages Recep Tayyip Erdogan to commit more war crimes against the people of Kurdistan," said the internationalists.
The members of the delegation said: "We condemn the silence of imperialist and racist states about these attacks, which are war crimes (and include the use of chemical weapons). Erdogan and Saddam Hussein have a lot in common."
The delegation will continue its visits in South Kurdistan.