Iranian writer Darvishi: The mullah regime is about to fall and doomed to collapse
Exiled Iranian writer Sepideh Darvishi who is leading the protests in Turkey against the murder of Mahsa (Jîna) Amini, stressed that "We want to live in a democratic and free country."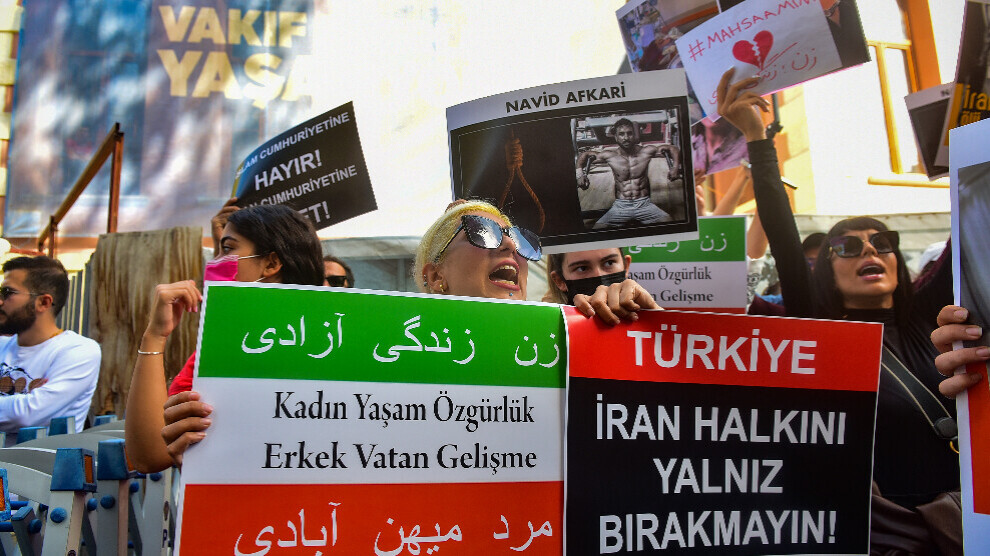 Riots and protests against the murder of a 22-year-old Kurdish woman, Jina Mahsa Amini, by the morality police in Tehran have spread all over Iran. Iranians living in Istanbul rally together frequently in front of the Iranian Consulate and condemn the mullah regime which has killed dozens of protestors and arrested hundreds of them during the ongoing protest actions.
One of the Iranian protesters, exiled writer Sepideh Darvishi, spoke to ANF in Istanbul.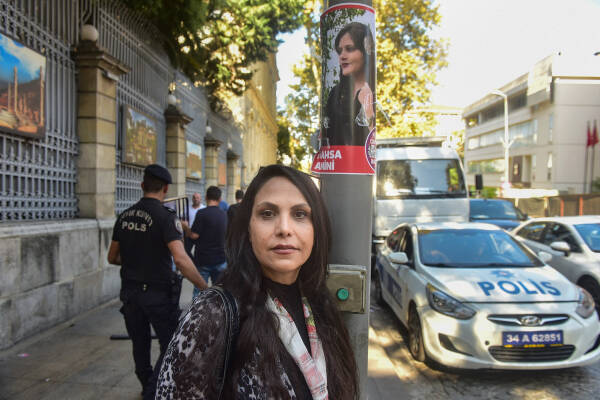 'MISOGYNIST IRANIAN REGIME'
Iranian writer Sepideh Darvishi is one of the women persecuted by the oppressive state. 48-year-old Darvishi went into exile in Turkey 5 years ago due to oppression and threats she faced in her country. She is now leading the protests in Istanbul against the murder of Amini. She emphasized that the Iranian state is hostile to women the most, and that she was a direct witness and victim of it.
'I WAS TORTURED SINCE I DID NOT ACCEPT SPYING'
Darvishi stated that she was detained and tortured because she did not accept the offer to spy on behalf of the Iranian intelligence. "I am from Bextiari. I am a writer and a Christian. A few years ago, intelligence officers called "Sipahi" came to our church and asked me to spy for them. Because there are people who go to church and convert to Christianity due to the religious persecution based on sharia laws. It is forbidden to convert to Christianity in Iran, and they execute those who change their religion. They wanted me to identify the converts and inform intelligence officers. Since I did not accept this, I was detained and tortured. They beat me and threatened me with rape. They forced me to sign a false statement. I was sentenced to prison. As a last resort, I had to flee my country."
'I CANNOT GET NEWS FROM MY FAMILY'
Showing the traces of torture on her hands, Darvishi pointed out that she still could not hold a pen properly even after years.
Darvishi said that she was concerned about the recent developments in Iran, and she could not get news from her family in Tehran due to the internet cuts.
'AMINI'S MURDER WAS THE FINAL STRAW'
Emphasizing that the murder of Amini was the last straw for Iranians, Darvishi remarked that the mullah regime was now about to fall and doomed to collapse.
The Iranian writer recalled that men and women have been fighting shoulder to shoulder against the oppressive system in Iran. She said that as Iranians in exile, they are trying to raise their voice to support their people. "As Iranians, we want to live in a democratic and free country. This is our only demand, and we will achieve it by fighting," she added.