Kalkan: "The Afrin resistance will spread throughout Kurdistan"
PKK Executive Committee Member Duran Kalkan spoke in the graduation ceremony of guerrilla candidates who joined the ranks of HPG and YJA-Star, and said: "We will mobilize to defend Afrin."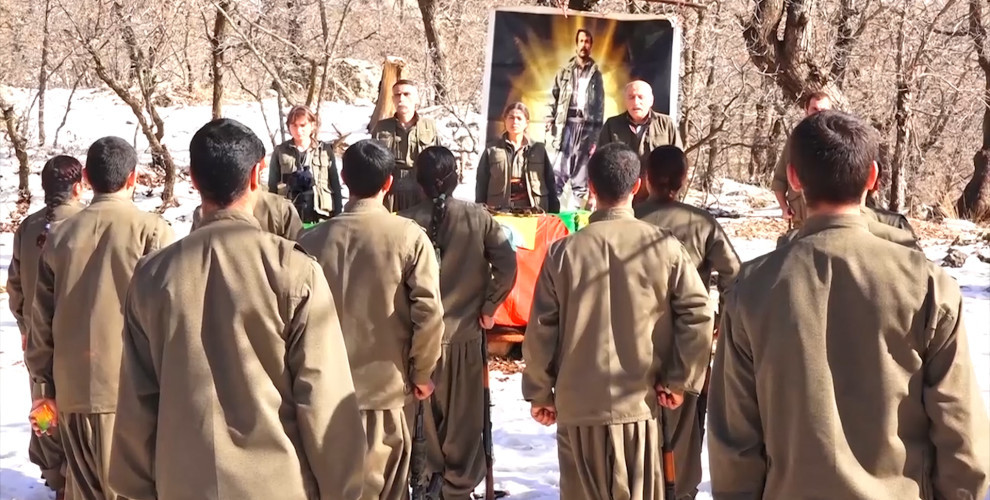 PKK Executive Committee Member Duran Kalkan spoke in the graduation ceremony of guerrilla candidates who completed their training and said, "We will mobilize to defend Afrin, Shehba and all of Rojava. We will do whatever is necessary to break this fascist aggression of AKP-MHP-ISIS that has become the bane of humanity today throughout Kurdistan, and to send them to the trash can of history."

Kurdish youth continue to join the ranks of the guerrilla in the face of Turkish state attacks against the Kurdish people. In Medya Defense Zones, a group of guerrilla candidates who completed the training in the Martyr Diler Helo term received their diplomas in a military ceremony which PKK Executive Committee Member Duran Kalkan, HPG Commander Orhan Jehat, YJA-Star Commanders Raperîn Zinarîn and Nujin Garzan and many guerrillas attended. Duran Kalkan gave a speech to the guerrilla candidates in the military ceremony and called on the Kurdish people to mobilize against the Turkish state's attacks against Afrin.
Highlights from Duran Kalkan's speech are as follows:
"We actually wanted to hold this opening ceremony as the welcoming of the new year. We wanted to state how we entered 2018 as the Kurdistan Freedom Movement, as the Kurdish people, as Kurdish youth and women, what stance and argument we had and what we would do throughout the year.

"KURDISH PEOPLE'S RESISTANCE DEFEATED THE AKP-MHP FASCISM"
But it has already become clear that this will be one of the most extensive, deepest fighting years in the history of our struggle. The fascist genocidal enemy's, AKP-MHP-ISIS fascist gangs' attacks show this very clearly. Not satisfied by the massacres in Northern Kurdistan and attacks against Medya Defense zones, the fascist dictatorship of Erdoğan-Bahçeli has launched a new attack on Rojava and Afrin, one of the most beautiful parts of Rojava. Their argument is to "clean out terrorism", they want to break the will of the Kurd and to destroy and disband our freedom movement. They openly and clearly express this. And we say to them, that they said the same thing when they had ISIS attack Kobanê in September 2014. At that time they said Kobanê was done for and it was Afrin's turn. We all saw what that ended up like in Tabqa and Raqqa. When they were defeated in Kobanê, they attacked Cizre, Sur, and the cities and mountains of Northern Kurdistan. Now they have turned their attacks towards Afrin again. That means they have been defeated in Cizre and Sur. From Şemdinli to Amed, from Mardin to Serhat, to Dersim, our heroic guerrilla forces', our women's and youth organizations', our people's heroic resistance has defeated the AKP-MHP fascism in Northern Kurdistan's cities and towns and mountains and plains, like the YPG/YPJ forces defeated ISIS fascism in Raqqa.
"WE WILL MOBILIZE"
Now with newfound strength, they think they can weaken our movement, intimidate our people, consume the opportunities for the revolution under current circumstances and make certain circles support them again through attacking Rojava, Afrin and Shehba. For sure we don't know in detail what dirty negotiations are in place. But in any case, we have exposed five thousand years of dirty and grime and thrown it aside with our 45 year long march under the lead of Leader Apo as a movement and as a people. One by one we exposed and convicted cheating, corruption and all accounts that are the enemies of the people and freedom. We have carried out a historic trial as a movement and a people, and now this divine justice will be executed in a stronger way in Afrin, Shehba, throughout Rojava (western) Kurdistan, in the North, in Bashur, in Rojhilat and throughout Kurdistan. Tyrants and fascists will be broken wherever they attack. They will drown in the blood they spill. As the Kurdish people as a whole, as the freedom movement, as Kurdish youth and women, we will mobilize to defend Afrin, Shehba and the whole of Rojava. Throughout Kurdistan, we will do whatever is necessary to break this fascist aggression of AKP-MHP-ISIS fascism and to send it to the trash can of history.

"2018 WILL BE THE FINALE"
The historic process we are in demands this of us. With 40 years of struggle, on the path of our heroic martyrs and following Leader Apo, we made this happen. Now it seems that the finale for this will be in 2018.

The war that started in Afrin already continues in the North. It will spread throughout Rojava, Bashur, Rojhilat and throughout the whole of Kurdistan, and we will drown this colonialist, genocidal, fascist system in its own aggression.
"WE WILL PREVAIL"
We will make 2018 into a year of even greater war and resistance, and of greater success and victory. We will do whatever is necessary for the freedom of Kurdistan, and to achieve the freedom and working conditions of Leader Apo. We respond to this aggression from this foundation. As a movement and as a people, we state that we will defeat and destroy the AKP-MHP fascism with the heroic resistance we will develop throughout Kurdistan, we will mobilize and resist everywhere against any and all kinds of attacks, and we will prevail.

The completion of this term is one of the signs for that. We dedicate this term to the Afrin resistance, we want to state that the comrades in this term are joining such a great process of a struggle for freedom. We believe that all comrades will make historic contributions to this great march for freedom and this resistance as soldiers of a resistance that will stop the enemy attacking Afrin in its tracks with their success. On this basis, we complete the term. We believe that all comrades will march on to duty with this consciousness and exert superhuman efforts to break the fascist, colonialist and genocidal aggression and become the soldiers marching heroically on the path of the Leader and the martyrs in line with the vanguard victory line. With this belief, in the name of our party administration and HPG Headquarters Command we wish success to comrades who have received their diplomas and are headed into the struggle."