Karayılan: This is a call for resistance that everyone should join
People's Defence Centre Headquarters Commander Murat Karayılan said that "everyone should participate in this process. This is a call for resistance. It is necessary to raise the national and democratic resistance in Zap, Metina and Avaşîn."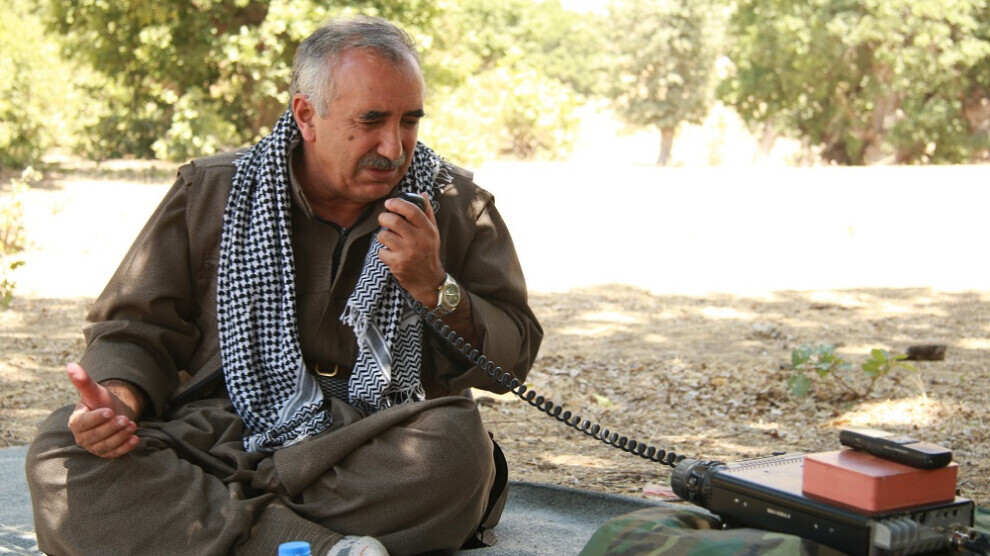 People's Defence Centre (HSM) Headquarters Commander Murat Karayılan spoke to the guerrillas fighting in Zap, Avaşîn and Metîna over the radio.
"First of all, I praise all friends with respect and love on behalf of our headquarters and our movement. The historic resistance marks its third month. During these three and a half months, very significant results have emerged. Of course, these results are very important and valuable for us. This happened thanks to the heroic martyrs and your sacrifice. We commemorate all the martyrs of the historic resistance in the persons of comrades Saristan, Rohat, Bager, Avzem, Özgür, Zemani, Nalîn and Berfîn Rêbaz. We bow respectfully before their memories. We owe them. These heroic sagas were written thanks to them. We will take their revenge to respect their memories and we will fulfil our promise to achieve victory," Karayılan said.
In his speech broadcast by Gerîla TV, Karayılan addressed the following issues:
"The Turkish state has been attacking our movement and our people uninterruptedly for four years based on its concept of genocide. On this basis, it wants to occupy Bashur (South Kurdistan) completely. Especially following its attack on Garê, it attempted to occupy the entire Medya Defense Zones in a short period of time. However, the tactics used against the Turkish army frustrated the enemy's 2021 plan. The enemy failed. But Turkey continues its invasion attacks. Turkey is prepared to some extent, both in terms of politics and diplomacy as well as military build-up. It is trying to receive further support from local forces and the collaborative Kurdish line. As the Iraqi state remains silent and helps the Turkish forces, Turkey seeks to create technical opportunities and gain more support from the hegemonic powers.
The enemy has made such preparations. It also trained its forces accordingly and wanted to achieve in 2022 what it could not in 2021. In other words, it first aimed to occupy the Medya Defense Zones in a short time, and then Rojava to successfully complete the concept of genocide. However, after three and a half months, the result so far shows that the enemy has not been successful. It has failed to execute its plan. A very tough war has taken place within these three and a half months and it is still continuing. The enemy has used all its opportunities. Thus, the war has escalated. For example, the enemy forces received heavy blows in Girê Cûdî, Girê FM and Girê Hakkarî. Later, they wanted to occupy Girê Amediyê and Çemço. It received the biggest blow at Girê Amediyê.
TURKEY SUFFERED HUGE CASUALTIES
The Turkish state made every effort to achieve results, but the resistance of our friends proved much stronger. We can say that there has never been such a fierce war between us and the Turkish state in our history. In our history of fighting, the Turkish state has never suffered such major casualties in South Kurdistan. According to information provided by our companions, approximately 1700 Turkish troops have been killed so far.
According to a balance sheet, 72 of our comrades have been martyred. However, we have not yet received information on the whereabouts of some of our fighters. In other words, we have suffered around 80-90 martyrs in this historic resistance. We can say that the war is mostly based on technology, as the Turkish army uses banned weapons and advanced warfare technology. The number of our casualties is not very high. This shows that it is possible to achieve major results without suffering many casualties with the tactics we use. It is possible for us to frustrate the enemy's advanced warfare technology and get results. If a fighter does not make mistakes and acts more professionally, he can defeat the enemy forces completely. Of course, this is not easy, what our fighters are doing right now is not an ordinary thing. This is great courage and sacrifice. Our people and the world are following this war closely.
Just as history tells us that a brave man could fight 100-150 fighters, the Apoist self-sacrificing fighters are now doing the same in Zap, Avaşîn, Girê Cudî, Girê FM, Girê Hakkarî and Girê Amediyê. Heroes in history were mostly men, but now there are male and female heroes. This makes the heroes of the current period even stronger. Women fighters are playing an important role before the eyes of the world in the persons of comrades Saristan, Mizgîn, Çiya, Avzem, Viyan, Nalîn, Dîdar and Berfîn. Women are the leading figures in this resistance. The epic struggle of comrades Bager Gever and Avzem is not an ordinary thing and will never be forgotten. Their stories will pass into Kurdish history with golden letters. Undoubtedly, this is a new historic threshold. The future of our people relies on such a historical heritage. Women's contribution to the resistance is very important.
AKP-MHP REGIME WILL COLLAPSE IF IT CONFIRMS DEFEAT
You all take part in this resistance, and you know how the enemy puts all its forces to use. Recently, Turkey has deployed its special forces in Çemço and Girê Amediyê. We saw how their special forces received major blows. So, the enemy is doing everything to win, yet it has failed. Currently, it has deployed troops in Zap as in other regions, but has not been able to complete the occupation. Turkey wanted to occupy Zap within two weeks and thus complete their plan. So, it can be clearly said that the enemy has been defeated basically. It is just that the enemy does not accept its defeat. Because in the event of confirming the defeat, the AKP and MHP regime will collapse. The regime is already on the verge of collapse. Also, if it fails to achieve victory in this war, this regime cannot stand.
Four years ago, we said that when the enemy came to Medya Defense Zones, victory would be ours. Victory will be achieved when the enemy is defeated in the Medya Defense Zones. That is to say, the enemy will be defeated in general. We said that if the enemy was defeated in Zap, the regime in Ankara would collapse as well. We are now saying the same things. If the enemy is completely defeated in this war and admits that "it failed" as it confessed in Garê, it will be completely defeated. The regime will collapse. The people of Kurdistan and Turkey and the peoples in the region will celebrate that day. This is how the era of democracy and freedom will begin.
This will pave the way for the freedom of Kurdistan and the physical freedom of Kurdish leader Abdullah Öcalan. Therefore, this war is continuing at a very important stage. It seems that the enemy wants to keep the war going so that this does not happen. But we should also continue to resist. The most important stage has come. In fact, there are further challenges especially on some fronts and in some areas. However, if our fighters improve their creativity by Apoist ways and methods, they can find solutions to all difficulties. If you resist on this basis, you will certainly get results.
TURKEY PUTS THE BLAME OF THE ZAKHO ATTACK ON THE PKK
As we said, the Turkish forces expanded the battlefields because they could not get results and were stuck. When Turkey realized that spreading war did not work either, it targeted civilians. It is attacking Bashur, Kelar, Chamchamal, Maxmur, Shengal, Shehba and all Rojava, killing civilians. Most recently, it attacked the village of Perex on July 20 when 9 Iraqi citizens were martyred, and 24 people were seriously injured. Beyond doubt, the enemy aimed something with this attack, but we do not need to address it now. This attack also shows how frustrated the enemy is . Turkey wants to exert psychological pressure on the people of Iraq and South Kurdistan. However, the reaction of the Iraqi people to this attack was very significant. The Iraqi people said that "Enough is enough". Therefore, the Iraqi government had to take a stand when people took to the streets everywhere. So, the Iraqi officials understood that this would not be the case anymore. They cannot go on like this.
The enemy realized that it was not easy to evade responsibility for this brutal attack. Now, they deny it and claim that "the PKK did it" but everyone knows that it was them. They will not be able to get away with this easily. This occupation and genocide policy of the Turkish state has now failed. Tayyip Erdogan and Bahceli want to win the next elections by gathering the people of Turkey around them with this brutal attack and policies. However, they are now desperate and will not be able to achieve the results they seek.
The resistance currently put up in Zap and Metîna in general, and especially in the west and east of Zap, has played a major role in our struggle so far and will continue to do so. All provinces of Bakur (North Kurdistan) and Medya Defense Zones should provide support in a stronger way. This is missing. Everyone should participate in this process. On this basis, we call for simultaneous resistance from all Kurdistan youth, women, people and friendly peoples. It is a call upon all socialist and democratic forces, and upon everyone who is fighting the AKP and MHP fascism. This is a call for resistance. It is necessary to raise the national and democratic resistance in Zap, Metina and Avaşîn. We hope that this resistance will grow more and more.
We must enhance the historic resistance. Every friend should treat this significant phase of war with responsibility and ensure stronger participation. This is a process of great importance and it will unfold major results in the event of undertaking responsibility. Comrades have made great sacrifices so far and the same way should be maintained in the current process as well. Every militant in this endeavour is worthy of victory. To answer our martyrs and the hopes of Rêber Apo (Abdullah Öcalan), the mothers and people of Kurdistan and the peoples of the region, we are faced with a historic challenge. Should we succeed, the path to great victory will open. We all have responsibilities to take in this regard and we believe that everyone will play their part."