Kurdish journalist Deniz Firat commemorated by her grave
Five years ago, Kurdish journalist Deniz Firat was killed in an attack by the ISIS on the Maxmur refugee camp in southern Kurdistan. She was commemorated by her grave in Van.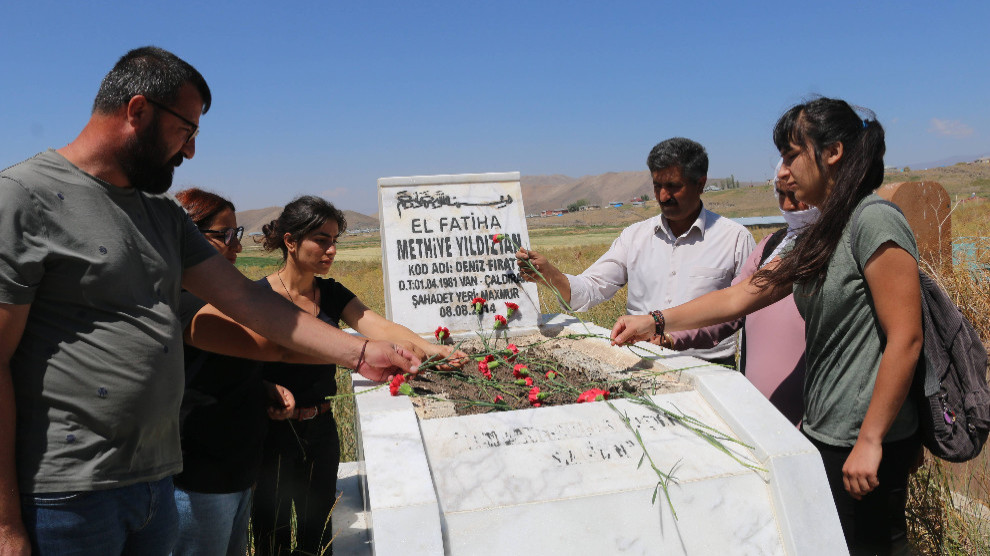 Deniz Firat (Methiye Yıldıztan) was commemorated on fifth anniversary of her martyrdom. The Kurdish journalist from the northern Kurdistan province of Van lived with her family in the Maxmur refugee camp in South Kurdistan. In August 2014, the so-called "Islamic State" attacked Maxmur in addition to the Yazidi homeland Shengal and other places.
Deniz Firat not only documented the events on site with her camera for our agency, but also reported on the Kurdish television channels Stêrk TV and Ronahî TV. On August 8, she was killed in an ISIS attack.
The memorial in the cemetery in the district of Çaldıran, the birthplace of Deniz Firat, was attended by relatives, friends and colleagues of the journalist. After a minute's silence, Hikmet Tunç spoke on behalf of the Mesopotamian Women Journalists Platform (Mezopotamya Kadın Gazeteciler Platformu, MKGP), stating, "With great devotion, Deniz Firat resisted with her identity as a woman, a Kurd and a journalist. Even in times of intense conflict, she took her place in the battle fronts with her camera. The legacy she has left us shows us our way."
Then Seyat Yıldıztan, a brother of Deniz Firat, addressed a few words to the crowd: "My sister's fight is not just continued by her friends. Two of my siblings continue the work of Deniz today. This fight will triumph. The oppressors will lose. "
The memorial service ended after flowers were laid down on the grave of the journalist.