Leyla Guven reached day 198 of hunger strike
DTK Co-chair Leyla Guven is on day 198 of her hunger strike demanding an end to the isolation in Imrali, and the first group of prisoners on death fast are on day 25 of their protest.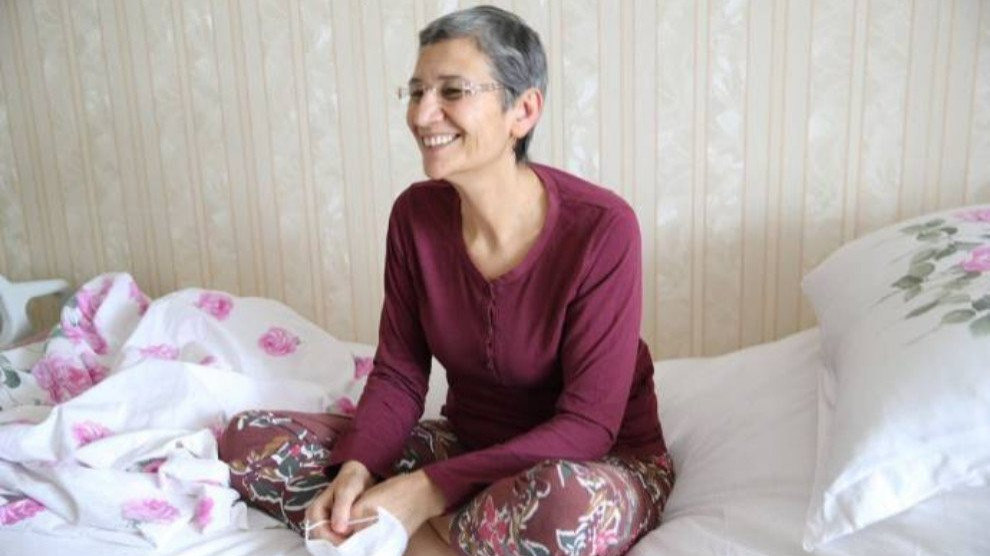 Democratic Society Congress (DTK) Co-chair and Peoples' Democratic Party (HDP) Hakkari MP Leyla Guven has reached day 198 of the hunger strike that she started in Diyarbakir Type E Prison demanding an end to the isolation imposed upon Kurdish People's leader Abdullah Ocalan.
Hunger strike in Kurdistan, Europe and Toronto
HDP Member Nasir Yagiz is on day 185 of his hunger strike in Hewler, while 14 activists in Strasbourg and Imam Sis in Newport, Wales are on day 159. The prisoners who started on December 16 are on day 160, Yusuf Iba in Toronto, Canada is on day 132, Fadile Tok in Maxmur is on day 125 and Herem Mahmud in Kelar is on day 90 of their hunger strikes, which spread throughout all prisons on March 1.
Merwan Memduh Ozdemir is on day 11 of his death fast in the Mesopotamia Workers' Association in Sulaymaniyah.
30 prisoners on death fast
Asli Dogan and Ardil Cesme joined the protest from the Gebze Closed Women's Prison after thousands of prisoners went on hunger strikes in all prisons. They and Zozan Cicek, Sukran Aydin and Nesrin Akgul from the Bakirkoy Closed Women's Prison, Ahmet Topkaya, Ferhat Turgay, Abdulhalik Kaplan, Enver Donmez and Ergin Akhan from the Diyarbakir Type D Closed Prison, and Ihsan Bulut, Ozhan Ceyhan, Vedat Ozagar, Erol Cengiz and Ahmet Anigi from the Van High Security Closed Prison have decidded to turn their hunger strikes into death fasts on April 30. Today is the 25th day of the first group of death fasters.
Another 15 people joined the death fasts on May 10. Yasar Cinbas, Muhammed Inal, Diyadin Akdemir and Engin Kahraman from the Kandira Prison, Ibrahim Dogan, Ahmet Emin Eren and Mustafa Tastan from the Bolu Type F Prison, Senar Efe, Burhan Sik, Faysal Atak and Safii Kayhan from the Patnos Prison, Resat Ozdil from Tekirday Prison No.1 and Zeki Bayhan and Yilmaz Yildiz from Tekirdag Prison No.2, and Sait Ozturk from the Van High Security Prison continue the death fast they went on on the 15th day of their protest.
3 HDP deputies on hunger strike 
HDP MPs Dersim Dag, Tayip Temel and Murat Sarisac continue their hunger strike in the HDP Diyarbakir Province Offices since March 3.