Maxmur People's Assembly calls for the withdrawal of Iraqi troops: "We are ready for dialogue"
Maxmur Democratic People's Assembly Co-Chair Yusif Kara urged the Iraqi government not to bow to the fascist impositions of the Turkish state and called for dialogue to end the tensions.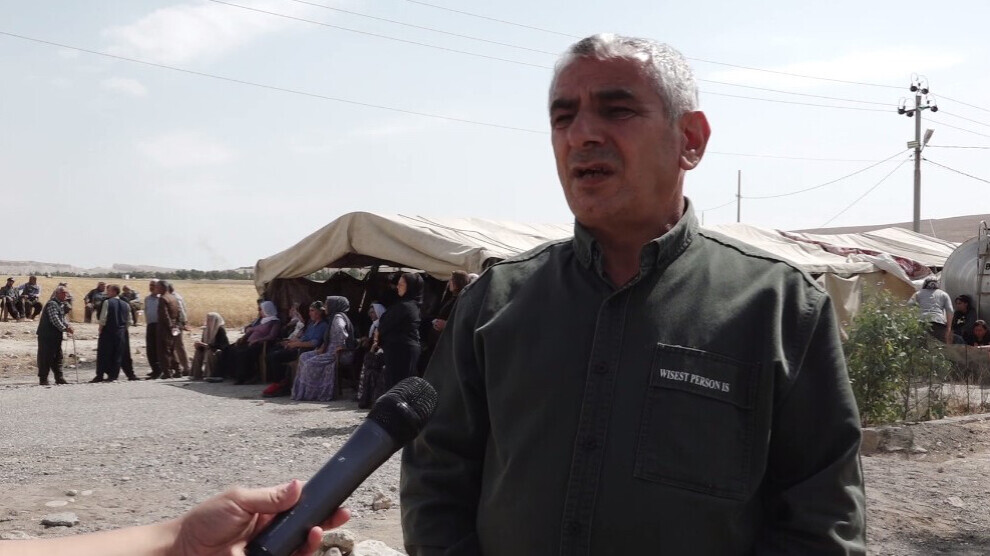 On the third day of the resistance in the Maxmur refugee camp in southern Kurdistan (northern Iraq), Maxmur Democratic People's Assembly Co-Chair Yusif Kara called on all democratic forces to put pressure on the Iraqi government.

'BARBED WIRE IS AN INSULT AND ISOLATION'
Kara remarked that the Iraqi government had long been seeking to surround the camp with barbed wire in cooperation with the Barzani family and Turkey, which the people of Maxmur have never accepted. "We consider it an insult and isolation. We have said it openly, but they are insisting."
Talking about the Iraqi army's mobilization for the blockade launched on May 20, Kara said: "They wanted to attack with the support of the police and armoured vehicles. They sent a delegation, whom we met, revealing our stance once again. However, they did not listen and insisted on their decision."
Kara noted that this attitude of the Iraqi government was against United Nations laws and hospitality, adding that the blockade decision was clearly made in line with the policies of the fascist Turkish state.
'MAXMUR RESIDENTS WILL NOT ACCEPT THE BLOCKADE'
Kara spoke about the resistance of the camp residents, stating: "We do not accept this blockade in any way. We have been in exile for 30 years. They cannot impose this on us. We want to live with dignity and honour. We escaped from the persecution of a fascist enemy and became refugees in Iraqi land, where we have been living for 30 years. After 30 years of persecution, the residents of Maxmur will not accept the isolation and imposition of an open prison."
Appealing to the international democratic public opinion, especially the United Nations, the people of Kurdistan and the people of Iraq, Kara said: "The Iraqi people are very hospitable. They should reject the practices imposed on them by the traitors and the fascist Turkish state."
'WITHDRAW YOUR FORCES, WE ARE READY FOR DIALOGUE'
Kara concluded: "We once again call on the Iraqi government to abandon its inhumane attitude which promotes Turkey's interests on the eve of the 28 May election. For 30 years, we have not done harm to them (Iraqi people), nor have they done any harm to us. Abandon this attitude against us. Withdraw your forces. Then we will be ready for negotiations with Iraqi government officials and civilian institutions."