Maxmur refugees start democratic actions against attempts to block the camp off with wire fences
The people who set up a tent of resistance in Maxmur, which the Iraqi government is trying to block off with wire fences, said that they will continue their actions against the oppression.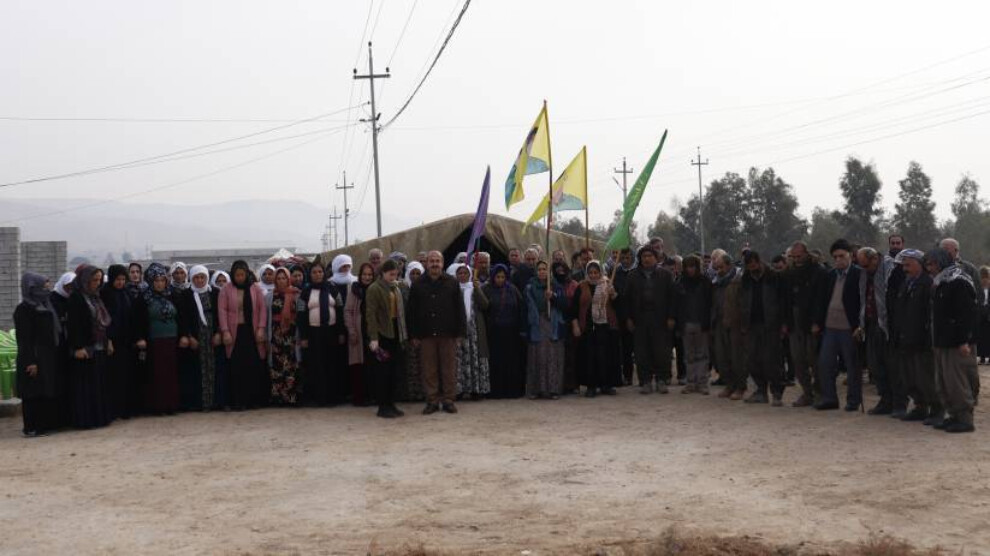 Maxmur Refugee Camp, which has been under embargo by the Kurdistan Democratic Party (KDP) since 19 July 2019, is now trying to be blocked by the Iraqi government, this time with wire fences. The forces of the Iraqi government wanted to block off Maxmur with wire fences on 27 December 2021, but had to withdraw as a result of the people's reactions. Maxmur People's Assembly, which has been on a vigil against the blockade for days, set up a resistance tent at the checkpoint at the camp entrance.
Democratic actions are starting
Sait Çömlek, a member of the Maxmur People's Assembly Foreign Relations Committee, made a statement in the resistance tent and condemned the attempts to block off the camp with wire fences. The statement said: "The stance of the people of Maxmur is a democratic and humanitarian stance. We, the people of Maxmur, will never accept these attitudes, and we will continue to stand against them. With this blockade, they are trying to show the people of Maxmur as a dangerous society. We are launching democratic actions against this.
'We have a free will'
Taybet Kapar was in the resistance tent. She told Jinnews: "The people living in Maxmur are people who were forced to migrate here 27 years ago. There is an autonomous administration here and we have built our own system. We have been officially recognized as political refugees. However, the Iraqi government is trying to block off the camp on the grounds of the census and renewal of identity cards. We will never accept this. We have our own administration and we have our own free will."