Maxmur women on day four of hunger strike in Hewler
Members of the Ishtar Women's Council from Maxmur refugee camp who have launched a hunger strike in front of the United Nations' office in Erbil, continue their action despite the cold and rain.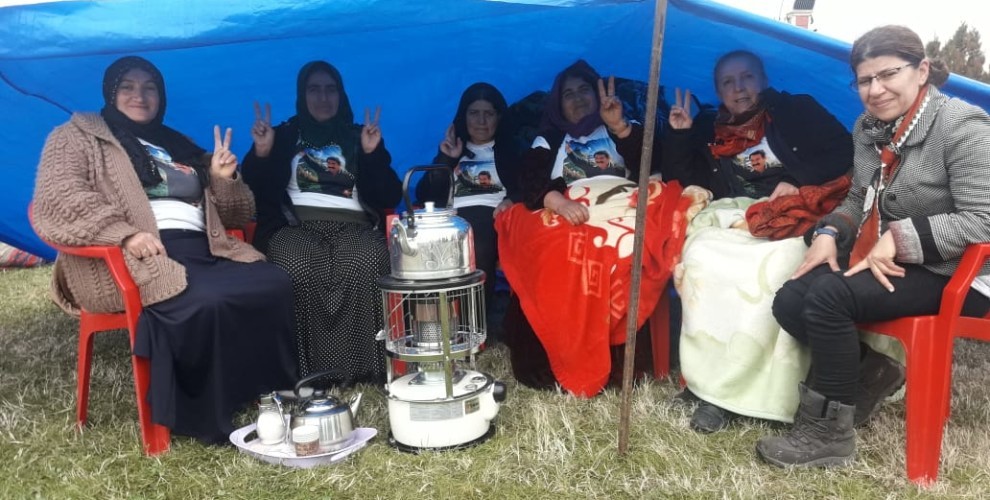 A group of women from the Maxmur Ishtar Council started an indefinite and alternating hunger strike demanding an end to the isolation imposed upon Kurdish People's Leader Abdullah Ocalan. The hunger strike is carried out in a tent in front of the United Nations (UN) Representation Office in Hewler set up on Wednesday.
The action is organised as part of the Kurdish hunger strike campaign that was initiated by DTK Co-chair and HDP MP Leyla Güven in Amed Prison 86 days ago and later joined by hundreds of political prisoners in Turkey and North Kurdistan, as well as dozens of activists in Kurdistan, Europe, Toronto and Wales.
The KDP's asayish forces, local police, two days ago raided the tent of the hunger strikers, tore down the tent and confiscated the items belonging to the activists.
The action by Maxmur women continues despite the bad weather, in another tent they set up after the raid. The activists remain determined, stating that they will continue their hunger strike as long as the isolation of Abdullah Ocalan is in place.