Memorial ceremony in Shengal
YBŞ commander Zerdeşt Şengalî and his companions who died in a Turkish air strike a year ago have been remembered in Shengal.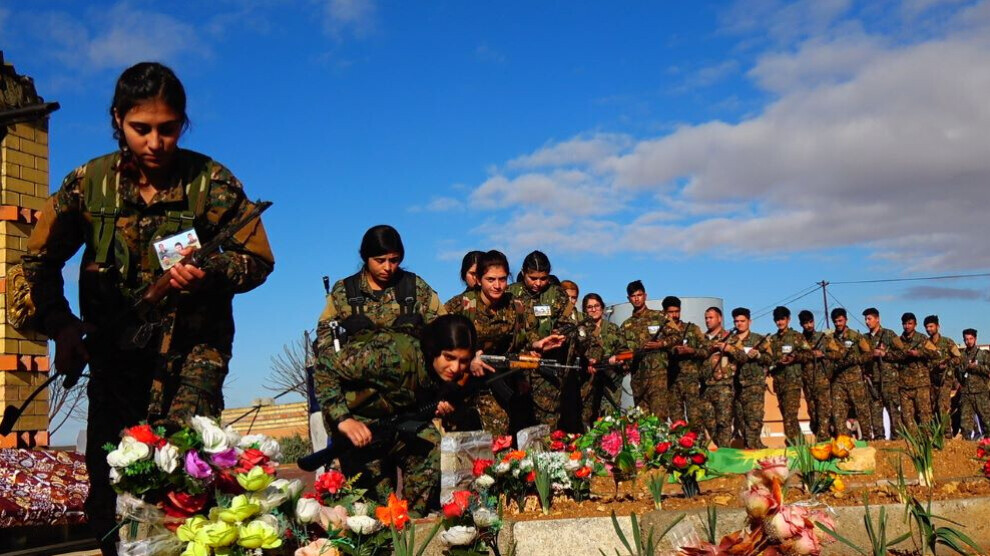 Commander Zerdeşt Şengalî and fighters Pîr Hemîd, Êzdîn Şengalî and Cîlo Şengalî of the YBŞ (Shengal Resistance Units) were killed in a Turkish airstrike on the village of Digur in Shengal (Sinjar) on January 15, 2020. Berxwedan Tolhildan (Ednan Silêman) was killed on January 23, 2015. A large memorial ceremony was held in Shengal on Friday to remember the martyrs.
The event began with a military ceremony. Speaking here, YBŞ commander Tirêj Şengalî said: "January is a difficult month for us because we lost leading figures. Our commander Zerdeşt played an important role in the fight against ISIS and in the liberation of Shengal."
Afterwards, the graves at the Şehîd Dilgeş and Berxwedan Cemetery of Martyrs were visited and more speeches were given calling for an autonomous status for the Yazidi settlement area of Shengal. Lastly, a film clip was shown about the lives and struggle of the martyrs.
The drone strike a year ago was a targeted attack on Zerdeşt Şengalî. When ISIS committed genocide against the Yazidis in August 2014, dozens of women and men defended Shengal under the vanguard of the YBŞ commander. He had a great influence on the Yazidi youth in particular.