MEP Miranda: The issue of human rights in Kurdistan a big scandal
Following her visit to the DTK, Green Group MEP Ana Miranda said "there is a big problem with human rights in Kurdistan."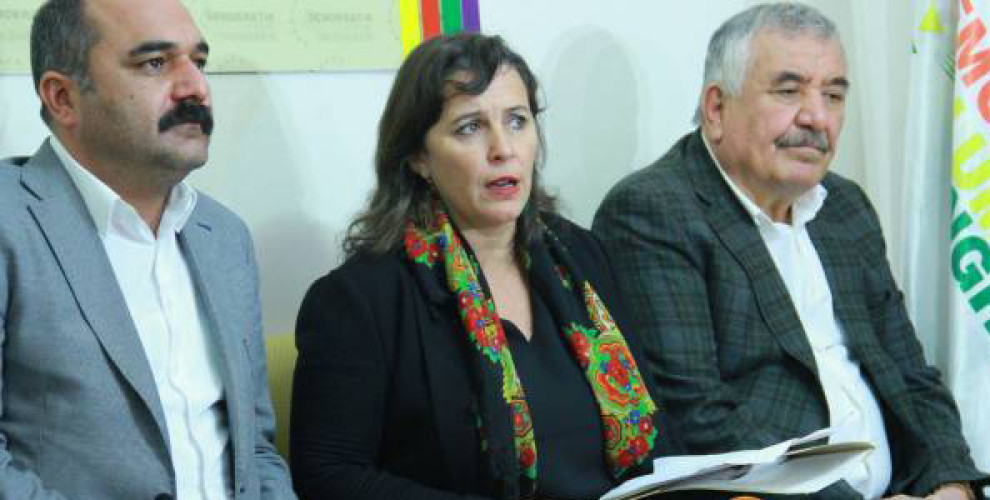 Green Group MEP Ana Miranda visited Democratic Society Congress (DTK) co-chair Berdan Öztürk and members of the DTK Council in Amed (Diyarbakır).
After the visit, DTK co-chair Öztürk and the Ana Miranda MEP held a joint press conference.
DTK co-chair Berdan Öztürk spoke about the situation of HDP Hakkari deputy, Leyla Güven, on hunger strike for 45 days in Diyarbakır E Type Prison to demand an end to the isolation regime imposed on Abdullah Öcalan.
Öztürk said: "The isolation imposed on Öcalan is actually imposed on the whole people, on their freedom and on the unity of the peoples." 
Öztürk underlined that Öcalan has not been able meet with anyone since 5 April 2015.
"Öcalan - he added - has not been able to meet with his lawyers and family for a long time. He cannot be visited by the Imralı delegation."
Greens Group MEP Ana Miranda stated that Turkey has a bad record on human rights and added: "We are not receiving news from the people living in Kurdistan. We see what is happening through the reports we receive, but when we get here, we realise that the situation is much worse than the one we have read about on the reports. We had a series of meetings with civil society organizations in Istanbul. We wanted to see first hand the trial against the Peace Declaration signatories. After meeting the DTK, I could briefly say this: I think that the issue of human rights in Kurdistan is a big scandal."
Miranda reminded of the 10 HDP politicians arrested for political reasons, together with co-chair Selahattin Demirtaş and Figen Yüksekdağ in the previous legislature.
"The biggest crime - she said - is their call for peace and equality. I want to declare my solidarity with Leyla Güven, who is on hunger strike. After the decision of the European Court of Human Rights about Demirtaş, we have clearly seen that he is a political prisoner and the case against him is purely political."
Miranda stressed that "the Peace and Resolution Process should be reinstated".
MEP Miranda ended her remarks by saying: "The European Parliament Council watched with concern the resurgence of neo-fascism in the world. When we looked at Turkey in the report, we see the rise of a dictatorial regime.
In order to restrain Syrian migration, European Union states have been providing a high amount of financial aid to Turkey and bowing to the demands of this dictatorial regime. We want to call on the EU from here: the EU has been built upon human rights, the rule of law, and democratic values. All the democratic institutions and state leaders in the EU should review their agreements with the dictator regime."
To Turkish President Erdoğan, Ana Miranda sent the following message: "Dialogue should be resumed on the basis of human rights."