Peace Mothers from Maxmur end their protest
Peace Mothers from Maxmur who have been involved in a sit-in action at KDP Asayish checkpoint near Hewler for 27 days, have ended their action.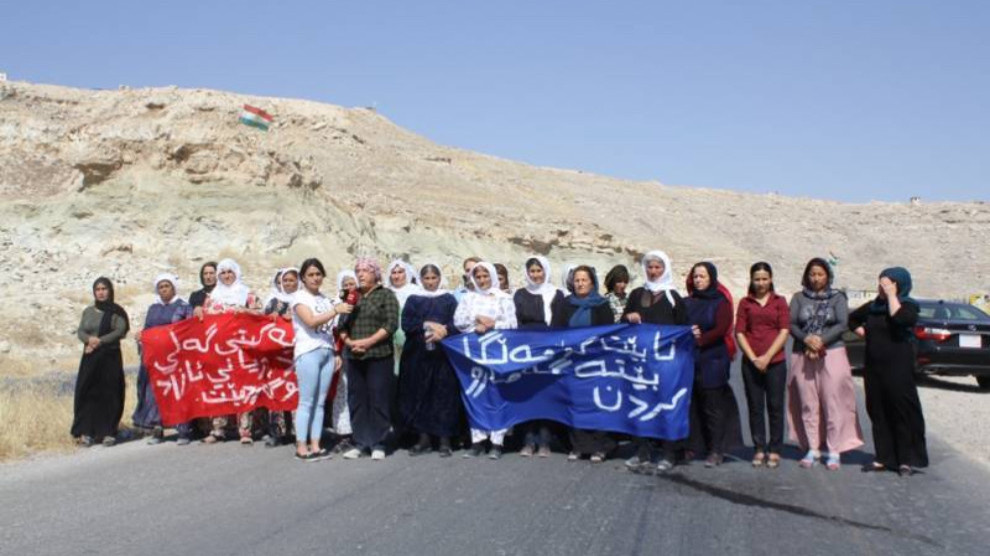 After the 17 July attack in the Huqqabaz restaurant in Hewler (Erbil) targeting employees of Turkey's MIT (National Intelligence Agency) which left three people dead, the security forces of the Kurdistan Democratic Party (KDP) closed all ways in and out of the Maxmur Camp, which has been surrounded and under a strict embargo since.
On September 1, World Peace Day, a group of Peace Mothers from Maxmur walked to the Asayish (Public Security) Forces' checkpoint near Hewler to demand the lifting of the embargo imposed on the camp.
Before they reached Hewler, the women were stopped at the checkpoint 10 kilometers from the camp. When they explained that they would like to meet with the authorities in Hewler to demand the lifting of the embargo, they were subjected to attacks and insults from the security forces at the checkpoint. The mothers then improvised a sit-in to protest the obstruction which has continued for 27 days amid attacks, harassment, threats and attempts for removal by the KDP public security forces.
The Peace Mothers involved in the protest announced ending their action in a press statement today.
Speaking in the name of the mothers, Ishtar Council Member Nursan Sezgin recalled that the people of Maxmur who fled the atrocities of the Turkish state and have been resisting against the policies of denial and annihilation for 26 years, have been under a strict embargo for 72 days.
Nursan Sezgin said; "Today, the people of Maxmur are under the attack and embargo of the AKP and its collaborator KDP. Peace Mothers have staged a sit-in action at KDP Asayish Checkpoint located between Hewler and Maxmur for 27 days in protest at the embargo imposed on Maxmur people by the KDP. The Peace Mothers are ending their action today because of the KDP's indifference to their demand and the increasing repression against the mothers. We are ending our action here but our struggle will continue with different actions and events."
Chanting "Jin, Jiyan, Azadî" [Woman, Life, Freedom] and "Bimire îxanet" [Down with betrayal], the mothers left the Asayish checkpoint for the camp.