People in Kurdistan Region stormed a Turkish base
Kurdish people in Sheladize town in Derelok district of Kurdistan Region marched to a Turkish base in protest of Turkish bombardment in the area. Protesters occupied the Turkish base and set fire to the installations.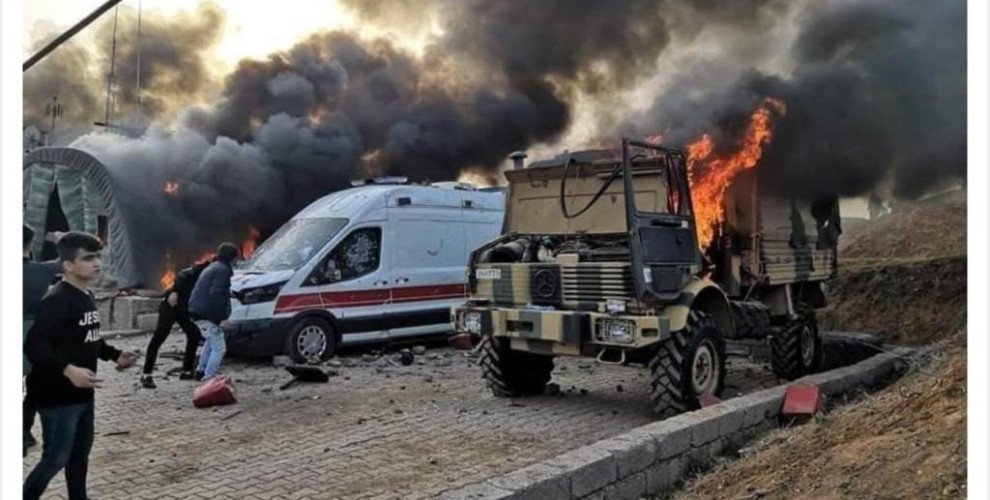 The frustration of the people of Behdinan region in southern Kurdistan, northern Iraq against the Turkish state attacks is growing. The people have risen up against the latest attack in which four Kurdish civilians were killed in an aerial bombardment by the Turkish army on January 23, 2019.
Protesters occupied the Turkish base
According to a number of local sources, the protesters in Sheladize marched to the Turkish base in their region, and managed to occupy the perimeter despite an attempt by the Asayish forces to prevent them. The sources confirm that a group of the Turkish soldiers in the noted base were detained by the angry protesters.
Military equipment burned
It is reported by our sources that the protesters set fire to the military equipment in the Turkish base, including tanks, tents, containers and several other vehicles.
Fearing the frustration of the protesters, the Turkish soldiers have escaped to their positions, and the crowd continues to protest. The people are demanding Turkish army to leave Kurdistan Region territory.