People of Maxmur protest the isolation of Abdullah Öcalan
Kurds are taking to the streets worldwide to demand freedom for Kurdish leader Abdullah Öcalan, who has long been subjected to aggravated isolation by the Turkish state.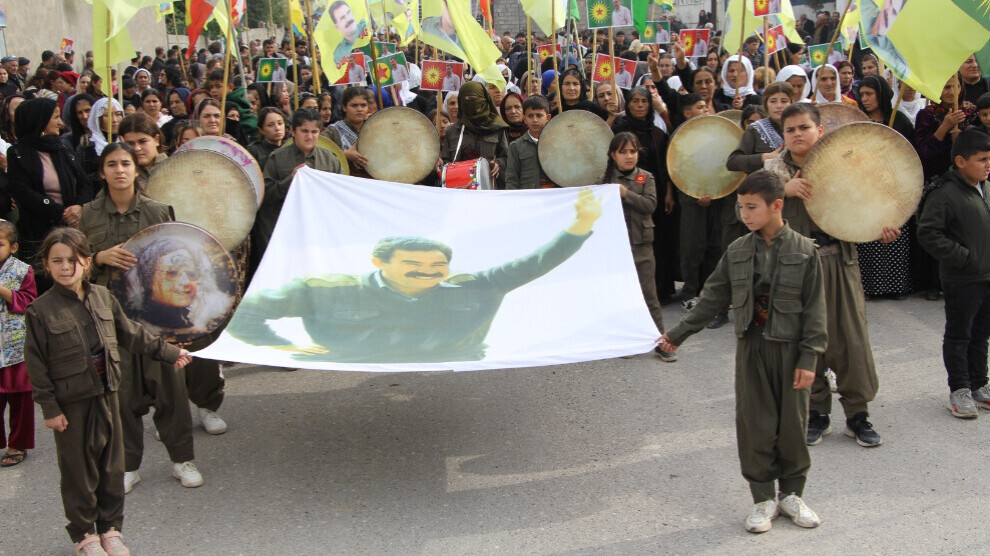 Residents of the Martyr Rustem Cudi Refugee Camp in Maxmur, Kurdistan Region of Iraq, staged a march in protest at the isolation of Kurdish people's leader Abdullah Öcalan, who is held in incommunicado detention and has not been heard from for 32 months.
Imprisoned for more than 24 years on the prison island of Imrali, the Kurdish people's leader, Abdullah Öcalan, has been held incommunicado for 32 months now, without any contact with the outside world. The complete lack of information regarding the situation of Öcalan and his three fellow prisoners – Hamili Yıldırım, Ömer Hayri Konar and Veysi Aktaş – raises growing concerns about their safety and health. Countless requests for visits filed for years by the lawyers and families of Imrali detainees have gone unanswered.
Thousands of people attended the march from the Institution of Martyrs' Families to the UN representation office.
The crowd observed a minute's silence in front of the UN representation office, where Ahmet Şahbaz from the People's Assembly spoke and said: "We condemn the isolation imposed on Leader Öcalan who has been subjected to absolute isolation for the past 32 months. As the people of Maxmur, we demand the physical freedom of Leader Öcalan, who is held captive by the hegemonic powers. The Turkish state does not commit this crime on its own."
Şahbaz pointed out that the Kurds and other peoples united around Abdullah Öcalan, whose ideas, he said, have spread all over the world. "Leader Öcalan defends all the peoples in the world. We know that the Turkish state seeks to destroy the Kurds in its new century. But we base on the ideas of Leader Öcalan and they will not be able to destroy us."
Ahmet Şahbaz called on all Kurds to oppose the isolation of Öcalan and the dirty policies pursued against him. He concluded: "Victory will be ours."
The Imralı F Type High Security Closed Prison, where Abdullah Öcalan has been held since February 1999, has since been operated based on a special status and through special practices.
Under the so-called aggravated execution regime, Abdullah Öcalan and his fellow prisoners, Hamili Yildirim, Ömer Hayri Konar and Veysi Aktaş, have been held under conditions of extraordinary isolation for a long time, 24 years in terms of Öcalan and eight years each in terms of other inmates.
Despite all their attempts, lawyers from the Istanbul-based Asrin Law Office, which represents Abdullah Öcalan and his three fellow prisoners, have not been able to receive even a single sign of life from their clients since 25 March 2021. They could not obtain any information regarding their health status, their detention conditions, their legal situation in 2022. It has been 32 months that their clients have not been heard from in any way.