People of Yüksekova overcome police blockade and protest against war and occupation
Despite a police blockade, a march was held in the Yüksekova district of Hakkari province under the motto "No to war and occupation".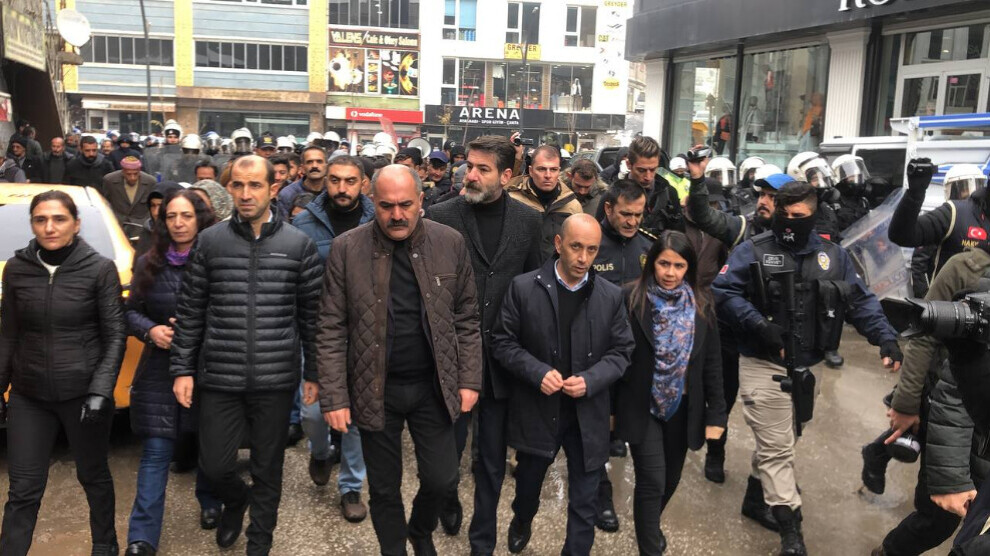 An anti-war march was held in the Yüksekova district of Hakkari province under the leadership of the Democratic Society Congress (DTK), the Free Women's Movement (TJA), the Democratic Regions Party (DBP) and the Peoples' Democratic Party (HDP). DTK Co-Chair Berdan Öztürk, DBP Co-Chair Keskin Bayındır, and HDP deputies participated in the demonstration where the police attempted to prevent a press statement by the group.
Besieging the crowd on the central Cengiz Topel Street, the police cited a protracted ban on demonstrations issued by the Hakkari Governor's Office. The crowd managed to march towards the HDP Yüksokova district office despite the police obstacles, chanting the iconic slogan "Jin, Jiyan, Azadi" (Woman, Life, Freedom). The march ended in front of the district office.
On the other hand, hundreds of HDP members in Hakkari who left for Yüksekova to attend the demonstration were blocked by the police at the Depin police checkpoint.
Speaking about the obstruction, HDP Ağrı Deputy Abdullah Koç pointed out that the democratic demands of the people have been hindered by the years-long arbitrary bans on demonstrations and events in the city, which is against the law.
"The AKP-MHP government has led Turkey into a stalemate with these bans. We reject these arbitrary bans. The constitution has been placed aside by the government. There has been a war in Turkey for the last 40 years. However, policies of war do not solve the problem. Therefore, we want peace, not war. We want a peace process to be re-introduced," Koç said.