Qandil people protest against the international conspiracy
In Binare Qandil, a demonstration was held to protest the deportation of PKK leader Abdullah Öcalan to Turkey twenty years ago.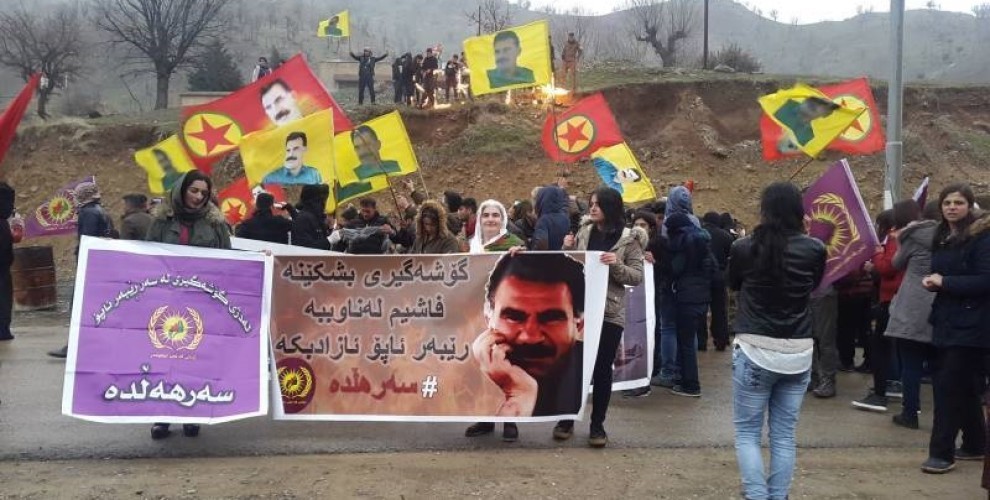 At the call of the youth movement, a demonstration took place in Binarê Qendîl region in southern Kurdistan against the international conspiracy which led to the arrest of Kurdish People's Leader Abdullah Öcalan twenty years ago. Hundreds of people joined the demonstration held under the motto "break the isolation, smash fascism, free Serok Apo!".
Speaking on behalf of the Kurdistan Patriotic Youth Movement and Resilient Young Women's Union, Zilan Musa said: "On 15 February 1999 Abdullah Öcalan was deported to Turkey by an international conspiracy. For twenty years he has been in solitary confinement on the island of Imrali. Leyla Güven has been on a hunger strike for over three months against this isolation. We support Leyla Güven's hunger strike and condemn the February 15 conspiracy."
The international conspiracy
Since his abduction in February 1999 from the Greek embassy in Nairobi / Kenya Abdullah Öcalan has been on the Turkish prison island of Imrali. Eleven years he was the only prisoner on the island - guarded by more than a thousand soldiers. The last visit of his lawyers took place on July 27, 2011. For over seven years, he is denied any legal aid. Öcalan holds the "European record" for detention without access to lawyers.
Since April 2015 he is in fact in total isolation. After the last family visit on September 11, 2016, his brother Mehmet Öcalan was back for the first time on January 12 for a 15-minute conversation on Imrali. At the moment, about 300 prisoners are on an indefinite hunger strike to lift Abdullah Öcalan's isolation. Hunger strikes are also taking place outside Turkish prisons, including France, Germany, Austria, England, Canada and Russia.