Sakine Rus: A human shield from Russia in Qandil
Sakine Rus has long researched the Kurdish liberation struggle. Now she has joined the human shields to be part of the resistance.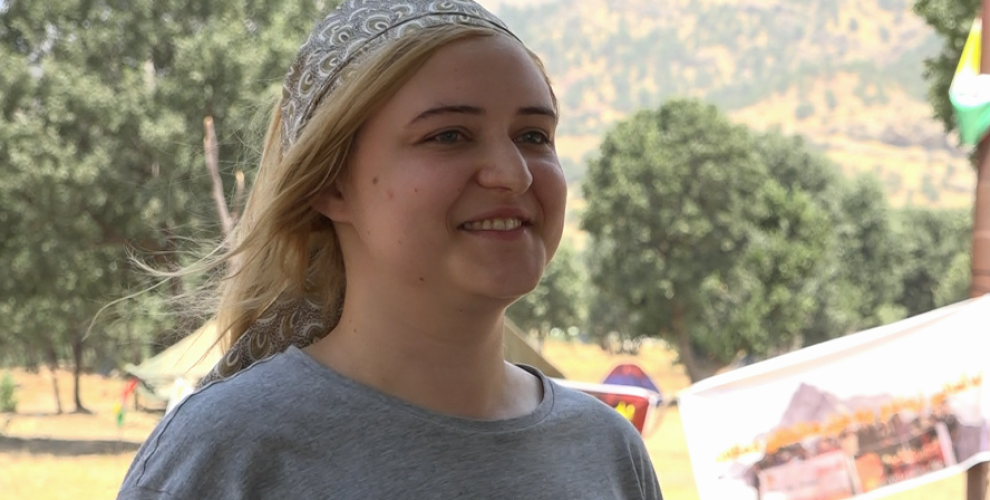 The liberation struggle begun forty years ago by Abdullah Öcalan includes not only the Kurds but all the oppressed peoples. It is a universal struggle involving people from many different countries.
For some time now, there has been an action of human shields in the Qandil Mountains in southern Kurdistan, protesting against the threat of occupation by the Turkish state. One of the activists is Sakine Rus. Twenty-year-old woman, who calls herself an anarchist and internationalist, comes from Russia. She has long been engaged in the Kurdish liberation struggle and wanted to get to know this fight up close. Therefore, she contacted the Kurdish people living in Russia.
She was particularly impressed by the book "My whole life was a struggle" by Sakine Cansız, a co-founder of the PKK, who was murdered by the Turkish secret service in Paris in 2013. "The book was my main source in my research. It fascinated me. Especially the handling of the women's question impressed me. Sakine Cansız has become a symbol of women around the world, including me, so I took her name."
Also, the resistance that was mounted in Afrin against the Turkish occupation, influenced Sakine Rus. She decided to go to Kurdistan and participate in the action of the human shields in Qandil. "I watched in social media as the Turkish state attacks Kurdish areas to occupy them. The Turkish Air Force bombards these beautiful mountains here. In Turkey, injustice and fascism prevail. To protect their land, the Kurdish youth movement has launched the action of human shields. I wanted to be part of this resistance and now I am here."