Terrorists in Rojava, heroes in Ukraine
British volunteers Dan Burke and Sam Newey died in Ukraine and were duly commended for their selfless efforts against Russia. Previously, they were legally prosecuted in England for their links to Rojava.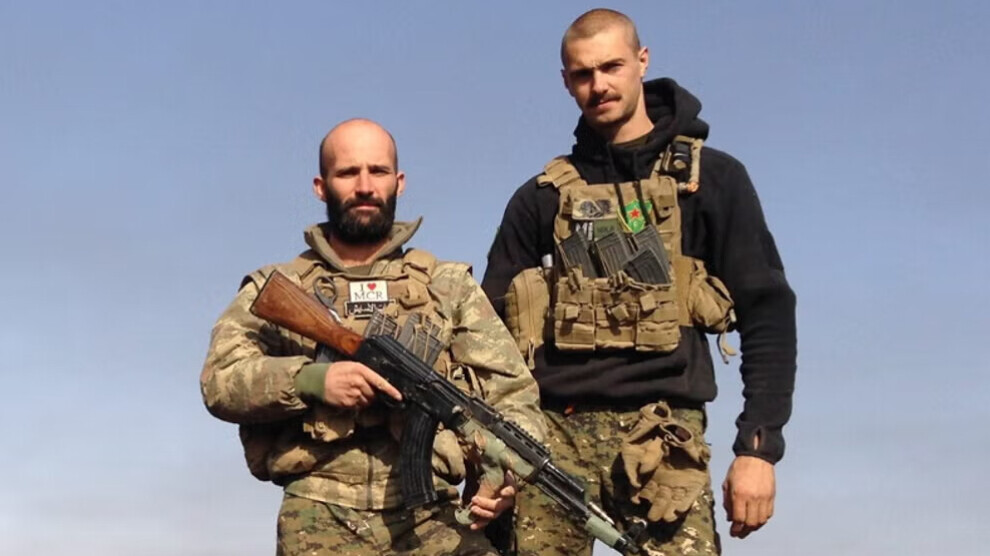 Two British volunteers recently died in Ukraine and were duly commended in the UK for their selfless efforts against the Russian war of aggression. However, the deaths of Dan Burke and Sam Newey also highlight the very different attitude of the British government towards the conflict in Rojava and the political persecution of internationalists supporting the fight against ISIS and the Turkish occupation forces in northern Syria.
Before going to Ukraine, both men had been caught up in a wave of repression targeting British nationals with links to Rojava and explicitly to the YPG (People's Defence Units). Dan Burke spent seven months in custody on terrorism charges - that is, for fighting against ISIS - before the case was abruptly dropped. Sam Newey, then just 19 years old, was charged even though he had no intention of travelling to Syria. According to people who knew him, this repression played a role in his decision to join the Defence of Ukraine.
The legal task force of the British Kurdistan Solidarity Network (KSN) points out that Dan Burke and Sam Newey were willing to risk their lives to defend values that the British government supposedly shares. And yet, KSN says, "both men were subjected to excessive harassment and attack by the British government and security services because of their links to the Kurdish movement in Syria, which is waging a legitimate struggle against occupation and ethnic cleansing in that region".
Dan Burke was a former member of a British Army paratrooper elite regiment and went to Rojava in 2017 after 22 people were killed in an Islamist suicide bombing at the Manchester Arena. There he met Sam Newey's brother Dan and fought against ISIS with the support of Royal Air Force airstrikes. He also reportedly provided intelligence to British intelligence on how to fight ISIS. In March 2019, the Syrian Democratic Forces (SDF), whose backbone is the YPG/YPJ, were able to declare territorial victory over ISIS. Burke, who had already returned to Europe, could have expected a hero's welcome - or at least to be left alone. Instead, he was targeted by British justice.
The background to the criminalisation of internationalists fighting in Rojava was the fact that Turkey itself intervened and occupied large areas of northern Syria after the crushing of the ISIS caliphate. As a result, the international volunteers in the region faced NATO's second largest army. While the UK had long criminalised the Kurdish movement as a whole and frowned on trips by British volunteers to Rojava, this change emboldened the prosecution of internationalists. The then Home Secretary Sajid Javid announced never-implemented plans to automatically treat travel to Rojava as a criminal offence and gave internationalists a one-month ultimatum to leave the region.
Dan Burke and Sam Newey were among half a dozen British volunteers who faced terrorism charges as the UK Crown Prosecution Service tried a range of prosecution strategies that ultimately failed. When Dan Newey returned to Rojava to rejoin the fight against the Turkish occupiers and ISIS, his brother and father were arrested and charged with terrorism financing for sending him £150. Dan Burke was arrested, accused of helping Dan Newey travel and wanting to return to Syria himself. The case was eventually dropped, and Burke was released after seven months in custody. Sam Newey and his father were out on bail for months, lost their jobs and faced police raids at home and at university, which father Paul described as a "nightmare".
No British national has yet been convicted of membership of the YPG/YPJ. The systematic persecution obviously serves to appease the Erdogan regime. Meanwhile, the Kurdish movement continues to face ethnic cleansing at the hands of NATO's second largest army, and its representatives argue for a diplomatic "third way" between the warring powers. However, a number of internationalists who fought in Rojava have travelled privately to Ukraine to defend the country - including Burke and the Newey brothers. Their persecution by the British authorities contributed to this decision.
Sam Newey died on the front line in Ukraine on 31 August. The death of Dan Burke on 11 August remains the subject of a police investigation in which another international volunteer is considered the prime suspect. In its statement on the deaths, KSN's legal department says: "Both men will now be remembered as heroes who lost their lives defending Ukraine. But both were also subjected to state harassment and persecution that prevented them from living normal lives in the UK. The UK's hypocritical support for Turkey's war against the Kurds makes a mockery of the British government's claim to stand up for democracy, self-determination and fundamental rights [in Ukraine]."