University students from Rojhilat join the guerrilla ranks
A group of young people from Rojhilat (Iranian) Kurdistan joined the guerrilla ranks and called for participation in the guerrilla struggle "for the freedom of women, society and Kurdistan".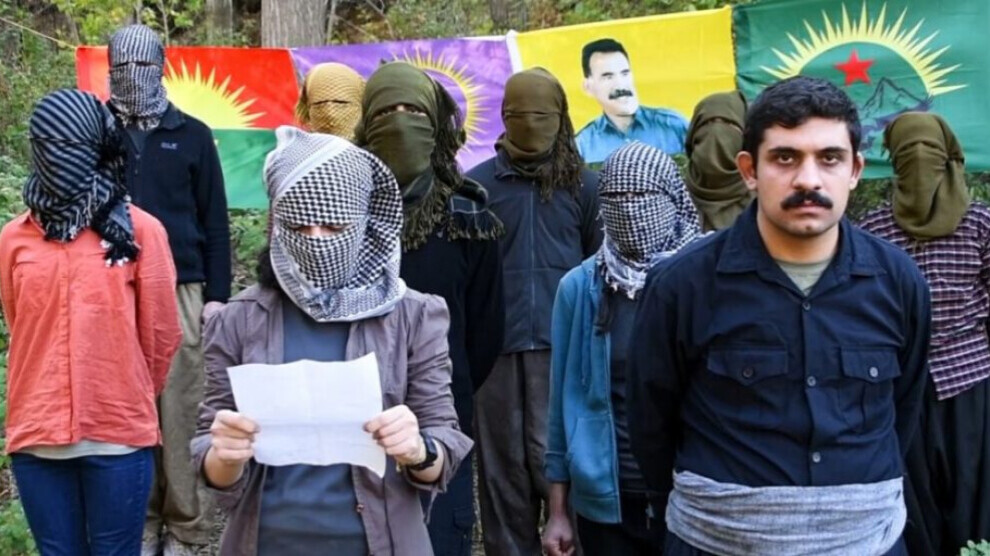 A group of young students from Eastern Kurdistan announced their participation in the guerrilla struggle. They justify their taking up the armed struggle with the repression and oppression by the Mullah regime. Since the murder of the Kurdish woman Jina Mahsa Amini by the Iranian morality police, Eastern Kurdistan and Iran have been in revolt. According to human rights organisations, 270 to 320 people, including 30 minors, have been killed since September. More than 25,000 people have been arrested. The uprisings have spread to around 200 towns.
On 26 October, the protests in Eastern Kurdistan entered a new phase. In the face of increasing threats and attacks from the regime, thousands of people took to the streets. Students and especially young women took the lead in the protest.
According to Nuçe Ciwan, a group of young people from Rojhilat Kurdistan joined the guerrilla ranks to resist oppression and persecution and to defend the revolution.

The statement made by young people from Sina Kurdistan University in Kurdish and Persian includes the following:
"To the Kurdish people and the oppressed peoples of Iran,
As a group of young students at the University of Sine in Eastern Kurdistan, we declare our joining the guerrilla to resist all forms of oppression and to defend the revolution of women's liberation that has started in Eastern Kurdistan and Iran. 44 years of resistance and legitimate struggle of the Kurdish and Iranian people against the oppression of the bloody and patriarchal regime in Iran have reached the final stage.
The murder of Jina Amini has inflamed the hatred of all nationalities. The unification of the legitimate demands and the self-organisation of the people are an important step and bring us towards a new tomorrow. In this situation, women and youth, as the most oppressed sections of society, are shattering the pillars of power and laying the foundation for a free life in a historic alliance. The women's slogans stand for freedom and life. Their words are the harbingers of unity and victory of the people's freedom forces over the conservative forces of the region that consider women as slaves. That is why the occupying states of Iran and Turkey are attacking the people and the guerrillas with their last resources and brutally.
As women and youth, we call on Kurdish, Persian, Azerbaijani, Baloch, Arab and Gilak women and youth to take revenge on the occupiers, to lead the women's liberation revolution to victory and to organise more strongly at the class and national level. In this way, we will widen the fields of struggle. In order to defend and sustain the revolution in the streets, we have to expand the field of struggle in the mountains and strengthen the guerrilla as a force of organising women and youth. Join the guerrilla to protect the revolution of women, the freedom of women and society and the freedom of Kurdistan."