Villagers fight fire set by Turkish army in Nusaybin
The fire department wasn't allowed to intervene to a fire that broke out during a Turkish army operation in the Ömeryan region of Mardin's Nusaybin district. Villagers and volunteers took action to put the fire out.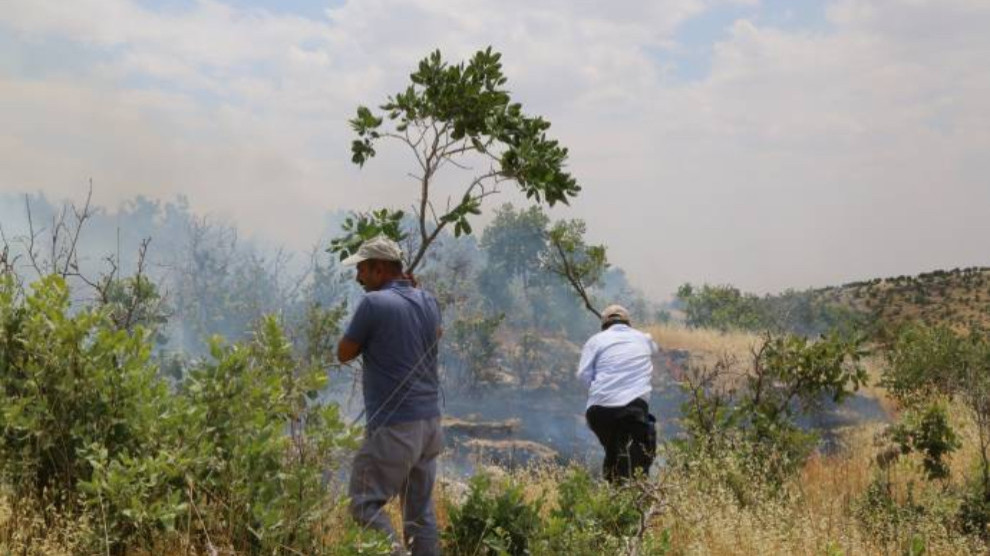 A fire broke out during clashes as the Turkish army operation in the rural areas of the Cali village in the Ömeryan region raged on.
The fire then spread to the borders of Kurukoy (Xerabe Bawa), Akarsu (Stilile), Eskimagara (Ziving) and Yavruköy (Kurike Stilile).
Fire department units who wanted to go to the area to put out the fire were not allowed for "security reasons".
Then villagers and volunteers took action. Some 10 volunteers headed out from Nusaybin and fought the fires alongside the villagers. Meanwhile, the fire spread further as dry grass caught on fire. Reports say a total of 200 decares of forest area has already burned down.
Volunteers use branches and wet clothes to try to fight the fire.
Democratic Regions Party (DBP) Nusaybin District Chapter also went to the area to fight the fire alongside the villagers.
The mountainous area makes it harder to fight the fire. Aerial intervention is necessary, but the Provincial Forestry Directorate, the municipalities and the governorate refuse to put out the fire.
DBP Nusaybin District Co-chair Celal Ata called for urgent intervention. Ata called for volunteers in particular and asked the people of Nusaybin and the Kurdish people to be conscious of the destruction.