Wall put up by trustee torn down in Kiziltepe
The wall put up around the Kiziltepe municipal building during the occupation was torn down by the co-mayor from the HDP and the people.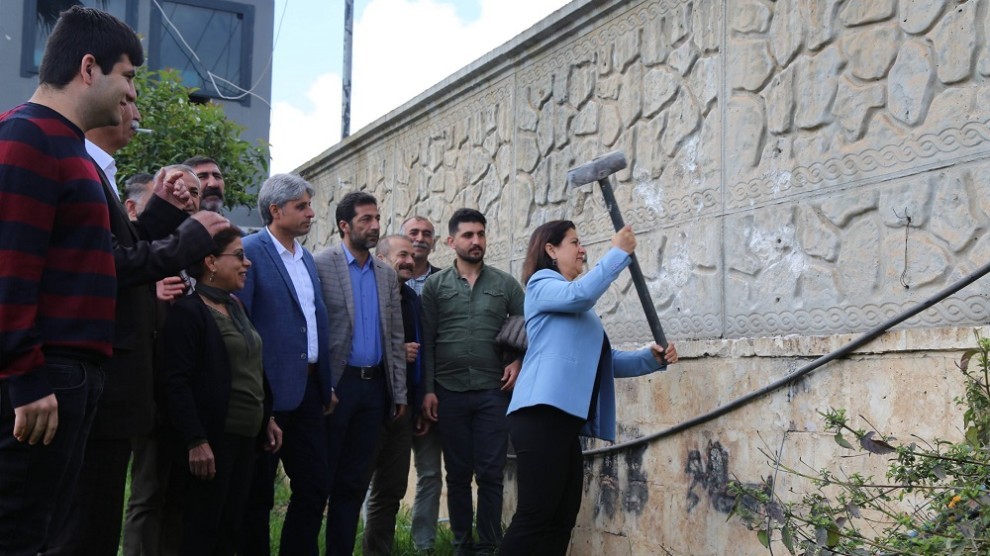 Works have started to tear down the 2 meter high wall put up around the municipal building by the invading trustee appointed to the municipality. Co-mayor from the Peoples' Democratic Party (HDP) Nilufer Elik Yilmaz, municipal council members and the district residents were present on site as the demolition began. Co-mayor Yilmaz struct the first hammer to the wall, and council members and the people took turns afterward.
"OUR PEOPLE ASKED FOR IT, WE TORE DOWN THE WALL"
Co-mayor Yilmaz said the municipality must be open to the people and continued: "When we ran our campaign, our people had a demand. They said they felt like they were in prison when they came to the municipality and they didn't feel at ease. They wanted this wall down. So we started to tear down the wall. The people must feel free."
Efforts also started this morning to remove the barriers in front of the Mardin Metropolitan Municipality, which the HDP also won.