'We will defeat the enemy in the spirit of November 27'
Celebrating the 43rd anniversary of the PKK, YJA Star guerrillas stated that they will inflict a historic defeat on the enemy in the spirit of November 27.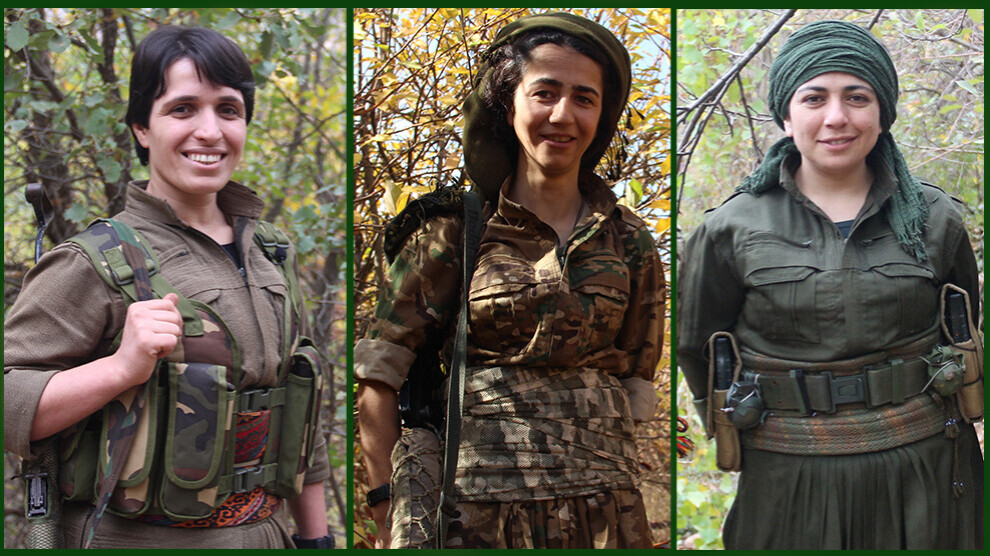 YJA Star guerrillas who participate in the Cenga Xabur campaign against Turkish invasion attacks in southern Kurdistan (northern Iraq) are celebrating the PKK's 43rd founding anniversary. Speaking to ANF, female guerrillas, who have been confronting the invasion attacks for months without interruption, said that they, as PKK guerrillas, will triumph decisively, much as Kurdish People's Leader Abdullah Öcalan did when he created the PKK with great tenacity.
YJA Star guerilla Diren Sema, emphasizing that the guerrillas fighting on the PKK's line of self-sacrifice are becoming stronger by the day and are dealing major blows to the murderous system, stated that, "As YJA Star forces, we are resisting in the battle positions in the spirit of Kemal Pirs', Saras', Bargirans', Esmers', and Zelals' struggle. The PKK is a liberation movement that fights for humanity. The PKK's cause is centred on the freedom of women and the nation. We are fighting for all oppressed peoples. That's why the PKK is now known in the world. We are determined to put an end to the occupation of Kurdistan. We will have free days with our people at the top of our mountains."
'WOMEN RECOGNIZED THEIR IDENTITY WITH THE PKK'
YJA Star guerrilla Solin Ararat emphasized that the Apoist militants fighting in the PKK will resist on the line of freedom no matter what the cost, and continued; "Happy November 27 to all the peoples and women of the Middle East! The PKK is a worldwide and historically significant movement, especially for the Kurdish people. It awoke the Middle Eastern peoples from their death slumber. It prompted women, in particular, to seek freedom and join the ranks of struggle. Women in the PKK ranks have realized their identities and vowed to fight for their freedom. As YJA Star forces, we will fight on in the spirit of November 27. The PKK spirit will always be carried on by both the HPG and the female guerrillas. We are trying to preserve Sara and Kemal's spirit of resistance in existence. As HPG and YJA Star guerrillas who participate in the operations in Cenga Xabur and Bazên Zagros, we will defeat the enemy in the spirit of November 27."
'WE WILL INTENSIFY OUR STRUGGLE'
Guerrilla Axin Gabar drew attention to the invincibility of the PKK, and said, "The PKK has created a new phenomenon in the world. Because PKK leader Öcalan made women's liberation the PKK's cornerstone and prioritized the women's struggle."
Axin Gabar concluded her speech with the following words: "There is no woman in any army who has the same level of freedom as in the PKK. Leader Apo has been the pioneer in that. In the new starting year of our party, our goal is to defeat the enemy and gain victory. As YJA Star, we will defend leader Apo's efforts, freedom struggle, and his philosophy till the end. We shall fight the Turkish state's attacks until the very end."