YBŞ celebrates anniversary of Shengal's liberation
The YBŞ Command celebrated the anniversary of Shengal's liberation. The statement they issued said, "We have reached this day with our martyrs, the ideology of Leader Apo and the awareness of defense."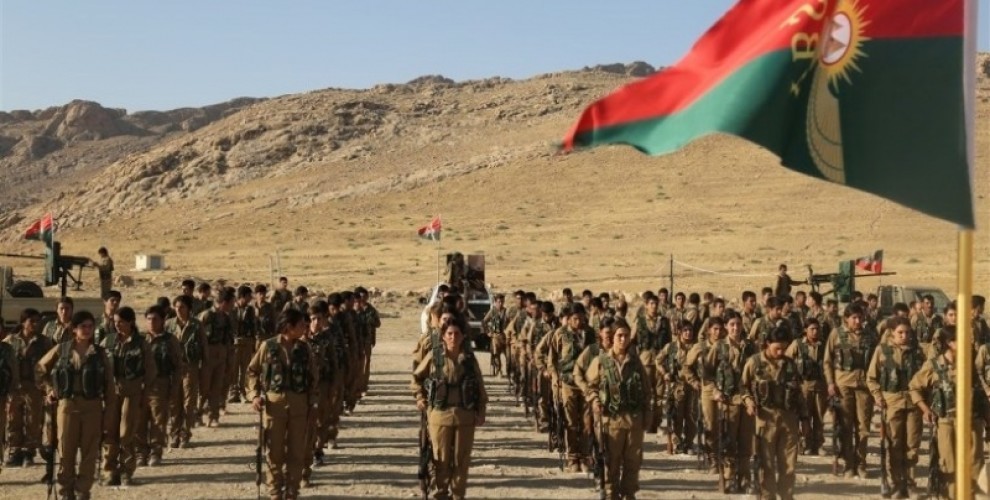 The YBŞ (Shengal Resistance Units) Command issued a written statement on the 3rd anniversary of Shengal's liberation.
The statement said, "We celebrate the 3rd anniversary of Shengal's liberation for our freedom loving people and remember our heroic martyrs with gratitude and respect in the person of Martyr Berxwedan and Martyr Bêrîvan. We promise to increase the resistance with the strength we get from our martyrs, reaching the line of freedom we learned from our free leader, and to make Shengal's autonomy permanent."
"THE DIRTIEST ATTACK"
The statement pointed out that since the day the nation state system was set up, the only goal of the racist forces has been to develop attacks and conspiracies against religions, cultures and minority peoples to break their will:
"Wars today are invasion wars, just like the world wars. Invasion forces wanted to destroy minority peoples, and our society was one of these minority peoples. They aimed to destroy our society with the vilest of ways, they attacked us. The dirtiest of all attacks throughout history was without a doubt the attack on August 3, 2014 by ISIS gangs. The attack known as the 73rd genocide killed thousands of women and young people. Hundreds of women took their own lives so the gangs wouldn't have them. Thousands of women were captured and sold as slaves in markets. It was the people's defense forces who heard our people's plea and opened humanitarian corridors, who saved our people from the series of massacres and took them to safe zones. With their support, the Yekîneyên Berxwedana Şengalê (YBŞ) was organized and developed the organization to avenge the 73rd firman."
"UTMOST COMRADERY AND SACRIFICE"
The statement mentioned the resistance and the martyrs, and continued:
"Without a doubt, from the resistance period to the opening of the humanitarian corridor, to the liberation of the city center, many of our heroic comrades were martyred. There were 11 months of face to face resistance in Shengal. There was the utmost comradery, and the ultimate sacrifice. So the 11 month long operation to liberate Shengal and its results need analysing.
"WE REACHED THIS DAY THANKS TO LEADER APO"
"There is no doubt that we have reached this day with Leader Apo's (Öcalan) ideology and awareness for defense, and with our culture and faith. In the 4 years of our resistance struggle built on these foundations, we have achieved many gains and successes. Fascist and genocidal forces have wanted to taint our successes and destroy our values, but they have failed. When we were fighting ISIS, they took advantage and attacked us. Like in the Xanesor attack of March 3, 2017, the Turkish army jets' bombing later on and the conspiracy against Yazidi Society Coordination Member Mam Zeki Sengalî that resulted in his martyrdom. There is no doubt that these attacks were developed with the same mindset as the 73rd genocide, but despite these attacks and conspiracies against our people's faith and will, we have raised the flag of resistance we took from our martyrs higher. On this foundation, after am Zekî Sengalî's and Mahir's martyrdoms, we will continue our efforts to realize their dreams and goals, and to achieve an autonomous and free Shengal. Lastly, us going to Siba and Til Ezer and our forces remaining there, and the avenging of our martyrs were results of our 4 year long non-stop resistance."
"WE WILL INCREASE THE RESISTANCE"
"Once more, we celebrate the 3rd anniversary of Shengal's liberation for all our people and remember with gratitude and respect our immortal martyrs in the person of comrade Mam Zekî Sengalî. We promise to increase the resistance struggle."