14th Kurdish Conference in the European Parliament
Giving the opening speech of the 14th Kurdish Conference in the EP, EUTCC Chairperson listed their demands as: "Recognition of the Northern Syrian Federation, lifting of the PKK ban, lifting of the isolation imposed upon Öcalan, CPT visiting Imralı."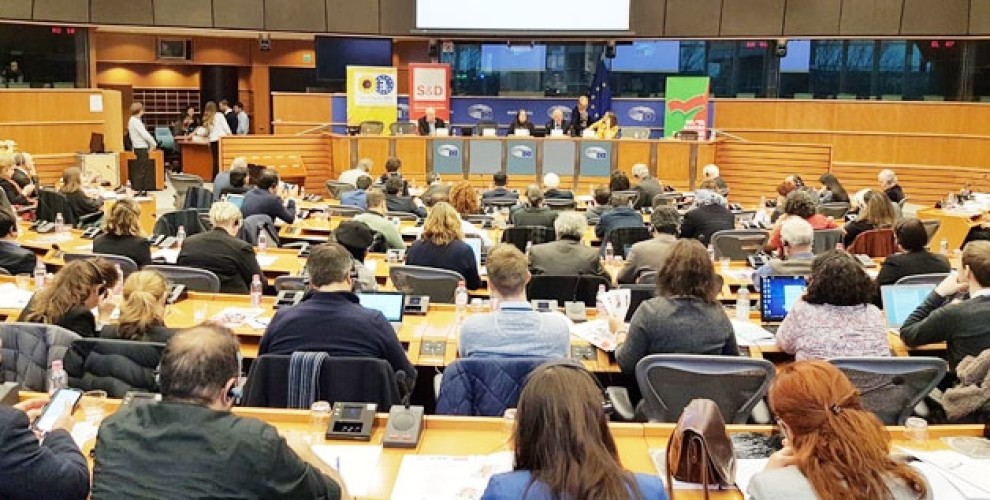 The Kurdish Conference held in the European Parliament every year since 2004 is on its 14th edition this year, with the joint organization by the European Union Turkey Civic Commission (EUTCC) and European Parliament groups of Social Democrats and the Green Left.
Speakers from all over the world, including four parts of Kurdistan, Turkey, EU countries, Canada, the US and South Africa, are participating in the conference. This year's main agenda is focused on the Kurdish perspective for a solution to the chaos in the Middle East (Democratic Confederalism) and the Kurdish women's contribution to the ongoing process, their leadership and their perspective for a solution.
ESSA MOOSA REMEMBERED
Representatives of the EP groups and the UK General Federation of Trade Unions, which has been running the Freedom for Öcalan Campaign, made the opening speeches. EUTCC Chairperson Kariane Westrheim started her speech by saying she is very glad to be organizing the 14th edition of the conference. Pointing to the outcomes of the war in Syria, she said: "Brave Kurdish fighters are fighting against the ISIS genocide for the values they believe in." Westrheim commemorated Essa Moosa, Mandela's lawyer and an ally of Kurds who had participated in previous conferences, and called a minute's silence for those who lost their lives fighting for democracy and freedom.
FOUR FUNDAMENTAL DEMANDS
Westrheim stressed that the aim of the conference is to create new paths, new solutions and new ideas and to explore ways of coexistence, then listed their demands as:
- There have been great strites in Northern Syria. These have created great opportunities for both Syria and the Middle East. And for this to work, th EU needs to be convinced.
- The ban on the PKK in particular should be lifted.
- The isolation imposed upon Öcalan should be lifted.
- The CPT was to go to Imrali and visit Öcalan, which they didn't, and we demand that they do so as soon as possible.
SALUTING THE HDP CO-CHAIRS
Westrheim reminded the audience that HDP Co-chair Selahattin Demirtaş had participated in the conference in previous years, and said: "Today, they are being held in prison unjustly. We send our solidarity and support, and demand that they are released as soon as possible."
"GERMANY IS FOLLOWING IN ERDOĞAN'S FOOTSTEPS"
European Parliament Left Group Chairperson and MP for Germany's Die Linke Gabi Zimmer stated that the conference poses an important opportunity for the international community to respect the rights of Kurds and recognize their right to self determination. Zimmer criticized the EU countries' approach towards Kurds and said, "Germany is following in Erdoğan's footsteps. This behavior towards a movement that fights ISIS is not acceptable. As EU countries and parliaments, we must all object to Öcalan not being allowed to meet with his lawyers and being held under strict isolation."
"WE SUPPORT THE AUTONOMOUS ADMINISTRATION"
Zimmer stated that a peaceful solution to the Kurdish issue is imperative for a solution in the Middle East and added: "Kurds will of course demand an autonomous administration. And the Kurds must determine themselves how this administration will be. The Democratic Confederalist system is a bottom-up system."
"GRATEFUL TO THE KURDISH FIGHTERS"
European Parliament Socialist Democratic Union Group Deputy Chairperson and MP for Austria's Social Democratic Party Josef Weidenholzer also pointed out the arrested HDP co-chairs and said: "I am impressed by the courage of these people. I have great admiration for people who continue to fight despite the price they pay." Weidenholzer said they are expecting a different model to emerge in Syria and continued: "Minorities need to be protected, democratic institutions need to be protected and freedom of thought needs to be respected. There are many among us who are greatly grateful to the Kurdish fighters. I personally saw them in Kobanê and Shengal, and we are grateful to them. They don't fight for themselves, they fight for humanity and for us. The war and chaos there is all of our responsibility, and I can't accept the burden falling solely on the Kurds."
"WHY AREN'T KURDS INCLUDED IN GENEVA?"
European Parliament Green Left Group Representative and MP for Sweden's Greens Bodil Valero said they support the Kurds' right to self determination. Valero stressed that Kurds not being included in the Geneva talks is a great contradiction and added: "How can anybody reach a solution in Syria without including the Kurds? We must bring this into the agenda. We must engage in diplomacy regarding the Kurds."
"ÖCALAN SHOULD BE FREE"
UK General Federation of Trade Unions (GFTU) Secretary General Doug Nicholls stated that they support the Freedom for Öcalan Campaign and said: "Öcalan's freedom will also mean the freedom of this region. Öcalan's freedom will be the freedom for the people in Palestine and all other peoples. For civilization to blossom again in the birthplace of civilization itself, Öcalan should be free."
NEW CONDITIONS, ISSUES AND CHALLENGES
After the opening speeches, the session titled "The European Union, Turkey and Kurds: New conditions, issues and challenges for democratization" moderated by Kurdish Die Linke MP Gökay Akbulut and Kurdish Academics Network (Kurd-Akad) administrator Dersim Dağdeviren started. In this session, HDP MP Dilan Dirayet Taşdemir, journalist Cengiz Çandar, Columbia University Peace-building and Rights Program Director David Phillips, European Parliament member Ana Gomes and Academics for Peace member Çetin Güren gave presentations.
The conference continued on Thursday with several presentations from other speakers. Thursday's sessions were titled "The Kurdish Movement and the Struggle for Gender Freedom", "Peace, Democracy and Human Rights After Raqqa and Predictions for Kurds".